NOTE: Do not read on if you have not seen Season 3, Episode 13 of FX's The Americans, titled "March 8, 1983"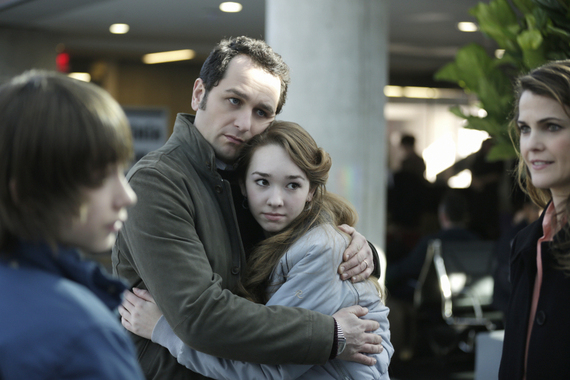 And there we have it. I saw some of you Twitter whining about the season finale being boring or slow or not comprehensive enough. I'm here to tell you you're wrong.
The whole season was slow burn -- there was a teeny tiny less violence than usual. Not so many shock and awe, or sit on the edge of your seat as the Jennings make their way out of a house just in time or something. This is about the unraveling of a family, a marriage, and the Cold War.
Paige. What are you doing? The first rule of being in a KGB family is you do not talk about being in a KGB family. This is super not good. Mr. Pastor might have to be knocked off.
Philip and Sandra bonding over their marriages and a brutal kill has Philip thinking about his life. Was he trying to defect in that last scene? He's been trying to since season one. Season four would be a good time to get into that.
I love how Henry is safe and sound with Stan, who just seems dumb as a brick sometimes. He's messed up his marriage, and now Gaad knows he messed up at work. All he can do it play with the little KGB neighbor boy.
Where is Martha? I guess she is at her mother's house like she alluded to last week, but then again, anything can happen as you go over the river and through the woods back home.
In all, I'm stoked for season four. This show just keeps getting better and better. What about you? Let me know what you thought about the finale @karenfratti.
The Americans airs Wednesdays at 10 p.m. ET on FX.
REAL LIFE. REAL NEWS. REAL VOICES.
Help us tell more of the stories that matter from voices that too often remain unheard.