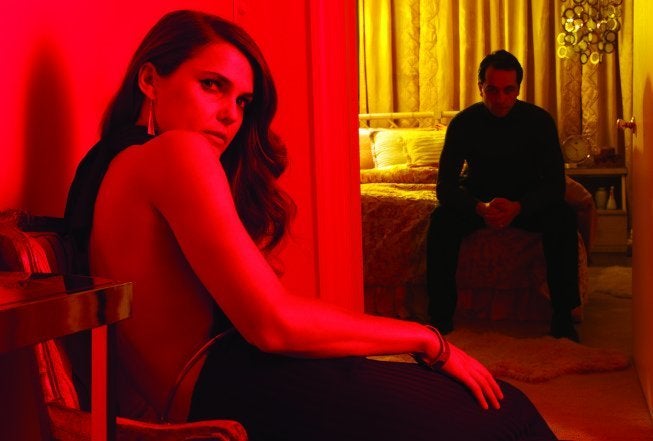 FX has renewed "The Americans" for a second season of 13 episodes, the network announced Thursday.
The news comes as no surprise, considering the Keri Russell/Matthew Rhys drama was FX's most-watched debut ever, garnering 5.11 million total viewers for its premiere. Nine episodes currently remain in the show's freshman season.
"'The Americans' has quickly established itself as a key part FX's acclaimed drama line-up," FX President John Landgraf said in a statement. "Executive Producers Joe Weisberg, Joel Fields and Graham Yost and their collaborators are telling riveting and deeply emotional stories and the performances of Keri Russell, Matthew Rhys, Noah Emmerich and the entire cast are simply outstanding. The show is truly worthy of its widespread critical acclaim and we are confident that its quality will continue to yield a robust and passionate audience."

"We're very grateful to John Landgraf, Nick Grad, Eric Schrier and everyone at FX for their unwavering support of our show," said Weisberg. "We're thrilled to be able to continue writing stories for such an incredibly talented cast led by Keri, Matthew and Noah. This has been an amazing experience for me and it couldn't have happened without the tireless efforts of our cast and crew. We appreciate the support of the audience and we believe they have a lot to look forward to the rest of this season."
Fields added, "Working with Joe Weisberg, Graham Yost, Josh Brand, Adam Arkin, our writing staff, and the brilliant cast and crew has been a blast and I'm delighted we get to keep doing it. We couldn't have made it happen without the constant support of Justin Falvey and Darryl Frank at Amblin TV, David Madden at Fox Television Studios and Eric Schrier at FX Productions and their wonderful teams as well."
In celebration of the series renewal, FX will air a marathon of the first five episodes of "The Americans" back-to-back on Friday, March 1, starting at 10 p.m. EST.
"The Americans" Season 1 is currently airing Wednesdays at 10 p.m. EST on FX.