When it comes to the personal acquisition of art, I believe it is necessary that the work be engaging on several levels; the work has to be emotionally engaging, historically and/or culturally significant and livable. The artist's trajectory also has to be such that the work is, and will continue to be, collectible, i.e., a good investment. It is rare that I come across a contemporary artist whose body of work so completely meets my criteria for what makes a great investment piece. Brett Amory, a resident of the Bay Area in California is one such artist.
Working primarily in oil, Amory is best know for his "Waiting" series. Many of his canvases employ the negative space around the central imagery as a point of departure and a means to draw the eye inward. All of his work is structurally elegant and architecturally precise in its execution. The urban landscapes featured in his imagery are often bleak in their sterility, and his use of washed out color and hard angles are suggestive of the often harsh reality of city living.
Viewers are offered a candid view into the private lives of Amory's Waiters, and, as such, are provided insights into these still moments of transition. In spite of Amory's somewhat stark and uncompromising subject matter, his themes are so beautifully rendered that his work is breathtaking in its simplicity. At its essence, his work is about storytelling -- and the stories he tells are important because his figures could be any one of us, and are therefore representative of man in motion during the 21st century.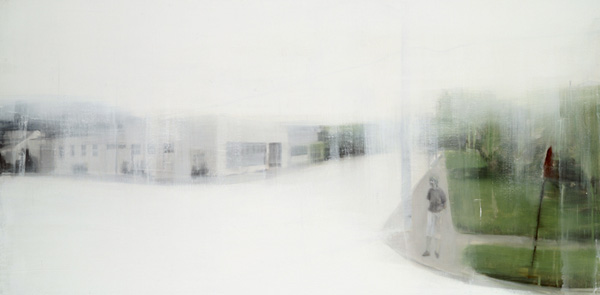 Waiting #94, image courtesy of Brett Amory
Originally from Chesapeake, Virginia, Amory loved art as a child, and during his early 20s found himself reintroduced to the craft in a way that left him feeling as if he had little choice in the matter of pursuing it as a career. Coming from an especially artistic family, Amory felt a particular kinship with his uncle, Ed Roebuck, who was also an artist of note and enjoyed a measure of notoriety in the '80s.
Amory eventually made his way to San Francisco, where he attended the prestigious Academy of Arts college. It was also in the city that he was first inspired to embark on the series that would eventually garner him international attention from collectors, critics and gallerists alike. In 2001, Amory found himself working in Emeryville and living in San Francisco. It was while commuting on Bart that he first took note of his fellow travelers and began painting people in transit. Attracted to the notion that people -- especially those in urban environments -- spend a good deal of time waiting to be somewhere else, instead of living in the moment, Amory focused all of his creative energies on depicting these individuals.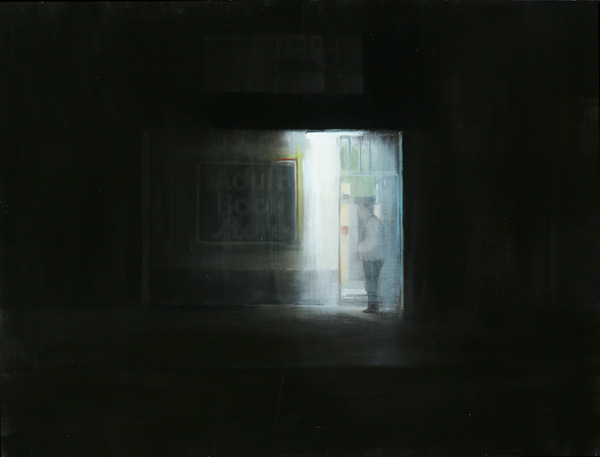 Waiting #82, image courtesy of Brett Amory
Employing urban architecture as a design element within his compositions, Amory is able to further showcase the anonymity and momentary solitude of his human figures. Set against the backdrop of pared down cityscapes, his Waiters move seamlessly in and out of the space on the canvas. Because his use of structure plays a vitally important role to his theme, Amory's work places him squarely in the timeline of American history and design.
Future generations will look to Amory's work, and have a sense for what the world looks like at this moment in time through one artist's eyes. What they will see reflected back at them on the canvas will vary, but they will all have a glimpse into Amory's world of mid-century architecture and his lonely Waiters, who are detached from their environments save for the pressing need to move out of it.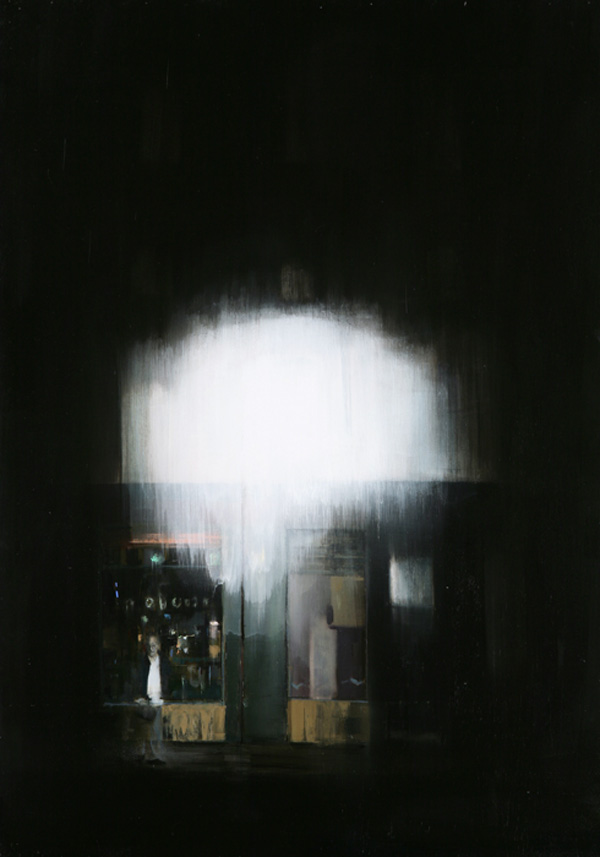 Waiting #83, image courtesy of Brett Amory
Aside from the historical perspective provided by Amory's work, another appealing aspect is how "livable" it is. His work would make sense hanging in a museum or as part of the collection in a private home and make the same impression of a thoughtful art acquisition and statement of refined taste.
As Amory's career heats up, the top names in contemporary art have taken notice and are excited to be part of this artist's rising star. His international representation includes Lazarides in London, Jonathan LeVine in NY, Sandra Lee in San Francisco, and Thinkspace in LA. Recently, he was invited to participate in several corporate programs and has enjoyed great success in those areas, too -- he created the artwork for the Woodford Reserve limited edition Kentucky Derby bottle, and also created artwork for the Absolut Blank campaign this year -- both of which have given him the opportunity to have his artwork enjoyed by a much larger audience. Currently, Amory's work can be seen in a solo exhibition titled White Light, at the Anno Domini Gallery in San Jose.
Brett Amory is certainly an artist to watch, and it is almost beyond a doubt that the value of his original works will continue rising in the future. Booked through 2013 with exhibitions around the world, Amory is an artist that I know we'll have the pleasure of seeing much more of.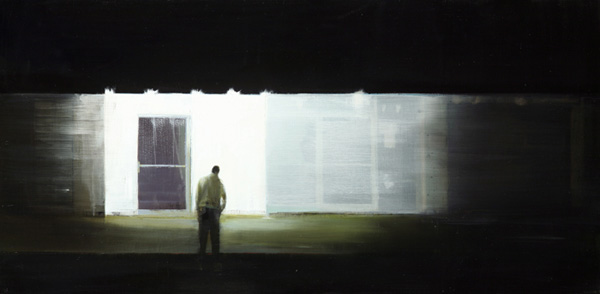 Waiting #84, image courtesy of Brett Amory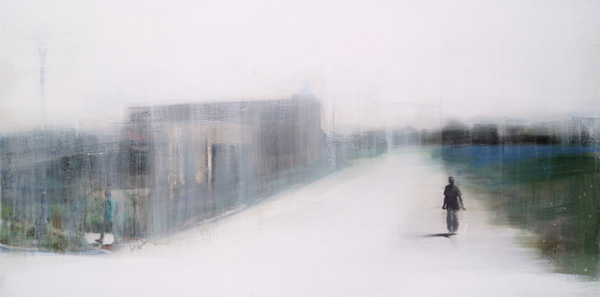 Waiting #93, image courtesy of Brett Amory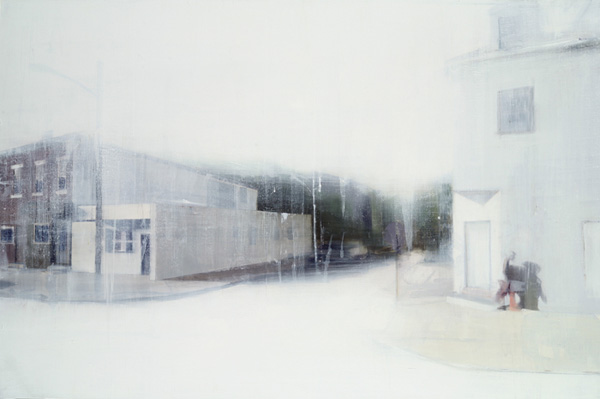 Waiting #96, image courtesy of Brett Amory
For more information on Brett Amory and upcoming events, please visit www.brettamory.com.
Calling all HuffPost superfans!
Sign up for membership to become a founding member and help shape HuffPost's next chapter