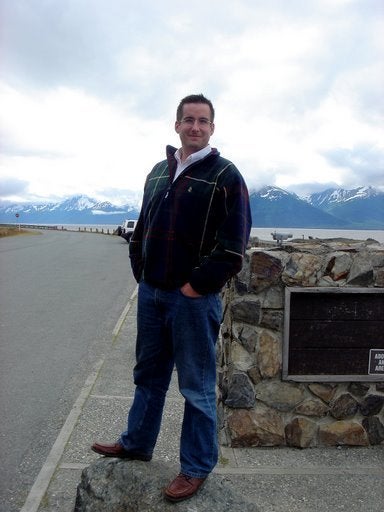 Matthew Felling just took a job outside the Beltway. Way, way outside the Beltway.
The longtime media critic, former CBS "Public Eye" blogger and chatty "Morning Joe" former guest-host has a new gig: Anchoring the 6 p.m. local newscast on local CBS affiliate KTVA in Anchorage, Alaska. Which means that, starting September 15th, he'll be the Anchor from Anchorage. Which is pretty cool — no pun intended.
Okay, pun maybe intended. Felling is getting used to that — as a longtime media denizen of D.C., the reaction, he says, has largely been of amazement and excitement, often followed by an "Anchorman" reference.
"If I have to hear one more "You stay classy, Anchorage!" joke, I'll put my hand through a window," laughed Felling by phone last night, forcing me to bite down on my next question, which was going to be "Are you going to live in an apartment that smells of rich mahogany?"
He said that the reaction has been "overwhelmingly positive, with some scattered, 'That's a crazy thing to do, Felling.'"
But it's not so crazy. In fact, in this mixed-up topsy-turvy world of new media, the best move may well be getting back to basics with a classic of the old. Felling will be writing and reporting for the KTVA broadcast that he'll be anchoring daily, along with brand-new co-anchor Dianne Baker (from Wyoming), plus doing "significant work" for the website.
This time, the web work comes with an old media analog — and that's something he's not likely to overlook. After leaving his job as media director at the Center for Media and Public Affairs to write for the CBS News "Public Eye" blog in May 2007, he found himself a casualty of painful layoffs at CBSNews.com last December. "Public Eye" itself was quietly shuttered less than a month later. Then came a few months of freelance writing, radio hosting and occasional turns on CNN's "Reliable Sources" as he figured out what the hell to do next.
Somehow, all of that led to Alaska — which, to him, makes perfect sense. "There are no tried and true road maps in media any more," says Felling. "There's no one way to get from any one place to another place anymore — the more flexible you are the better chances you have of adapting in this very strange media environment we have nowadays." Felling says that his frequent television appearances (he's been guesting across the dial for years on CNN, Fox, MSNBC etc.) plus his subbing gigs on the "The Kojo Nnamdi Show" on DC's NPR affiliate, WAMU, have given him the tools he needs to get up to speed on the skills needed to anchor a live broadcast (including reading from a teleprompter and projecting gravitas). Says Felling: "All the lessons I've learned in the Beltway will serve me well in the Great White North."
So how great is that north, anyway? City folk, hide your shock - he's been converted. "The place is obviously as beautiful as you've heard," he said, providing the photographic evidence of same that you now see to your right. "The air is so clean it almost hurts my east coast lungs." Felling visited in mid-July for an "anchor test" and fell in love with it "as soon as I touched down at Ted Stevens Airport," he joked (Felling boasted that he had actually been in Girdwood, Alaska — home of the feisty, felonious Senator, a mere week before the charges dropped). He describes his new hometown as "funky" and "sort fo like Austin, if you put Austin Texas in the refrigerator."
He also checked out a real-life Alaskan glacier, a mere hour's drive from Anchorage, and is looking forward to exploring more of Alaska's natural wonders: "It's time for me to even the score between Annandale and Alaska." (That's an Into The Wild joke, which apparently he is getting used to hearing, too; Felling is from Annandale, Virginia, like the book's unlucky protagonist.)
The other cool thing about being so far north: The wild extremes of daylight. "I went to a Saturday night baseball game, and they didn't bother turning the lights on because the sun never went down. Now that's a fun place to live." As for those winter days when you wake up and it's dark, well, he was a frequent guest-host on "Morning Joe."
So — look for Felling starting September 15th on KTVA in Anchorage, at 6 p.m. AKDT (Alaska Time, one hour earlier than Pacific Standard Time). He'll be the one on after Katie Couric (so CBS, let's work on that lead-in, huh?). He will also be riding to work on a moose.
(Just kidding, but since our he stole our Anchorman joke, we had to come up with something else.) Okay, one more: Does he like Baked Alaska? Said Felling: "All I know is I fell in love with Halibut tacos, and I'm not looking back."

And if you want to know anything else, you'll have to Alaska him.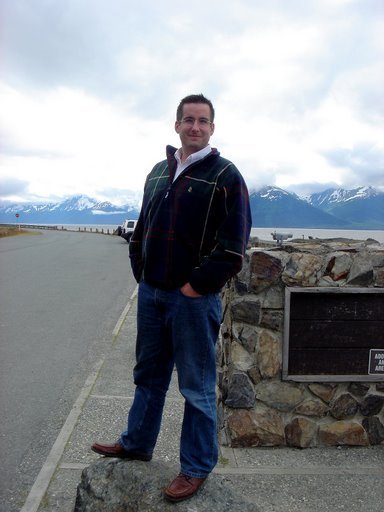 Calling all HuffPost superfans!
Sign up for membership to become a founding member and help shape HuffPost's next chapter