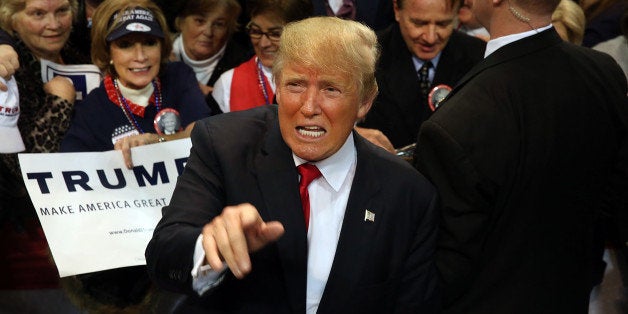 Republican presidential candidates are beginning 2016 with a full head of steam in what could be the most critical period for the party in decades. While Donald Trump and Texas Senator Ted Cruz currently are leading in the national polls of likely Republican voters, it is hard to predict the final outcome of next month's primaries and caucuses.
For political junkies, the Republican race has so far been surprising and unpredictable. Real estate mogul Donald Trump has dominated media coverage and the polls since he announced his candidacy last June. From the very beginning he has exploited voter anger with caustic and abrasive rhetoric. Over the weekend he told a cheering Biloxi, Mississippi, audience, "People are so tired of the incompetence. They're so tired of stupidity." Trump has pledged to deport those who are in this country illegally, to build a wall along the Mexican border, and to temporarily stop Muslims from entering this country.
Meanwhile, Senator Cruz has played on voter anger to appeal to populist right voters with wild rhetoric like, "We will utterly destroy ISIS. We will carpet bomb them into oblivion. I don't know if sand can glow in the dark, but we're going to find out." In Iowa, where he appears to be leading, he has targeted conservative Christians with lines like, "If the body of Christ rises up as one and votes our values, we can turn this country around."
Voter anger is especially pronounced among Republicans. A NBC News/Survey Monkey/Esquire online poll shows that 61% of Republicans "say that current events say that current events irk them more than a year ago." Only 41% of Democrats feel the same way.
As the Iowa Caucus and New Hampshire Primary approaches the large field of Republican candidates has begun attacking each other. New Jersey Governor Chris Christie, campaigning in New Hampshire, railed against his opponents in remarks his staff released in advance Monday. "Bluster is not the leadership we crave. Talking a big game and either not showing up or not knowing how isn't what we desperately need today." Christie's speech was directed at Trump. "Anger alone is not a solution... America needs leaders who not only identify our problems, but who have the ability to repair our broken system. That's what this election is all about."
Florida Senator Marco Rubio, whose disappointing campaign has so far failed to gain traction, attacked Trump in New Hampshire Monday. "The job is not described in the Constitution as 'entertainer in chief,' or 'commentator in chief,' or even, frankly, 'economist in chief.' It is described as Commander in Chief," he said. The self-righteous Rubio also observed, "We have Republican candidates who propose that rulers like Assad and Putin should be partners of the United States, and who have voted with Barack Obama and Harry Reid rather than with our men and women in uniform."
Former Florida Governor Jeb Bush, once thought to be the front-runner, has struggled for support despite being well financed. He has proven to be a weak candidate, and he is burdened by his brother's legacy, former President George W. Bush. Even his attack lines sound desperate and feeble. "Just one other thing -- I gotta get this off my chest -- Donald Trump is a jerk," he said at a town hall meeting last month in New Hampshire. In a Florida town hall meeting in late December he said Trump gets his foreign policy advice from television, "He wakes up in his pajamas and watches the TV shows on Saturday and Sunday."
The Republican campaign has deteriorated into a schoolhouse brawl. Candidates resort to personal attacks rather than to offering specific and detailed solutions to America's underlying problems. This is not a campaign of new and exciting ideas; rather it is a misguided crusade that offers voters little hope for those tired of politics as usual.
No wonder so many Republicans are angry.
REAL LIFE. REAL NEWS. REAL VOICES.
Help us tell more of the stories that matter from voices that too often remain unheard.