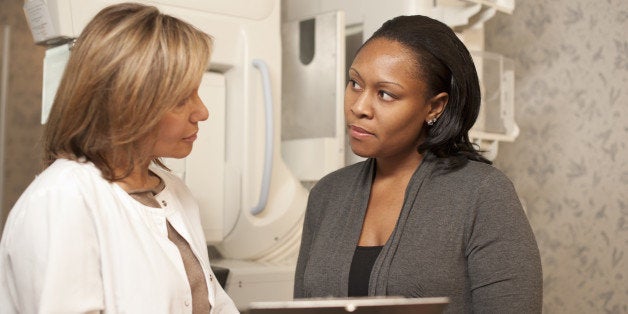 I qualified! I am eligible for more testing. At least, my doctor seems to think so -- though it remains to be seen how my Insurance company will "feel" about the situation.
It's that time of year, again -- my annual mecca to Breast Care Specialists. I may not remember to change the water filter on my house, or schedule my annual eye exam, but the girls? The girls get my attention every year. Now that I've qualified for an MRI on top of my mammogram and ultrasound, it looks like they're going to get special attention twice a year!
The Ultimate Women's Experience
The annual mammogram (plus ultrasound for those of us special gals with extra fibrous tissue) is the ultimate woman's experience.
Some women may argue that a pelvic exam is a more profound woman's experience, but I beg to differ. Something more than health care is in the air surrounding a breast exam -- and I'm not just talking about radiation.
My annual excursion is an immersion into a women-centered medical world... with all the love, nurturing and neuroses that suggests. When I walk through those double glass doors, I enter a world of women, and for the most part, we take very good care of each other (albeit sometimes in a Nurse Ratched kind of a way).
Most of the year I move rapidly through life, stealing moments for myself amidst the hustle of a working mom's busy life. Once a year, I plan to be out of pocket for half a day and I don't even bother looking at my watch. I'm taking care of myself -- it will take as long as it takes. It's not exactly a Shiatsu massage, but I'm surrounded by a sea of women in robes, so I can pretend I'm at a spa and feel decadent at the same time!
Why do I go to a place that takes so long? Simple: excellence. Years ago, one of the doctors at Breast Care Specialists of Atlanta found a lump in my mother's breast that was very small -- smaller than any pearl my mother would deign to wear. Ensconced in their world of white lab jackets, the staff is thorough and conscientious. When I leave, my confidence lasts a full twelve months.
Chutes & Ladders -- Grown Woman Style
I start in the changing area, where I don a blue gown on my way to the second waiting area. Waiting area 1, not a desired destination, is reserved for returning women. Today, Room 1 is empty, and I feel buoyed, celebrating the success of early detection, my confidence in the process reinforced.
Within minutes I meet Tina -- awesome, strong, clear & confident. She leads me to her mammogram chamber where she is the master of her universe. She speaks easily about her family as she turns me to face the machine. Bless her heart -- she does all she can to have me feel at ease as she squeezes my poor, fibrous breasts between lucite and metal plates -- giving all new meaning to the expression "between a rock and a hard place." As she instructs me to hold my breath with each picture, my neck is contorted out of any normal relationship with my spine, and I remind myself that I can withstand anything for 15 seconds (it's probably less than five but... )
We talk about her fourth marriage to the love of her life, the choices she makes in life now that she's over 50. She loves her work, and it shows. I know I am in good hands, and I will them to move quickly!
Confident in Tina's professionalism, I move on to waiting area 3. The ultrasound has been a routine part of my annual exam for many years -- just one more gift that comes with being "well-endowed." I chit chat with a few other buxom women, text a little bit with my Mother-in-Law, and am soon called to join Jennifer in her lair of kindness.
Jennifer couldn't be more different from Tina, and today she is joined by Marie. Jennifer is sweet and kind, the nurturing type -- and she's new here. She informs me that she's been doing this work for 8 years, but she's only been here for two days, so Marie is with her showing her the ropes (and the complicated buttons on the machine!) She, too, loves her work, and her conscientiousness oozes like the warm goo she spreads across my breast. I do not lack confidence in the extra time and effort she's putting into the process, Marie expertly directing and instructing while chit-chatting about breast tissue and the science of mammography. I remain calm and optimistic as they take their time, double-checking the area of last year's biopsy. Honestly, I could stay here all day. I don't want them to miss a centimeter, and I'm confident they won't.
Back to waiting area 4 -- the final frontier, the last station before they call you back to see the doctor. Here I listen to a group of women who are talking with each other. It's late in the day, and I'm feeling pleased at how quickly the day seems to be passing, the lovely encounters I've had with Tina, Jennifer and Marie. Some women are beginning to check their watches, impatiently arranging for dinner with partners on the other end of a cell phone. I am not feeling rushed.
You see, last time I sat in this same waiting area, I felt like I'd landed on a downward slide near the end of a game of "Chutes & Ladders." First, a voice called me from waiting area 3, as she needed to check something on the ultrasound. That led to a call from waiting area 2, and another squeeze on the mammogram. Finally, the call came from area 4, which included a visit to the doctor and an invitation to return the following week for a biopsy. Ultimately, I got a clean bill of health, but only after a few weeks of uncertainty and some pretty uncomfortable procedures.
So this time, I was happy to wait. I joined the conversation with other women. There is a woman from the military -a blue gown on top and fatigues and boots on the bottom, two women who've taken the day off of work and driven to Atlanta together. We chat and amuse ourselves, talking of the time spent (mine now at 3 hours) and our mutual annoyance at the crooked painting on the wall. I get up to straighten the frame, joined by the woman in combat boots. We right it together. I love being in a world of women.
Thankfully, my appointment this time ends with less drama than the last, and I'm thrilled at the absence of anything for the doctor to report. While I get an invitation to return, it's not for another 6 months. I'm now eligible for an annual MRI -- a precaution that I qualify for thanks to fibrous breast tissue and maternal history.
I change out of my blue robe and head to the check out counter, where I re-encounter the woman in combat boots. We greet each other, grateful that neither of us has to return too soon, all too aware of the fear, the frustration, the possibility of a different outcome.
It's amazing to me how this woman I don't know and will likely never see again is just the person at that moment to share this quiet moment of celebration.
As I leave the office, I realize that the apprehension about our annual mammograms is not the fear of the squeeze. It's the invitation to return.
This time, my invitation to return is quite different -- another level of detection, of protection. And while I'm not thrilled to have to make this pilgrimage now twice a year instead of once, I know that I am following in the footsteps of millions of women whose lives have been saved by the miracle of early detection. Whatever happens, I will handle whatever comes. I trust the world of capable women professionals who are committed to excellence. They will steward me through the process.
And I will turn to the women in my life -- and those I don't know in waiting rooms -- for the support I need along the journey.
Calling all HuffPost superfans!
Sign up for membership to become a founding member and help shape HuffPost's next chapter