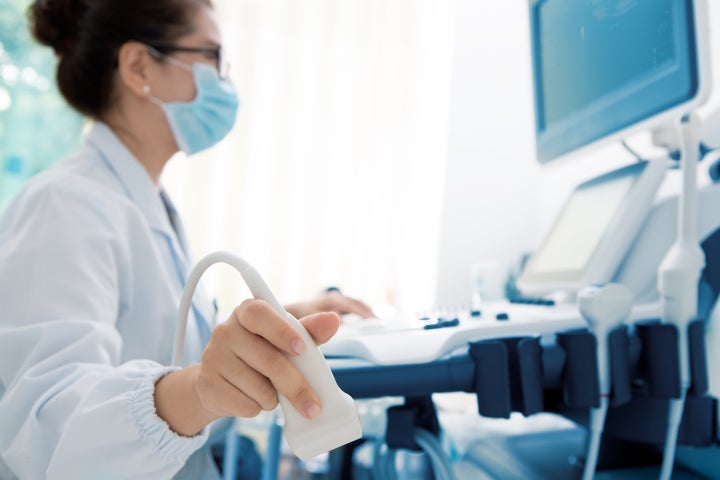 Julie Jenkins, a women's health care provider in the seaside city of Belfast, Maine, spends her days placing IUDs and writing birth control prescriptions. She performs women's routine gynecological exams, tests for sexually transmitted infections and performs procedures such as colposcopies, which check for abnormalities on a woman's cervix.
But when it comes to helping patients end unwanted pregnancies using medication (the "abortion pill"), she can do only part of the work.
Jenkins provides the initial exam and performs an ultrasound to see how far along the patient is. She guides the patient through what the process entails. But when it's time for the woman to actually take the first pill, Jenkins ― a nurse practitioner ― has to step aside, video conferencing on an iPad with a doctor who will watch the woman swallow the medication.
Sometimes arranging that handover is easy, but other times it's not. One of Jenkins' patients had to wait 14 days for a doctor who could oversee the last step. That delay put her outside the 10-weeks-gestation window mandated in the U.S. to obtain an abortion through the two-pill method, meaning she now had to travel five hours for an in-clinic extraction abortion instead — even though the center where Jenkins works had the pill stocked. And even though Jenkins is qualified to perform comparable, if not more complex, medical procedures.
"There are so many pieces that are tough to pull off, in terms of timing and how long patients have to wait," Jenkins told HuffPost, her tone matter-of-fact but her voice tinged with obvious frustration. "It just creates a lot of practical barriers."
And that is why Jenkins is now a plaintiff in a federal lawsuit filed in September by the American Civil Liberties Union and Planned Parenthood challenging the Maine law that prevents her from providing the abortion pill and that says only physicians can perform abortions. It is one of two such cases in the United States right now (the other is in Montana) that reproductive rights advocates say could have a major effect on how accessible abortion truly is for all women in this country, particularly those living in rural areas who often must travel hundreds of miles for care.
After all, the number of abortion providers nationwide has dropped by about 40 percent, from its high of 2,900 facilities in 1982 to less than 1,700 in 2005. Nearly 90 percent of U.S. counties now have no clinic whatsoever. Allowing nurses to provide abortion services could change that, but only a handful of states permit it.
"There are qualified providers who could provide abortion services but who are not allowed to because the law has not caught up with medical practice," Elizabeth Nash, senior state issues manager with the Guttmacher Institute, which studies reproductive health and policy, told HuffPost. "Laws enacted in the 1970s are out of step with how medicine and abortion are provided in 2018."
There is precedent for nurses performing abortion
Given the complexities of state law, it's difficult to track how many states let advanced practice care providers — a category that generally includes physician assistants, nurse practitioners and nurse midwives — to perform abortions. But only about one-fifth of the states allow it to some degree, according to Nash's estimates.
California is the only state with a law explicitly allowing physician assistants, nurse midwives and nurse practitioners to perform both medication and in-clinic abortions — and it has allowed this since 2013.
Some states, including Rhode Island and Connecticut, allow all three types of providers to administer the abortion pill but not in-clinic procedures. Others allow certain types of advanced practice care providers to perform abortions, but not others.
But those distinctions are not driven by any kind of science that suggests, say, a physician assistant is more capable of providing safe abortion care than a nurse — or that either is less qualified to do so than a physician.
A 2013 study that looked at nearly 11,500 in-clinic procedures in California found that only about 1 percent resulted in any complications, and the rate of complications was almost exactly the same among physician assistants, nurses and doctors.
"What that study found is that they provide the same quality care as physicians," Nash said. "And that was really what allowed California to move ahead and pass a policy around advanced practice care provider provision of abortion."
The American College of Obstetricians and Gynecologists supports the expansion of nurses' roles. In a 2014 opinion on the need to increase abortion access in this country, it said laws that "unnecessarily curtail scope of practice diminish the number of qualified medical professionals who can provide abortion care." It stated unequivocally that nurses can safely provide abortion care.
A possible watershed moment
It has been five years since research emerged showing that nurses can provide abortions as safely as physicians, but there hasn't been a lot of action around the issue — until now. In January, the Center for Reproductive Rights and the ACLU of Montana filed a lawsuit in state District Court on behalf of two advanced practice registered nurses who want to provide abortions.
Zachary Heiden, legal director at the ACLU of Maine, said he believes the timing of the Maine and Montana suits has a lot to do with the Supreme Court's 2016 decision in Whole Women's Health v. Hellerstedt, the landmark case that struck down a restrictive Texas law that had led to the closure of dozens of clinics and that, the court decided, had placed an undue burden on women.
That case is "probably an important factor, because it said it's not enough for states to just say, 'We're imposing this restriction for good reason, and just take our word for it,'" Heiden told HuffPost. "It has to have some medical justification."
In Montana, physician assistants have had the legal right to offer abortion services since the 1990s, after the state Supreme Court ruled against a law that said only physicians could do so. But the law does not extend to nurses — a fact that Helen Weems, a nurse practitioner who is one of two plaintiffs in the suit, calls "absurd."
Weeks ago, Weems opened All Families Healthcare, a family practice clinic in remote Whitefish, Montana, with the hopes of being able to provide comprehensive health care to local women, including abortions.
"This is an important case. This could be an important precedent for other states, and there's a huge need all over country," Weems said of her decision to be a named plaintiff in the lawsuit. "If we can increase access exponentially by including advanced practice clinicians, it's going to be better for women, better for families, better for clinicians."
Caitlyn Borgman, executive director of ACLU of Montana, echoed the sentiment, telling HuffPost that she hopes the legal challenge in her state and the one in Maine are a sign that states will soon recognize there is a pool of providers who are eminently qualified to provide abortions.
"We know they can do it. There's no research behind state laws to prevent them from providing this service," she said. "I hope that we're just part of a broader trend."
Clarification: A previous version of this story indicated California is the only state that allows physician assistants, nurse midwives and nurse practitioners to perform medication and in-clinic abortions. It is the only state with a law explicitly allowing this.