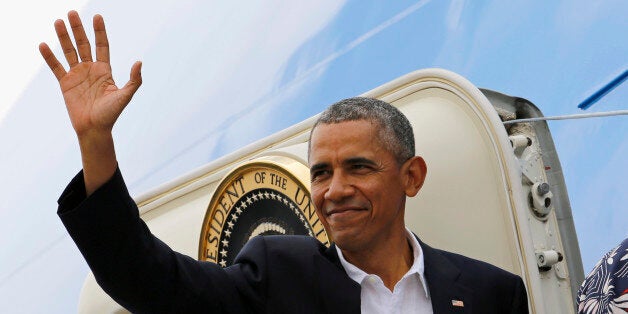 As an American, I've been proud to witness the process of mutual engagement between our nation and Cuba that began on December 17, 2014. Starting Sunday, March 20, this ongoing process entered a new, high-stakes and potentially revolutionary phase as President Barack Obama -- along with his immediate family and hundreds of administration staffers and perhaps 30 members of Congress -- became the first sitting U.S. head of state to visit the island in more than 88 years.
There are many reasons that I enthusiastically support this trip. Our past policy of isolation and impoverishment -- still enshrined in the anachronistic embargo -- not only failed to achieve the dubious goal of "regime change." It was also morally flawed as it always hurt the Cuban people more than it did the elite cadres of the Communist party and Cuba's military brass. To wit, it likely helped to entrench the Castro brothers in power as it provided them with the perfect foreign bully on which to blame their own economic mismanagement and against which to rally the population with the flag of nationalist defense.
Obama's much more nuanced twin policies of engagement and empowerment will effectively remove "Tio Sam" as the regime's preferred scapegoat, while simultaneously giving a shot in the arm to everyday Cubans eager for greater entrepreneurial opportunity and starved of access to the wonderful world of the world wide web.
Still, as a student of Cuban history, U.S.-Cuban relations, and contemporary Cuban society, I know that the answer to Cuba's many, complex internal problems won't come from the White House. Nor should anyone expect it to.
As a global power, the U.S. has long struggled to deal with Cuba - a much smaller and less powerful nation - on terms of equality and mutual respect. Instead of heeding the advice of past Mexican President Benito Juárez, who famously said, "Respect for the rights of the other is peace," we have sought to influence and occasionally dictate to Cuba its form of government and the nature of its foreign relations.
Obviously, this approach has not lead to mutual peace, but instead to chronic antagonism, cyclical conflict, and an enduring mistrust between our nations.
This tension characterized our relationship with the island at the end of the 19th century during what we ignorantly refer to as the "Spanish-American War." (For Cubans, it was their long-frustrated war for independence). The war culminated in a dubious sovereignty for the island nation as a U.S. "protectorate" under the infamous Platt Amendment (1901), which granted to the U.S. the right -- and responsibility -- of intervening in Cuba in order to "protect its independence."
This same arrogant attitude drove our policies of economic embargo and political regime change in Cuba since the start of the Revolution in 1959 to the end of 2014. What Mexicans jokingly say about their close but often difficult relationship with the U.S. also applies to Cuba: "Poor Cuba, so far from God and so close to the United States!"
But with his new policy of principled engagement, Obama has explicitly rejected the goal of regime change and repeatedly asked Congress to repeal the embargo -- as he did again on Monday to rousing applause at a Cuban entrepreneurship and opportunity event I attended in Old Havana.
He echoed this denunciation on Tuesday in his historic address to the Cuban people at Havana's historic Alicia Alonso Grand Theater, which was carried live on Cuban state television. "I have come here to bury the last vestiges of the Cold War in the Americas," he said to thundering applause from the expectant and appreciative audience. "I have come here to extend the hand of friendship to the Cuban people."
By reestablishing diplomatic relations with Cuba, reopening embassies in our respective capitals, and sealing the deal with his dramatic and very well received trip to the island nation, Obama implicitly recognizes Cuban national sovereignty (with or without the Castro bothers at the helm).
"I have made it very clear that the United States has neither the capacity nor the intention to impose changes in Cuba," announced Obama in his speech. "The changes to come depend on the Cuban people."
However, this necessary and historic shift in our policy toward Cuba is anything but the end of the story. Indeed, it is only the beginning of a new and necessary focus because it allows us to put the embargo behind us and increasingly highlight the all-important relationship between the Cuban government and the island's diverse, aggrieved, and often dissenting populace.
Just as the U.S. must recognize and respect Cuba's national sovereignty in order to achieve a "normalization" between nations, for its part the Cuban government must recognize that its national sovereignty -- like that of any nation -- is based on the popular sovereignty of each and every one of its citizens whom it has preferred to treat as subjects for decades.
In other words, in order to become a "normal" country and achieve national reconciliation, the Cuban government must -- as Juárez said -- "respect the rights of the other" -- that is, its own people. Not because Obama or another American president (or I) require it, but because its own citizens demand and deserve it.
"It is time to lift the embargo," Obama insisted. "But even if the embargo were lifted tomorrow," he clarified, "Cubans would not realize its potential without a continuous change here in Cuba."
It is true that the "apostle" of Cuban independence José Martí -- whom Obama honored on Monday morning with a wreath laying at Havana's national monument -- envisioned Cuba as a "David" standing firm and fierce against the imperial power of the U.S. "Goliath" in his final letter written before dying in battle against Spanish forces on May 19, 1895. However, Martí also rejected the demagoguery of personalistic caudillos and the illegitimacy of non-democratic military rule for Cuba's future when he wrote the following words to general Máximo Gómez in 1884:
"A nation is not founded, General, as a military camp is commanded."
Indeed, if there is a simple metaphor that captures the nature of the "Cuban model" under the revolution, it is this: tragically, the people have been converted into an army and their job -- like good soldiers anywhere -- has been none other than to obey orders from the Castro brothers.
In this context, if it is true that Cuba has had to struggle valiantly under an external embargo for more than 50 years, the Cuban government has skillfully manipulated this threat to create -- quite cynically -- an internal blockade against its own people governing an entire country as if under a state of siege.
Indeed, the saying commonly used to squelch independent voices in Cuba, "in a state of siege dissidence is treason," indicates the terrible consequences the "encampment mentality" has had for Cuban civil society.
While Obama's Cuba visit runs the risk of appearing to legitimize an undemocratic regime, it also gives the president the unprecedented opportunity to declare clearly and directly -- to the Cuban people, the Cuban government, and the international community -- that it is no longer the policy of the United States to block Cuba's economic prosperity or attempt to isolate it from the worldwide digital revolution.
On Monday, Obama met with President Raúl Castro for bilateral talks followed by a first-ever open press conference (for Raúl!) where both leaders were subjected to tough public questioning. In response to a question about political prisoners, Raúl even vowed, "Show me a list of political prisoners and I'll release them this very night!" Facebook and Twitter ware immediately flooded with scores of competing lists for him to choose from.
Even before landing in Cuba on Sunday, Obama set a promising precedent by responding directly to a letter from the leading dissident group the Ladies in White, recognizing their brave example in Cuba as something other human rights activists around the world could learn from.
I have every confidence that their bilateral talks included Obama's direct appeals to Castro not only in the areas of deeper economic reform and broader access to the Internet, but also a frank discussion of universal standards of human rights, democratic citizen participation, and a free press. And while his speech was a model of diplomacy that began by directly thanking Raúl Castro and the Cuban government for the gracious welcome given to him and his family, Obama did not shy away from clearly expressing his belief in universal human rights and democratic ideals.
"I believe that citizens should have the freedom to say what they think without fear, to organize and criticize their government, and to peacefully protest," Obama offered. He then indirectly but unmistakably highlighted the Cuban government's "catch-and-release" strategy of harassing and intimidating dissidents, saying, "the rule of law should not include arbitrary detentions of those people who exercise those rights."
In balancing his denunciation of past U.S. policy with clear recognition of the continued lack of fundamental civil liberties and political freedoms in Cuba, Obama sent the message that his visit aimed to go beyond mere government-to-government engagement and thankfully eschewed the "selfie" model of folkloric fun associated with celebrities like Paris Hilton and Mick Jagger.
In sum, Obama made good on the promise he made last December when he said: "If I visit Cuba, part of the deal is that I get to talk with everyone." Indeed, just prior to his speech, he met privately with a dozen leading dissidents and civil society activists for nearly two hours. Just as importantly, this lengthy meeting was less a symbolic photo-op (it was closed to the press and off the record) than a serious and substantial effort to hear the diverse and often conflicting views of Cuba's opposition.
Indeed, in a healthy show of pluralism and inclusion, attendees to the meeting included activists like José Daniel Ferrer of UNPACU, Elizardo Sánchez of the Cuban Committee for Human Rights and National Reconciliation, and Manuel Cuesta Morúa of Arco Progresista -- all of whom support his new policy of engagement -- and people like Berta Soler of the Ladies in White, Coco Fariñas, and Antonio Rodiles of Estado de Sats -- who have harshly criticized the engagement as a capitulation to the Cuban government and an abandonment of the Cuban people.
Cubans can now make no mistake. They have seen and heard directly that the goal of Obama -- the president of Cuba's supposed archenemy -- is none other than to build bridges of economic collaboration, telecom exchange, and mutual understanding. If they remain poor, marginalized, and internally blockaded more than 15 months since December 17, 2014, they will draw their own conclusions about who is to blame for their continued isolation and frustration.
Without a foreign scapegoat to blame and lacking any outside savior to "protect" them, it will become increasingly clear to everyone that the solution to Cuba's many and complex internal problems must come from within the Cuban nation and through a robust, broadly inclusive, and respectful dialogue among Cubans themselves.
Calling all HuffPost superfans!
Sign up for membership to become a founding member and help shape HuffPost's next chapter