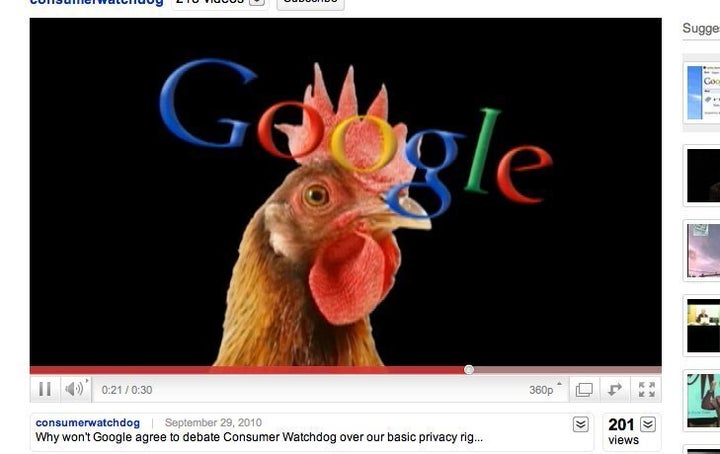 The latest baby born out of Google Labs, Instant Search, is only a few weeks old but already overachieving. Google promises that the new feature does to regular searches what Emeril believes too much garlic does for a recipe: kicks it up a notch. We are pushing the limits of our technology and infrastructure to help you get better search results, faster. -- Mr. Google & Associates
Google Instant promises to shave 2-5 seconds off of average searches, leaving more time to watch The Situation disappoint his parents. One would think that the geniuses at Google spend years perfecting their algorithms because people are searching important topics.
We all know that isn't true. The graph below is based on data collected from my assumptions.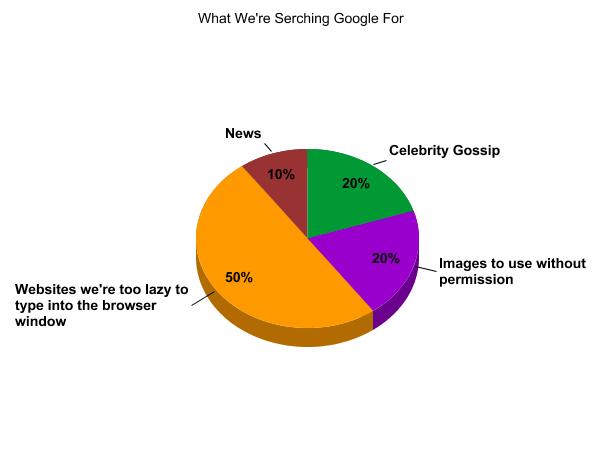 Google needs to stop wasting so much time helping us waste time and concentrate on creating beautiful versions of its logo (love those!). In my commitment to being part of the solution in everyday life, I'm willing to answer some of the pressing questions that pop up in Google predictive text. My hope is that over time, one by one, I can lay these important questions to rest.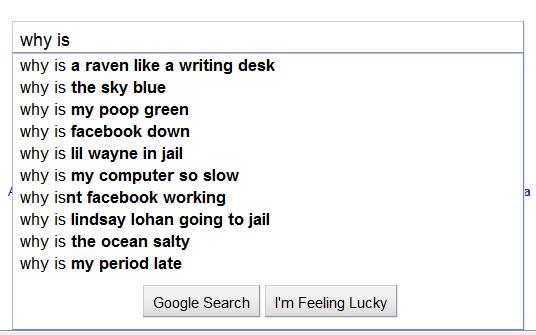 Why is a raven like a writing desk: I've followed her career from The Cosby Show to the Disney Channel and would venture to say that it has something to do with holding scripts. Why is the sky blue: I have a better question: what about "just say no" didn't you understand? Why is my poop green: Fecal matter turns green when your checking account balance is in the positive. Congrats! Why is Facebook down: Because you haven't paid your one-time setup fee. Please email me for payment details.
Why is Lil Wayne in jail: Grammy winning rap musician, Lil Wayne (born Dwayne Michael Carter, Jr.), is currently serving a prison sentence after authorities found a .40-caliber Springfield Armory semi-automatic in his tour bus. When asked to comment on the case Sarah Palin said, "The right to own guns is something I and many other Americans cherish." Upon learning that Dwayne is a rapper, Palin pretended to recognize someone in the distance and excused herself. Why is my computer so slow: You may be at the end of your 1,025 free American Online hours. Request another CD. Why isn't Facebook working: I see your Paypal payment has been made (thank you). I just got off the phone with Mark and it seems as if you won the Russian lottery and have $12.4 million ( that's a lot of rubles) waiting for you. Once we've talked about how to go about claiming your winnings, your FB account should be up n' buzzing.
Why is Lindsay Lohan going to jail: She's scheduled to deliver an uplifting speech to at-risk youth.
Why is the ocean salty: Dr. Oz has been working with the whale community, under Oprah's supervision, to help educate our marine friends on the importance of switching to low-sodium water. No progress has been made as of yet and the whales continue to selfishly destroy mother earth. Why is my period late: No reason. That just happens sometimes. A woman's menstruation can actually be up to 9 months late without cause for concern. Possible side effects include a person.
Popular in the Community