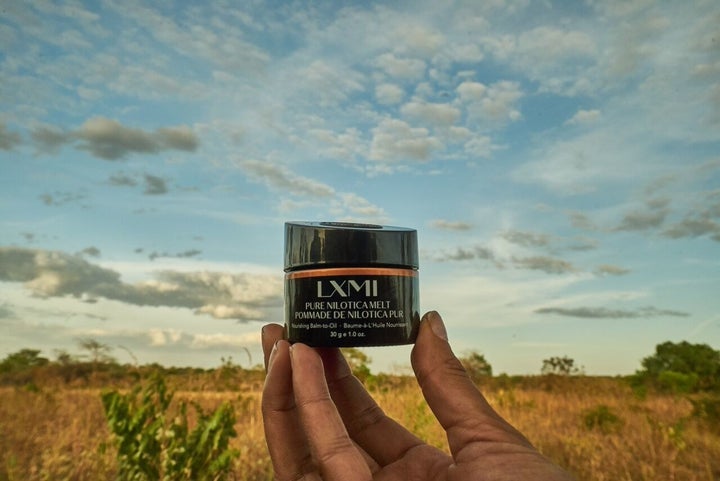 Two years ago, non-profit entrepreneur Leila Janah strolled into a small marketplace in Northern Uganda in search of a cure for her parched skin. She came across Nilotica balm, a cold-pressed oil which is derived from the locally grown Nilotica nut. Within hours she found her skin moisturized and glowing far better than any product she had ever tried. "I started using it and I fell completely in love with this ingredient," she explains of her decision to start LXMI, her organic two-product line of Nilotica-based creams — one, a pure concentrated Vaseline-like balm, the other, a daytime cream.
Nilotica is the purest nut-based oil you can find, harvested exclusively from the 20-year-old trees that line the Nile River in an industrially untouched part of Africa. As a result, the nut maintains its purity and nutrients like essential fatty acids, vitamin A, and allantoin, an enzyme which promotes healthy cell development. She attributes much of her success to her knowledge of the people in the remote Northern Uganda region where she has worked for years, some of whom are local war widows who work with her as harvesters. "They earn at least three times the local wages so it is a win for the consumer, and a win for the community, who for the first time are able to earn an actual living," she explained. Here, the beauty guru explains why this balm is all you need to get flawless skin.
First and foremost — what is so special about this nut? Why is it such a miracle worker for the skin?
Nilotica is a rare type of shea butter, but I don't even call it shea butter. It's as different as night and day from the shea butter that most people have. It's special because it only grows at the Nile River, the only place the nuts grow wild. So the nuts fall to the ground and are collected by the women. It has 25 percent more oleic acid than traditional shea butter which is important because that's the hydration component, so it's packed with this essential fatty acid your skin needs. It's good for acne prone skin, as opposed to products which strip your skin of natural oils and make your skin overproduce natural oils, which leads to acne. The texture is amazing, we add nothing to it, and we get a balm. It's packed with vitamins A, E, and K, so it's a great way to get these vitamins into your skin. The nut itself has natural preservatives, so it doesn't require any other preservatives. Also we made the packaging black to avoid UVA rays from getting into the product and jeopardizing the ingredient.
So why do you think it wasn't discovered before? Why is this the first time? Other exotic oils like coconut and argan oil have totally swept the industry…
Our Nilotica has a special grading process, and we use a special extraction process which yields the best unique creamy texture and maintains nutrients. It's also hard to do business in northern Uganda because it's very off the beaten path. You take a 4x4 and you're on the road for hours. It's not something people are used to, and it's hard to identify suppliers and build relationships you can trust. I had the advantage because I've been doing this my whole professional life, doing deals in Kenya and Uganda. It's my greatest skill—being able to go into these places and scout. And then there was a civil war going on for twenty years, so it's always been a dangerous place to go to on top of all of that.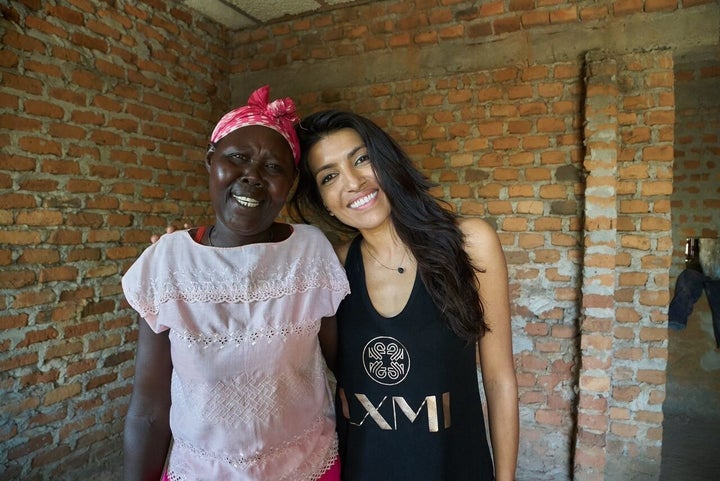 So you harvest the nut in Africa, and then what happens?
We get the raw ingredients from Uganda. We would bottle it there but it would make it harder to get it to the U.S., so we use a great lab to put the raw ingredient in the jar, and make sure there's no contamination. It's part of our mission to have as few ingredients as possible, so there's no preservatives in the Nilotica. It's a nut that survives for years in the wild. In fact, if you leave the nut in a cool storage room without being shelled or processed, it will last for 20 years. We press it in order to keep the jar really pure, and make sure we're doing it in a facility that's extremely clean and regulated. The lab also specializes in developing natural formulas.
It's great how committed you are to keeping it 100 percent organic and additive free. How did you arrive at this decision?
I was using these fancy creams I would buy at duty free, not knowing I was poisoning myself basically. If women are willing to spend $200 on a jar of skin cream, why wouldn't you spend $200 on something that is the true definition of luxury? When I started researching Nilotica, I learned how toxic the other stuff was. Nilotica is completely pure and grows in the wild in an environment that has no industrial pollution of any kind, because there's no commercial agriculture happening there. It's the most pristine environment. So I figured, how do I build a business around this wild, truly pure single ingredient?