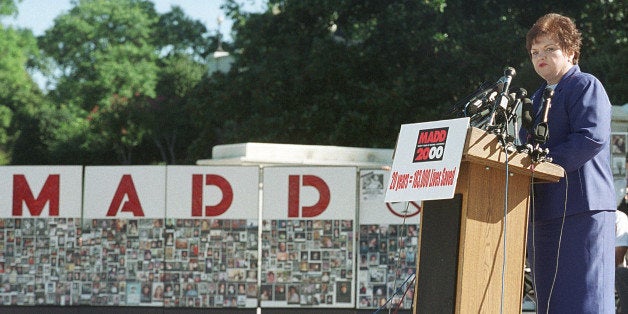 In February 1981, my friends Pamela Rudin, Erica Hassner, and Ruth Yudelson died on the shoulder of an upstate New York road while walking home from a religious retreat. Astonishingly, the drunk driver who plowed into them never saw the inside of a prison cell. A grand jury refused to indict him with a felony, leveling only minor charges: "driving with impaired ability" and "failing to use due care when operating a motor vehicle near pedestrians."
Such miscarriages of justice were typical then; Americans once regarded drunk drivers not as perpetrators, but as victims of a terrible disease -- alcoholism -- over which they lacked control. Indeed, in 1970, a judge refused to let the parents of a victim inside the trial of their child's killer for fear that their grief might prejudice the jury.
My friends' tragedy and others like it spurred groups like Mothers Against Drunk Driving and Students Against Drunk Driving to lead a campaign to change the public's perspective. These groups fought both to hold drivers accountable and to galvanize ordinary people to intervene before people got behind a steering wheel. Beyond advocating for stricter sentences, they popularized "designated drivers," and led campaigns to remind ordinary people that, "friends don't let friends drink and drive." The results were impressive. Between the mid-1970s and 2012, the percentage of traffic fatalities ascribed to alcohol plummeted from 60 to 31 percent.
Today, we face another social epidemic: Every fifth woman who attends an institution of higher learning experiences an attempted or actual sexual assault. But as with drunk driving in the early 1980s, debate rages over the perpetrators' culpability. What if the rapist and victim were both drunk? What if, when the victim started dancing with the perpetrator, he took that to mean that his partner was eager to get more intimate? Clear answers exist to these questions, but Americans still shrink from drawing bright lines in incidents of sexualized violence. That has left millions of women -- and many men -- needlessly vulnerable.
In 2011, thanks to the efforts of sexual assault survivors and their allies, the U.S. Department of Education mandated that schools work proactively to protect students. As a result, universities are embracing policies designed to provide fair and expeditious justice, and they are also doing more to educate potential victims about how to protect themselves.
Yet these strategies are not enough. As my decades of research show, stemming the plague of sexual assault requires that we change cultural norms that prevent bystanders from stepping up. Faculty, staff, families, alumni, local businesses and, most important, other students are frequently in a position to thwart an attack, yet too often, they fail to act.
I recently heard a story that highlights the great power bystanders wield. A college administrator and her husband were walking home from dinner late one evening when they encountered three male students supporting an intoxicated woman as she stumbled down the street. Initially, the administrator felt inclined to leave the group alone; it appeared as though the men were escorting a vulnerable student home. Maybe they were.
Then she began to wonder. At the risk of offending three good Samaritans, she turned back and asked the men what was going on. When they responded that they were "just bringing her back to her dorm room," the administrator and her husband insisted on taking over and seeing the woman home. Would the men have assaulted the woman that night? We'll never know -- and that's the point. A bystander intervened to steer both parties away from a dangerous situation.
Older, conscientious adults aren't the only ones poised to make a difference. When a young man sees four of his frat brothers leading a drunken girl to a secluded area in the basement, what should he do? What would spur him to intervene? Most important, what can we do to make sure he will feel culpable if he fails to step in?
As surveys suggest, most men don't interfere with ongoing assaults because they don't want their peers to see them as "that guy" or a "party pooper." But what if society strongly celebrated men who intervened as "rape stoppers" rather than killjoys? What if stopping a college male from pulling a female into a secluded bedroom was considered to be as valiant as offering to drive a drunken patron home from a bar?
Many bystanders would like to speak up, but they aren't sure how. Better education can help. During the 1980s, PSAs depicted groups of drinkers selecting a designated driver, modeling behavior for others to mimic. Similarly, we should teach college students to change the dynamics of a dangerous situation by turning the lights on in a dimly lit room, or by turning the music off. One model student told me she started a conga line so as to separate a would-be victim from her would-be rapist. On some campuses, students are trained and employed as paid "watchers" to intervene without disrupting the vibe at any given party.
Institutions that have taken the lead in educating students about sexual assault have seen impressive results. A program designed to get high school students to intervene in dangerous situations led to a 50-percent drop in reported sexual assaults. A similar program for members of the military found that soldiers were much more likely to intervene if they'd been trained explicitly in what to do.
Society should punish rapists after the fact, but universities must also help change ordinary people's behavior before a sexual assault occurs. Millions of would-be drunk drivers have stayed off the roads because bystanders intervened before they could turn on the ignition. The moment is ripe for us to apply the same strategy to protect millions of potential victims on campus.
Sharyn J. Potter, PhD, MPH, is the Co-founder and Co-director of the Prevention Innovations Research Center at the University of New Hampshire and is an associate professor in the Department of Sociology.
Related
Popular in the Community