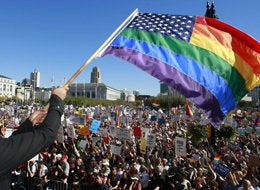 On November 12th, it was widely reported that Scott Eckern, the artistic director of the California Musical Theatre, resigned after the Yes on Proposition 8 donation list revealed his $1,000 contribution. Turns out, the idea of boycotting companies to get homophobic employees fired has caught on.
I spent Saturday at a rally in Chicago protesting Proposition 8 and the anti-gay marriage movement. One of the speakers talked about a blacklist of companies that donated to Proposition 8. Still high from the protest, I looked up the Anti-Gay Blacklist, a collection of names and affiliations lifted from the public record of political donations to the Yes on 8 campaign.
I am a big supporter of boycotts. They are a peaceful method of resistance, encouraging a decrease in consumption and socially responsible spending. The fact that the gay community cuts across class lines makes an LGBT boycott that much more effective.
The problem is, the Anti-Gay Blacklist doesn't just include companies that donated to Yes on 8. It includes companies that have employees who donated to Yes on 8.
At the rally, the speaker mentioned a few highlights -- preparing us for the worst -- including Ace Hardware and Home Depot, so I searched for those names first. Home Depot's offense is employing Richard Reep, the human rights manager for the hardware chain in Shingle Springs, CA. Ace Hardware's offense is hiring Robert Frost, Project Manager for the company in Clayton, CA.
It's easy to celebrate when the director of a theatre, a musical theatre, gets his just deserts for opposing our rights. It's not a minor affront. It's an allegiance with a movement of hatred and bigotry that offends every aspect of my belief system. But I can't support a company hiring or firing based on political or religious affiliation.
Weren't we part of the same movement that cheered when Wendy Chandler, a Utah school teacher, won her job back in the State Supreme Court? Didn't we celebrate when Kevin Logan, a high school student in Indiana, was allowed to wear a dress to prom?
These organizations tried to oust people who thought or acted in a way that counteracted the overall values of their employer or community. We fought legal battles to ensure that those organizations had employment and participation standards that were neutral, on sexual orientation, but also on political affiliation and personal belief systems.
If individuals perform their jobs well, if they are good students or good human resource managers, then they should be allowed to continue in their positions. Until their actions in the workplace create harm -- dismissals based on political affiliation should not be encouraged.
This movement for equal rights is based on the fundamental belief in the equal protection of the law. That means equal protection for us, but it also means equal protection for the people who hate us. We can create an effective movement for full protection for LGBT people under the Constitution without working to unemploy individuals who, because of faith or bigotry, don't think we deserve to be treated equally. That is a movement of which we can all be proud.
Calling all HuffPost superfans!
Sign up for membership to become a founding member and help shape HuffPost's next chapter