The Appalachian Trail is back in the news these days, thanks to the release of "A Walk in the Woods," the new movie starring Robert Redford and Nick Nolte and based on Bill Bryson's classic book. Some of us have indelible memories of our experiences on the trail. Here's the conclusion to my journey tracing the entire length of it, years back, in a rented Geo Prizm. (You can read Part I of the adventure here.)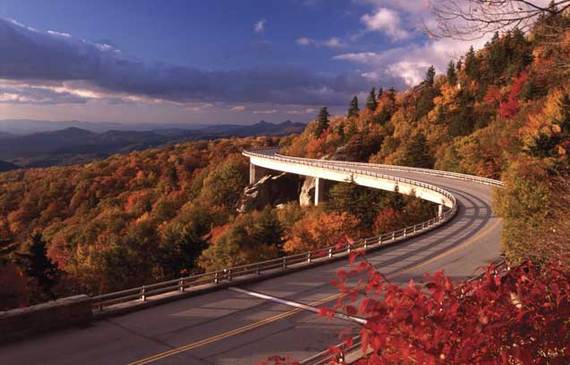 Raised in Manhattan, I'd always wished I were one of those woodsmen who know trees and not traffic signals, and dreamed of tackling the Appalachian Trail. Realistically, I knew that conquering America's oldest and longest interstate hiking trail was beyond me. Unless I found a miracle stamina drink, I would probably never make much progress on the 2,168-mile Maine-to-Georgia marathon.

Then it hit me. Though often remote, the Appalachian Trail was a route like any other. Ordinary roads ran near it and intersected it as it wound its way around towns, over rivers and across forested valleys. What was to stop me from tracking the trail by . . . car?
That settled it. I would get on my duff and drive the AT. I would follow the dirt path as closely as I could without actually driving right up onto it (which, by the way, is expressly forbidden). And though it sounded sacrilegious, like snowmobiling the Alps or jet-skiing the English Channel, I would do it with pride--and the whole length of it, from Georgia to Maine.
* * *
Blue Ridge Parkway and Skyline Drive, Va.
While trail hikers are hoofing it through Beauty Spot, Tenn., and Virginia's Lost Spectacles Gap, I'm on I-81 north, flying past towns named Rural Retreat, Henry, and Floyd. It's Day 5 of my drive, and the Prizm and I have covered 744 miles so far, winding through places like Chattahoochee Forest, Ga., Nantahala River Gorge, N.C., and Great Smoky Mountains National Park. We meet up with the Appalachian Trail along the Blue Ridge Parkway, which looks like a road in a child's drawing: a curving strip of asphalt cutting through charming forests, with crayon-soft mountain views at every bend.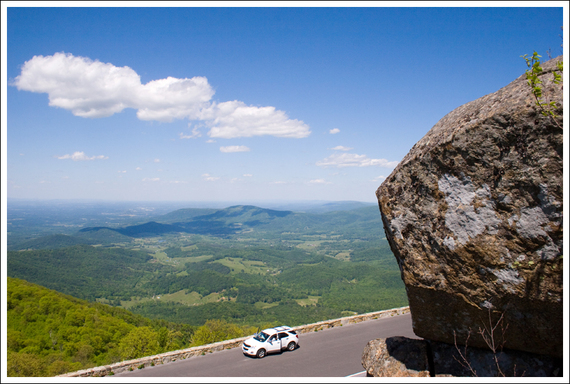 The trail crisscrosses the parkway again and again, tossing hikers out on the tar at junctures like Harveys Knob Overlook and swallowing them up again in the bush on the other side of the road. One scraggly walker I talk to, Jeff Volk, takes a look at my Prizm and tells me that in his opinion, the Blue Ridge Parkway ought to be closed to cars. Before I can figure out how to respond, he backpedals: "Actually, the cars I've seen so far near the trail have been fairly benign." Um, thanks, I say, deciding to take this compliment for what it's worth.
Shenandoah National Park's Skyline Drive is much like the Blue Ridge, with the trail intersecting it again and again, and with astonishing valley views. But here there are redbud trees in full bloom, low stone guardrails and, now that it's sunset, a circus of wild animals coming up close to the road to forage for food.
Deer by the dozen approach my braking car and stare wide-eyed at me through the bug-speckled windshield. Driving gingerly, I cross paths with various woodchucks, a pair of nervous pheasants and a wild turkey that looks exactly like the bird on the bourbon label. I meet all of these creatures right smack on the blacktop, without setting foot in the woods. Take that, hikers!
Trail Hunting: Virginia to Vermont
During Days 6 through 9, I chase the trail from Northern Virginia to the Green Mountains of Vermont, covering 776 miles. Since the Appalachian Trail runs right through Pennsylvania's Pine Grove Furnace State Park, and it's minutes from I-81, I stop off at this pocket-sized destination, and am glad I did. The old iron furnace stack is massive and mysterious, like an Inca ruin. I end up hiking the trail through the park, and my reward is stumbling onto the AT's halfway marker, buried in a patch of woods: 1,069 Miles to Springer Mountain--1,069 Miles to Mt. Katahdin.
Through-hikers take a traditional break for ice cream at the park's general store, and if you can down half a gallon at one sitting, you get inducted into an exclusive club. I want to try this, but the store is locked, so I have to settle for a large vanilla cone from a Tastee-Freez. I then lose it down the back of the driver's seat in the Prizm.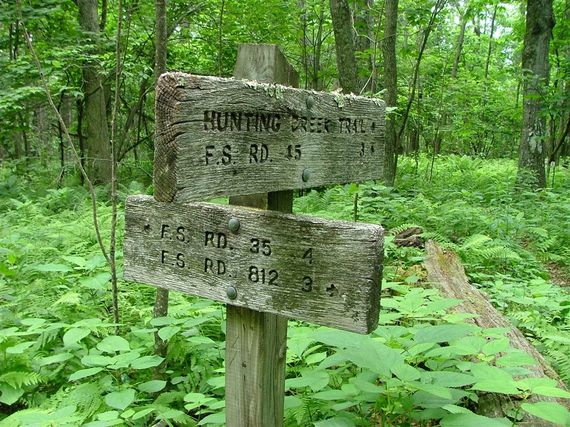 U.S. Route 209 brings me north and east along the Delaware River across from New Jersey. Leading up to the Hudson River is the oldest section of the AT, a well-trampled stretch that has been in business since 1923. Route 6 and the trail cross the Hudson along Bear Mountain Bridge, a brave little suspension span guarded by a fairy-tale gatekeeper's cottage with a Hansel and Gretel pitched roof. I pay a toll while watching a parade of hikers breeze past for free.
To cross the AT in northwestern Connecticut I use U.S. Route 44 and, hard by the trail, continue north through western Massachusetts and into Vermont on U.S. Route 7, where I turn east at Bennington, Vt., onto Route 9 and its crossing with the AT. This bit of the AT route is shared by Vermont's Long Trail, the nation's oldest hiking pathway, but "AT/LT" is all the simple, cryptic sign by the roadside says.
Although it's spring, there is snow in big, foot-soaking patches wherever the sun doesn't reach, and the north country air is still sharp and fresh. I see a bumper sticker that says "I Break for Moose," and minutes later, I actually have to do this for a sauntering, antler-less female near the town of Wilmington.
Golden Road, Baxter State Park, Maine
On Day 10 of my Appalachian drive, I head north in Vermont, taking I-91 and using U.S. Routes 302 and 2 to skirt New Hampshire's White Mountains, which trail hikers are crawling up and over like tired ants. As I cross into Maine on Route 2, then get on I-95 north for the final leg of the trip, the news of the day is the record-blasting 92-degree heat.
I have driven exactly 2,059 miles chasing the Appalachian Trail, and beating my two-week deadline by four days, am finally getting within sniffing distance of my ultimate goal: the trail's northern terminus atop Baxter State Park's 5,268-foot Mount Katahdin.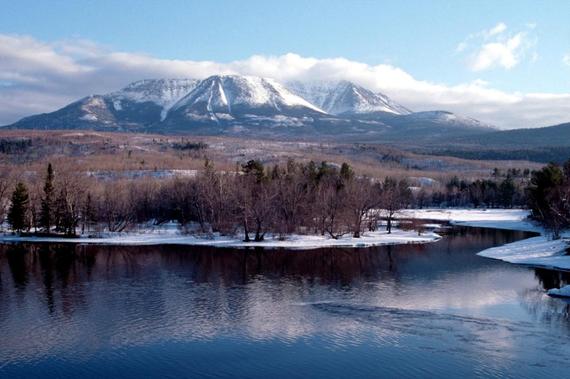 I have visions of spiraling up there on paved roads and parking in front of the marker to take snapshots and crack open a celebratory drink and snack. But glowering, snow-bearded Katahdin is defiant. Maine's highest peak can't even be scaled partway on park roads since, in mid-April, they are still locked and gated for winter.
I'm crushed. If I can't reach the summit, I've got to figure out some way to get my car to a trail crossing and as close to Katahdin as fast-melting ice and slush will allow. I can hear the Gatorade-drinking hikers laughing back at the Nantahala Outdoor Center: "Guy with the Prizm couldn't finish his AT drive. Serves him right."
I realize that the trail has begun to make its mark on me, rather than the other way around. Now I have to finish the job.
Questioning some guys in John Deere caps, I find that there is, in fact, a way to get to the base of the mountain and, if I'm reading the map right, cross with the trail as it passes behind a cabin that sells supplies. I will have to get my car onto what one guy calls the Golden Road, a private logging route owned by the Great Northern Paper Co.
"It's not company officials you gotta watch out for," he warns, "but the logging trucks themselves. They're fully loaded, and riding hard. If you hear one coming, you'd better get out of the way." I'm more than ready to do this, but as I bounce along on tar that has been rutted and repatched, I hear no sounds of truck engines or clanking logs. Suddenly, around a bend, there is a break in the trees. I see the Fuji-like shape of Kahtadin looming up, and realize I am not far.
I see a stand of pure white, papery birches and the cabin-like little store. I park and strike off into the woods behind it. There is no sound except the wind, which is wild here, and a single whistling bird. The mountain above me is royal purple and I almost fall into a stream that foams past, gurgling over dark rocks. Across it there is a clearing, and I catch sight of two white squares against a birch just ahead.

One is a rectangular blaze. The other is a sign: Appalachian Trail - Maine to Georgia, it says simply. And though there are no hikers passing by to share it with, I reach into my knapsack and fish out the bottle I've been saving.
It's Gatorade. Lemon-lime. I drink it down as quickly as I can and begin the brambly walk back to my car.