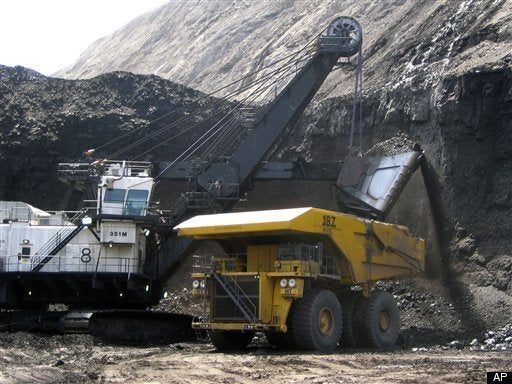 Fifty years ago this spring, The Atlantic published a chilling expose on how reckless strip mining had "totally transformed one of earth's terrain features." The eastern Kentucky author methodically described the process of shovels and bulldozers that would "slice off the top of the mountain to recover all of the highest seam" of coal, reducing the mountain to a "colossal rubble heap."
Harry Caudill didn't pull any punches: He called it the "rape of the Appalachians" in 1962, and his groundbreaking essay on strip mining mountains soon reached millions of Americans in Reader's Digest, and then as a chapter in his book, Night Comes to the Cumberlands.
Half a century later, the "rape of the Appalachians" is in full force, carried out through an admittedly failed regulatory process that refuses to abolish one of the most egregious mining practices in U.S. history.
And a half century later, despite decades of subsequent articles -- in 2001, author Jeremiah Purdy updated Caudill's "rape of the Appalachians" in an American Prospect article, as did Michael Shnayerson in Vanity Fair in 2006 -- books, studies, public hearings, films, and two generations of protest movements, mountaintop removal -- and the devastating impact of all strip mining across the country -- remains one of the great denials in the nation today.
Fifty years later, over 500 mountains and adjacent communities wiped out in his still impoverished and absentee corporation-controlled central Appalachia, what would Caudill think of our annual back and forth bantering by Big Coal-bankrolled politicians and liberal apologists, and the endless public hearings to "learn" about the impact of mountaintop removal and other strip mining operations?
"One definition of the word 'rape' is an 'act of plunder, violent seizure, or abuse; despoliation; violation' and that is exactly what has happened here in Appalachia for far too many years," retired Army major Marilyn Mullens noted, after she led a silent protest on the steps of the West Virginia capitol last week.
In a dramatic act to symbolize the mounting health and human crises -- including higher risks of birth defects and cancer -- in communities affected by mountaintop removal, Mullens and others shaved their heads.
"The coal companies come in and take what they want with the encouragement and support of our elected officials then they leave when there is no longer a high price being paid for the coal," Mullens added. "Our people are left with nothing but poverty and sickness. Mountaintop removal mining is the extreme of this. It is rape what they are doing to our mountains and to our people so to answer your question: no, that word does not offend me nor do I feel it is outdated. I would take it one further, though. I would say what they are doing to us is murder and that the ones doing this and the ones allowing it to happen should be charged with crimes against humanity."
Crimes against humanity. For half a century.
While mountaintop removal mining is generally traced back to a 1970 operation in Raleigh County, West Virginia, Caudill recounted a discussion with a mining engineer in 1962 about excessive auger and strip mining practices at a "huge stripping operation":
"When I came to this coalfield most of the hills were covered with fine timber and all were full of top grade coal. Since then we have gutted these old mountains and shaved 'em off clean. Now we are skinning 'em and cutting their heads off."
Fifty years and 500 devastated mountains and nearby communities later, where less than 4 percent of reclamation efforts had produced any semblance of post-mining economic activity in documented reports, Caudill's mining engineer could have easily been talking about our mining operations in 2012.
How would Harry Caudill respond?
Related
Popular in the Community