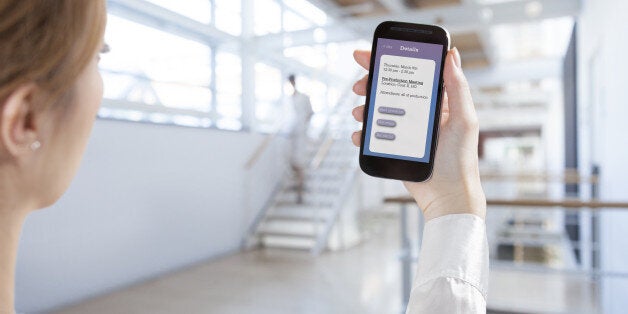 We are in the midst of a fundamental, global transformation in the way people consume and interact with information. The proliferation of software and mobile connectivity is granting access to information and services to billions of mobile users around the world. It is unlocking new efficiencies and new possibilities, and improving living standards for everyone -- from Western businessmen to East African farmers alike.
This is the application economy -- a huge, new global economy that knows no geographic borders or limits. In the application economy, software is being incorporated into all facets of business and life, allowing individuals to stay ahead of their competition and boost their productivity and fortunes.
Mobile connections now number 7.2 billion and by 2015 it is predicted that more than 138 billion applications will have been downloaded. By the end of the decade, 75 billion data connections will be made and an incredible 90% of all Internet users will be using mobiles by 2017.
This mobile-first world has unlocked new opportunities for businesses, individuals and society.
In Kenya, for instance, an app aims to increase the productivity of cow farming by acting like a virtual midwife, enabling farmers to track the gestation stages of their cows and gain access to modern information on breeding, animal nutrition and milk production efficiency. Software has become a vital asset in their pursuit of efficiency and revenue.
For a major UK-based retailer, a mobile application allows customers in Asia to scan a billboard of a product while in transit, and that product will be waiting for them back at home. That retailer views software as a far more important asset than their hundreds of physical retail outlets.
And in India, where rickshaw drivers operate within razor thin profit margins, the introduction of a mobile application that feeds drivers a stream of customers at a flat rate provides a degree of certainty for drivers, ensuring they don't post a loss on a given day.
In many ways, the ubiquity of software has leveled the playing field. It allows the smallest businesses to upend the incumbent industry goliaths. It gives eager pupils a limitless trove of free learning material. It provides budding entrepreneurs in emerging economies with cheap access to a universe of otherwise unattainable resources and the ability to reach far afield consumers without established trading networks.
With big data come big responsibilities
But for all of its promises, the application economy is not without obstacles. The fact is that the application economy is powered by a steady, unbridled flow of data -- with more than 15 exabytes of mobile data anticipated per month by 2018. This data is invaluable to companies -- it helps them tailor and shape their services and products to open up new revenue streams.
However, consumers are increasingly wary about what is being done with their data, as its misuse could have devastating effects. For instance, in the wrong hands, one's digital identity could be adopted by another, potentially leading to financial and reputational ruin.
The responsibility for using and protecting digital identities rests with institutions, not the individual -- regardless of how much data people willingly share. Businesses and governments must ensure that the data they process is anonymized, that it is safeguarded every step of the way, that only the right people have access, and if it's distributed or sold, the owner of the data must be fully aware and given the chance to opt out.
Technology and tools can help. For instance, the very richness of one's digital identity allows businesses to confirm people are who they say they are. But it goes beyond that.
Business leaders must demand responsible practices and a security-first attitude from their organization. And they should seek to set the benchmark for their entire industry and demand of every partner, vendor and competitor that they adhere to the same unimpeachable standards in protecting their customer's data. If they don't, consumer trust and the promise of the application economy will be placed in jeopardy.
Policy-makers have a critical role in this discussion, not least because they too need to strike a balance -- implement regulations and policy that protect consumer data, but don't stand in the way of innovation. To date, governments have largely been an enabler of the application economy, facilitating the flow of information across borders and investing in mobile infrastructure. This needs to continue.
Governments and businesses must also collaborate closely to improve software literacy among the world's population. Training programs, access to technology and the protection of intellectual property will go a long way to encourage entrepreneurs and companies to make their contribution to the application economy and to unlock its rewards.
Software is already leveling the playing field. If we work together, there's no limit to what we can accomplish in a software-driven world.
This post is part of a series produced by The Huffington Post and The World Economic Forum to mark the Forum's Annual Meeting 2015 (in Davos-Klosters, Switzerland, Jan. 21-24). The Forum's Strategic Partner community comprises a select group of leading global companies representing diverse regions and industries that have been selected for their alignment with the Forum's commitment to improving the state of the world. Read all the posts in the series here.