First the good news ... The Aquabats are celebrating their 20th anniversary as a band this year. And thanks to their Emmy Award-winning television series, The Aquabats! Super Show! on HUB Network, the 'Bats have greatly expanded their audience over the past three years. Not only winning over thousands of new fans here in the States with their skillful mix of comedy & music but also becoming something of a cult phenomenon in the U.K and Australia.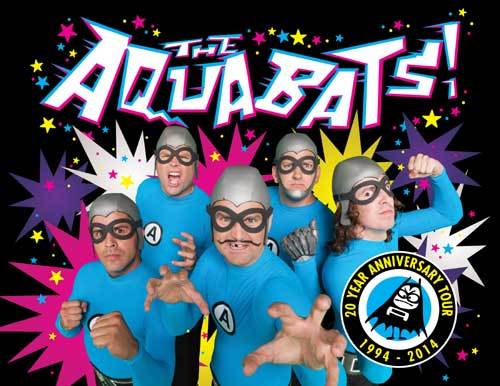 Which is understandable. I mean, it's hard not to like a TV series like The Aquabats! Super Show! which delivers high-energy live-action musical adventures with a healthy helping of camp on the side. Just as the 1960s era Batman series used to feature lots of celebrities making tongue-in-cheek cameo appearance, here's just a few of the famous folk who've popped up on the Super Show! : Weird Al Yankovic, Jon Heder, Lou Diamond Philips, Rip Taylor and Paul Scheer. Not to mention Flight of the Conchords Rhys Darby as the Shark Fighter, SNL's Robert Smigel as the Krampus, Party Down and Freaks and Geeks alum Martin Starr and Sam Levine as a Guitar snob and a shape-shifting Pilgrim boy and Reno 911's Ben Garant as the voice of a giant one-eyed cat named 'Kitty Litter.'
Now the bad news ... Even though the HUB Network is currently available in over 70 million homes in the U.S., future plans for production is up in the air for Hasbro Entertainment and Discovery Communications (i.e., the two corporations who actually own this kid's cable channel). Which is why they've begun making changes at the top (Last month, Hub Network president and CEO Margaret Loesch announced that she will be stepping down at the end of 2014) as well as abandoning The Hub's previously kid-centric schedule in favor of programming that will hopefully be more cost-effective.
Which is why the Aquabats are now in a bit of a pickle so-to-speak. The popularity of The Aquabats! Super Show! has helped the band connect with a brand-new generation of fans: Kids 3 & up who have begun turning up (with their parents in tow) at live concerts to see their heroes up close in person. And, ever since the first season of show began airing in the U.K and down under in OZ, new fans of the band are now actively campaigning for the 'Bats to come and perform over seas as well.
More to the point, even though it was their hit Hub Network television series which finally put the 'Bats on the map for many new fans here in the USA, and abroad, the Hub's recent plans to downsize their network has put The Aquabats! Super Show! out of commission for a third season. So now, as the Aquabats get ready for a sold-out concert tonight at San Diego's House of Blues (not to mention several signings & a Friday night panel at this year's Comic-Con International), one can't help but wonder what their next move should be.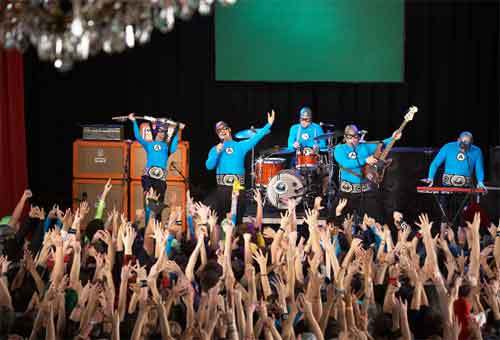 "It's all so weird," admitted Christian Jacobs AKA The MC Bat Commander during a recent phone interview. "We just finished our first East Coast tour since the premiere of the Super Show!, we did seventeen shows in nine different states. We not only had the Aquabats faithful turn out in full force, but we also had all of these new younger fans & their parents show up. And at every stop along the way, we kept getting the same question over & over. 'When are you guys going to make some more episodes of the show?' And my response was always 'Um...I don't know.' "
"Don't get me wrong. We'd love to make some more episodes of The Aquabats! Super Show! It's been a dream come true to make the episodes that we have. And the support of the fans and the critical acclaim has been great." Jacobs continued. "More to the point, everything we heard was that the show has been a real Cinderella story for the Hub and that it was rating really well with viewers. We just assumed that we'd eventually go back into production or at least get picked up for Season 3. But then we began hearing rumors about the network wanting to rebrand itself. And that is when we began hearing rumblings that our show might not get renewed."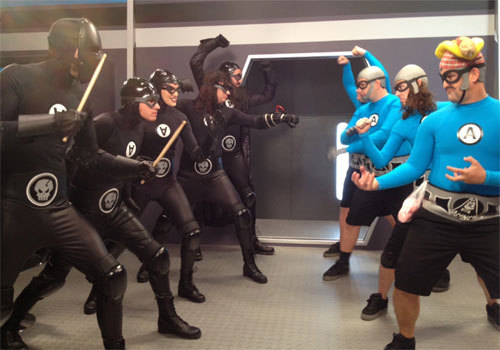 Shifting gears, Jacobs continued. "...We always modeled The Aquabats! Super Show! after the old live-action Batman TV series from the 1960s," Jacobs stated. "Which worked so well on many levels. On one hand, it was amazing watching that show as a kid. I was so into it. The action, the drama, the colors. But then watching Batman as an adult, there is so much more under the surface to enjoy and laugh at. It was so aware of itself and smart. It's probably one of -- if not the best -- TV show ever made.''

"An that's what's been so great about hitting the road for all the live shows we've been playing this year. To have parents come up to us and say 'Guys! Our kids love your show but we really enjoy watching it with our kids,' " Christian enthused. " It's the proof that they're getting what we've been trying to do here: create a kid's TV series that works on different levels. A show that's broad enough for kids but still sophisticated, satirical and silly enough to entertain the 'big kids.' "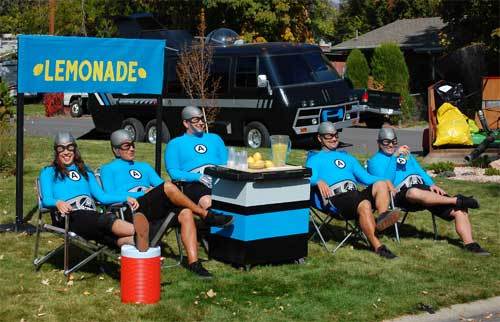 Mind you, Jacobs doesn't blame Hasbro executives or Discovery Communications for opting not to pick up a third season of The Aquabats! Super Show!
"I mean, if The Aquabats! Super Show! doesn't fit into their vision of what the new HUB will look like ... Well, it is what it is," Christian said. "But given that we now live in a world where people are streaming TV shows directly onto their iPhones & computers, and given that companies like Netflix & Yahoo! are now picking up so much new content for their customers ... I just find it hard to believe that The Aquabats! Super Show! is really over. I mean, we haven't even made any toys yet."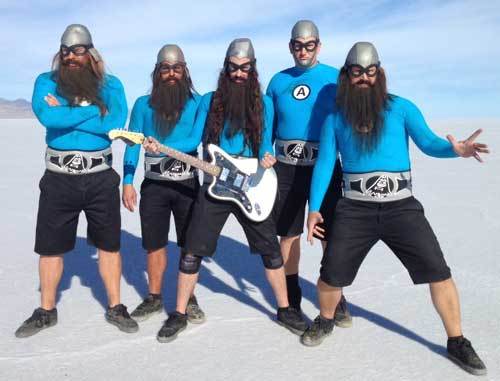 Which is why last month -- after Jacobs and other members of the Super Show! production team were given the word that the show wasn't being renewed -- Christian and the rest of the team opted to put as many of this TV series' sets & props as they could into self-funded temporary storage.
"That's what we'll be telling the Aquabats' fans this Friday night at our Comic-Con panel. (Which -- by the way -- is being held in Room 25ABC from 9 - 10 p.m.) That the Super Show! isn't really over. It took us almost 15 years to get that TV series made. And even though we've got a bunch more concert dates lined up for the rest of this year, our first priority is to find a new home for The Aquabats! Super Show!," Jacobs stated.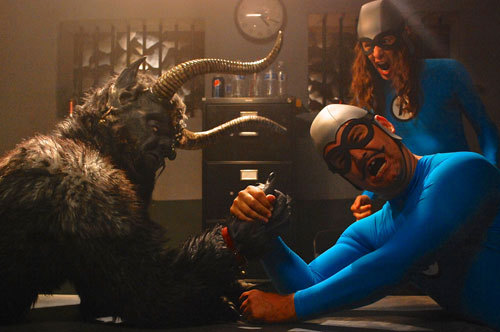 That never-say-die attitude which Christian displays off-screen seems very similar to MC Bat Commander, that over-the-top, live-action cartoon-of-a-man trying to be a super hero that Jacobs plays on the small screen. Which is why -- given that the Aquabats are such perennial underdogs -- it would really be great to finally have these characters come out on top and have some network or online presence provide a new home for this Emmy Award-winning TV series.
"As a band, we've got 20 years worth of fan support behind us," Christian concluded. "Not to mention a brand-new audience of kids & parents who are eager for more episodes! Plus there are people in the U.K. and Australia who have only just discovered the Super Show! So what are we supposed to do? Just give up? Not a chance! I mean, we've already got scripts written and ready to go!"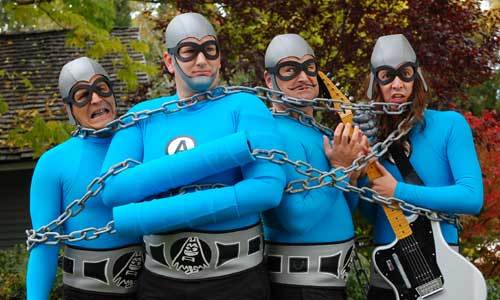 Which is why I guess it must be said: "AQUABATS! LET'S GO!"