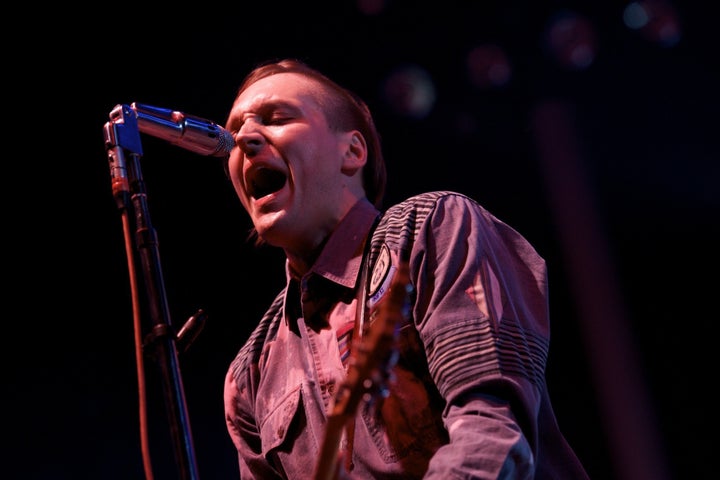 VIDEO of speech and performance below.
An indie rock band has won the biggest prize in mainstream music.
Arcade Fire, whose third album, "The Suburbs," set the summer ablaze for young fans around the world, completely shocked the Grammy Awards on Sunday, taking home the award for Album of The Year. They beat out Eminem and Lady Antebellum, both of whom had taken awards home earlier in the night.
From Montreal, Canada, the band is led by husband and wife Win Butler and Régine Chassagne, both of whom sing for the group. Five other members include Will Butler, Tim Kingsbury, Sarah Neufield, Jeremy Gara, and Richard Reed Parry.
They released their first album, "Funeral," a personal work about recent family deaths, in 2005. In 2008, they came out with the dense "Neon Bible." Both were nominated for Grammys, in the Alternative Album of The Year.
"The Suburbs" has sold 400,000 copies and reached number one in both the United States and Canada. They're signed to Merge Records, the only Album of The Year nominee not signed to a major label.
After the win, the band tweeted: "OH MY GOD OH MY GOD OH MY GOD OH MY GOD OH MY GOD OH MY GOD. Thank you EVERYONE." So it's fair to say that they're excited.
To watch their acceptance speech and encore performance, watch below; for the music video for the song "The Suburbs," from which the album got its name, watch below the acceptance speech. The video is cut from the stunning short film Spize Jonze did for the band.
WATCH
:
Popular in the Community