The Salt Lake Tabernacle is one of the architectural masterpieces of the country and perhaps the world -- Frank Lloyd Wright

Mr. Romney is a former bishop of the ward in the Mormon Church -- one who has given what is estimated as tens of millions of dollars to its core operations and numerous programs of community service and hopeful proselytizing. With the possibility of such a prominent member of the Church of Jesus Christ of Latter Day Saints becoming the 45th President of the United States, taking stock of its temples and meeting houses emerges as one way to understand the unique cultural contribution this native religion has made across the country.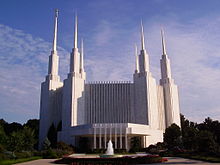 However, as the interiors of these various Mormon houses of worship are inaccessible except to members in good standing who present a validating card known as the "recommend," and as the faith's dogma and rituals are cloaked in discretion (born in part from decades of murderous persecution), the exteriors and their placement in the landscape are for many the only source of prospective insight.
The year 2012 marks the 180th anniversary of church founder Joseph Smith Jr.'s call for the first temple in Kirtland, Ohio thanks to a revelation, brought to him on tablets from the angel Maroni, calling for temple worship as a pillar of the new faith.
Despite these many intervening decades and the gradual shifts of taste and technology, there are enduring Mormon temple design characteristics in force worthy of insightful notice today: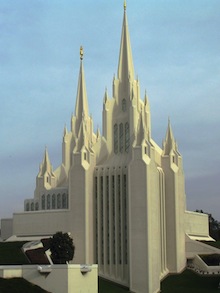 Placement on a high spot dominating the surroundings and apart from neighboring structures as real estate exigencies allow (unlike the temple on New York's Broadway sandwiched across from Lincoln Center amidst some of the most valuable property on the globe yet still evident with distinct and prominent steeple);
An underlying proto-modern simplicity of form most often ornamented with neo-classical or tradition-inflected crenelation and other symbolic decoration tied to the many movements the original doctrine echoed such as Freemasonry;
A well-mannered yet vaguely intimating aspect of domination like the great cathedrals and mosques that declared their doctrinal intent, somewhat more remote by virtue of a purposeful absence of porousness;
An increasing uniformity of almost franchise-like legibility echoing the Salt Lake " holy see" tabernacle as manifest in the always numbered new temples which have risen identically to nearly 150 in recent years. Overall size can bend to local planning statutes and neighborhood pressures, but a grand but opaque standardization of their design announces the denomination as much any ecclesiastical architectural tradition ever has especially within the confraternity of those descended from the teachings of Jesus Christ.
As its own website states (likely propelled by the destruction of early temples like the 1848 arson at the historic early exemplar in Nauvoo, Illinois), "Church leaders determined that the Salt Lake Temple would be almost fortress-like in its design and construction." And yet the result is a distinct and original "of- its-time" vocabulary of ingenuity and spiritual utility that matches America's own purposeful methodology in meeting present-day needs with condign innovation. Hence master Wright's singular praise.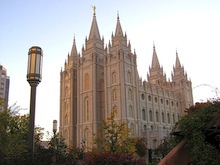 With a presidential campaign reaching fever pitch earlier than ever, and with all professional prognosticators predicting a close call, LDS temple architecture deserves closer inspection. Examining the architecture of Mormonism is useful to do not as the full measure of projected GOP nominee, Mitt Romney, per se, but instead as a glimpse into the credo that has done much to shape his character and attendant guiding principles.
Perhaps liberating future architects from some precise set of architectural parameters in alternative favor of a looser interpretation of patterning guidelines would help assure a lively future for this nativist design tradition whatever the outcome next November.
Correction: The author regrets the biographical error made in describing Mr. Romney presently as a resident bishop of the Mormon Church. Instead Mr. Romney is a former bishop of the ward in Belmont Massachusetts, where he served accordingly from 1981 to 1986.
REAL LIFE. REAL NEWS. REAL VOICES.
Help us tell more of the stories that matter from voices that too often remain unheard.