This summer, my wife and I will become new parents. It's hard to contain our excitement, and we're literally counting the days -- 98 to go! As new parents in New York City, we're worrying about where all of that baby stuff is going to fit and finding a place for pre-school. What we're not worried about is the quality of care mom and baby will receive at Roosevelt Hospital, just 10 blocks from home.
If my wife and I were new parents in a different part of the world, we'd have a few more things to be worried about. Each day, an estimated 8,000 babies die within the first 28 days of life. Most of these babies are born in developing countries, where births occur at home, because the health facility is too far, care is not free, or home birth is the social norm. Tragically, too many infants die at home, often within the first week, despite the existence of simple, inexpensive practices that can be implemented to keep babies alive and healthy during a woman's pregnancy, at delivery, and immediately after birth.
Two-thirds of all newborn deaths occur in 10 countries, including Pakistan, which has the third highest infant mortality rate in the world. Although significant progress has been made in recent years, maternal and infant mortality rates remain stubbornly high in some parts of the country, particularly in Punjab Province in southern Pakistan. In Punjab, most births take place at home, and only one-third of those births are overseen by a skilled birth attendant. Many mothers and family members remain unaware of risk factors and potential complications that can arise during pregnancy, often resulting in dangerous delays in transferring pregnant women to a health facility during obstetric emergencies.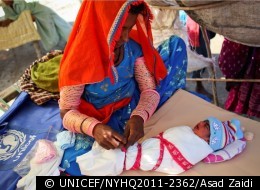 To address this situation, UNICEF is working with the Government of Pakistan and local partners to educate community members and reach women through a pre-existing network of Lady Health Workers, who have been the lynchpin of Pakistan's national health program for nearly two decades. The Lady Health Workers provide primary health services to underserved women and children in Pakistan's poorest and most marginalized areas, serving as a link between a community and the formal health system, providing counseling, organizing women's health groups, and educating families to improve water, sanitation, and hygiene practices. They also act as a referral service for mothers-to-be, advising on safe delivery and providing prenatal and postnatal care, while coordinating closely with the nearest health facility and traditional birth attendants in the area.
Over the next two years, UNICEF aims to significantly reduce maternal and newborn mortality in 12 communities in Punjab's Rajanpur District, where many families are also coping with two consecutive years of severe flooding. To reach at-risk women and children, UNICEF has tapped into the network of Lady Health Workers to organize seminars and community groups to promote adequate prenatal care and use of clean delivery kits for births at home. During these seminars and home visits, community members are taught to recognize and respond to danger signs and complications during delivery. New and expectant mothers also learn the importance of early and exclusive breastfeeding, delaying bathing of newborns, keeping sick children hydrated, and obtaining a full course of immunizations.
Thanks to critical support from Johnson & Johnson, UNICEF and its local partners have been able to extend this life-saving work into the most remote parts of Rajanpur District, ensuring the safety and health of even the hardest to reach mothers and babies. My hope is that someday, mothers and infants everywhere - even in the most remote areas - receive the care that they need during pregnancy, delivery and beyond.