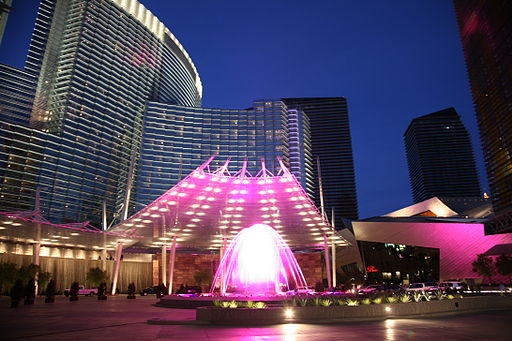 Do not stay at the Aria Resort and Casino. It's a rip-off. Now, why would this seasoned travel writer say such a nasty thing?

First, there's the Aria front desk. It's modern and colorful in a 1990s Spago way. However, as with any deceptively labeled 5-star loser hotel front desk, once there, you learn that there all sorts of hidden fees you were never overtly, let alone covertly, told about when you booked a room online. For example, there's the $25 "Aria resort fee." Essentially this covers wireless and use of pool and gym. In a genuine customer-friendly world, this fee should be part of the price you paid upfront.
Then there's the tax that comes with the resort fee. Then, after this hijacking, you learn that Aria pool hours end at 5PM. And workout room hours end at 8PM. Super 8 has 24-7 workout hours, why can't a putative five-star resort?
Clearly, the greedy, declasse folks at MGM Resorts International -- which owns Las Vegas' 67-acre, LEED-certified, financially troubled CityCenter resort (of which the Aria is the star attraction) as well as the gauche CircusCircus -- want you spending at the atrociously designed and half-empty Crystals shopping mall next door, not having a fit and relaxing "resort experience."
And, sure enough, if -- like a normal traveler on vacation -- you want a sauna or steam, there's an additional spa "facility fee" of $30 (I won't even detail the outrageous fees charged for pedicures and other Spa services). And let's not forget the $20 fee to have a stupid little mini-fridge brought up to your room, the egregiously overpriced vittles in one's room (stocked by a staffer who's clearly never set foot in a Whole Foods to discover what gourmet, yet health-conscious, 5-star-hotel visitors actually consume today), and the lack of a coffee-maker or even mugs to pour hot tap water into. The shysters who run the Aria take parsimony to a whole new level of pure obsequious evil.
Yet, there's still more. On my particular visit on Saturday and Sunday night of Thanksgiving weekend, the Aria had closed its buffett for what my Filipino front desk person said were "repairs." Repairs of a freakin' buffet? The buffet experience is half the reason one comes to Vegas and endures the slots and other cheesy mayhem. In addition, the hot water was down in my room. And I had to endure cleaning folks loudly yacking away next door and down the hall, even though I was promised to be put in the quietest part of the hotel. You would think that at a five-star hotel the management would tell the staff to shut the Fricke up!
Maybe one would want to sample Aria's high-priced Diamond Award winning restaurants, such as Sage, or barMasa from Michelin three-star chef Takayama, if one wasn't so financially violated in other aspects of the hotel experience. Here's the thing that hotel chains NEVER EVER seem to get: when you are not transparent about costs upfront and through all the booking agencies you deploy, and when you pile on additional fees for every aspect of the hotel experience, you PISS THE GUEST OFF. The idea, corporate drones, is to subtlely fleece them at the roulette table - a requisite fleecing that John Q. Dumbass accepts as part and parcel of the Vegas experience -- not the moment the mark walks through the gilded door.
But, hey, the view from my uber hi-tech 25th floor "corner room" was expansive, parking was free, and the waterfall sculpture at the Aria entrance was a trippy visual thrill. Though, MGM, if you want to showcase your "world-class" art collection, think beyond the now cliché works of Stella, Holzer, and Oldenburg (even if the hoi polloi are suckers for Claus' pop art giganticism).
Of course, for a hotel that is so transparently superficial in execution, it comes as no surprise that the hotel's staff has the trite fake "upscale" hotel chain etiquette down pat. The half-human operators robotically say, "my pleasure" with every request, however mundane.
"Will you please fix the bleepin' water in my room?!"
"My pleasure, Mr. Crotty."
"Will you please tell the cleaning staff to stop screeching with laughter?"
"My pleasure, Mr. Crotty."
"Will you please have someone bring up a simple ugly mug, so I can have my morning tea?"
"My pleasure, Mr. Crotty."
Aria's President, William McBeath, writes in the handy leather binder one finds in one's room, "We developed Aria" (McBeath writes Aria in screaming all caps, but I won't follow suit) "with one goal in mind--to create the most significant resort experience in the world. As the heart of CityCenter, Aria offers the world's best dining, retail and entertainment in a truly unique setting." The guy has to be kidding, right?
Lesson: you get what you pay for in America, especially in Vegas, which specializes in new and innovative ways to screw you ten ways to Pahrump.
Do not stay at the Aria. Unless you are a glutton for five-star punishment.
Now, let's hear below from the saccharine well-paid shills that stack the reviews on Trip Advisor and other so-called "truth in travel" websites.
As for the rest of you, feel free to track me on Twitter, friend me on Facebook, and follow me on Forbes to receive regular dispatches from the front lines of global education.
And be sure to check out my free email newsletters on Education, Politics, Culture, and Travel. My "Crotty on Education" newsletter, in particular, includes links to videos and podcasts by experts in the field, high-level research reports, plus the invaluable Crotty on Education Stock Index. You can subscribe to Crotty Newsletters here.