The dog and pony show is headed to New York's John F. Kennedy Airport.
When a new terminal called The Ark opens opens next year, 178,000 square feet of posh amenities will include everything from a resort with suites that have large flat-screen TVs, to climate-controlled stalls, showers, massages, a private space especially set aside for penguin mating, a paw-shaped dog swimming pool, a jungle for cats made of live trees that will give them a tantalizing view of the aquarium, and stables full of the finest hay a horse could hope for.
Ok, clearly this terminal isn't for humans -- it's for our pets, livestock, birds and other animals that make their way through JFK.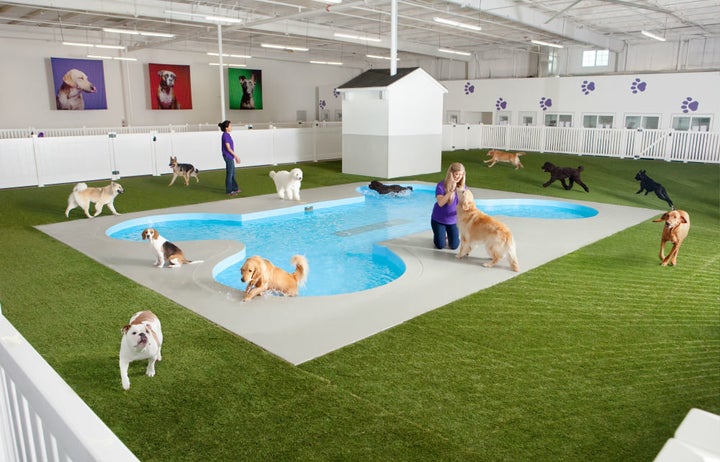 A doggy play area is part of a 20,000 square-foot dog resort planned for a future animal terminal at JFK Airport.
Around 70,000 animals go through Kennedy Airport every year -- not just dogs and cats, but horses, cows, goats, sloths, birds, aardvarks, pigs and sheep. Aaron Perl, The Ark's managing director, said in a statement to The Huffington Post that the terminal will provide "a more humane and efficient model for this significant segment of the air travel industry."
The $48-million project's name is a nod to the biblical story about Noah. The facility will be the first terminal of its kind to combine in-transit animal handling systems with a USDA-approved quarantine station, a veterinary hospital and 20,000 square feet dedicated to a boarding and grooming spa, according to ARK Development, LLC, the real estate subsidiary developing it.
Part of the shelter is devoted to pet pampering -- dogs will get a resort run by Paradise 4 Paws that will feature massages, swimming and "pawdicures with colored nail pawlish;" cats can climb in a jungle, and owners can watch their pets on webcams. But the rest of The Ark is designed to service animals that need to be quarantined for various periods of time to ensure they are free of foreign diseases.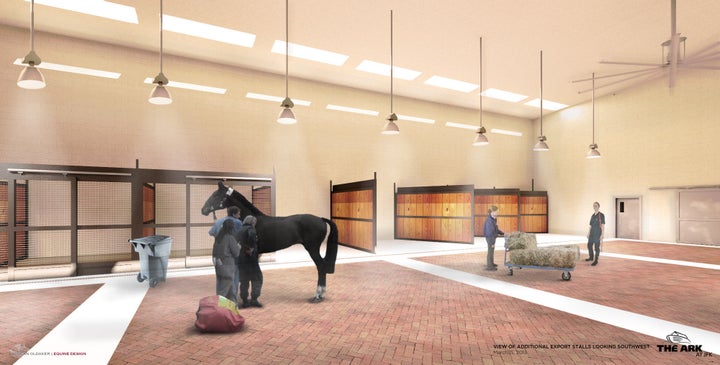 An artist's rendering of export stalls that will quarantine horses at The Ark, a new terminal opening next year at Kennedy Airport.
When horses and cows arrive, for example, they'll be greeted with hay-filled stables and 24-hour access to a clinic run by Cornell University veterinary staff.
Cliff Bollmann, an architect who co-designed the JetBlue terminal at Kennedy Airport and is designing The Ark with the San Francisco-based firm Gensler, told The Associated Press that "a lot of our design making is in collaboration with veterinarians and consultants to help minimize the amount of stress placed on the animal."
The Ark will allow planes to taxi directly to the terminal so that animals can be unloaded with minimal transportation.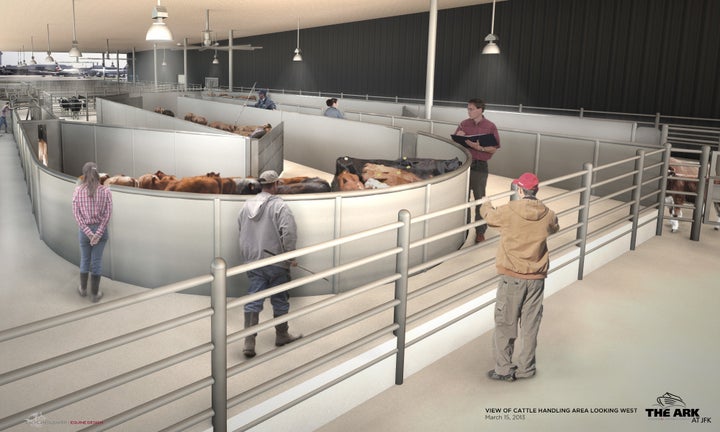 An artist's rendering of The Ark's cattle handling area, opening next year at Kennedy Airport.
Bollmann told Crains New York that designing an airport terminal for pets, livestock and zoo animals proved challenging in unique ways -- namely, what to do with the animals' poop.
At max capacity, 180 heads of cattle can produce 5,000 pounds of manure every day, and Bollman and colleagues at Gensler designed a slightly-angled floor that naturally slides the manure into a receptacle called the "poo chute."
But how much will this cost you? Don't expect flea motel rates. The Ark is targeted to a demographic of travelers who don't hesitate to spend more than $1,000 to fly their dog over from London, for example.
According to Crains New York, Paradise 4 Pets starts their dog suites at $50 a day, but their "top-dog suite," complete with a human-size bed for the dog and bedside framed family portrait, is expected to go for $100 a day.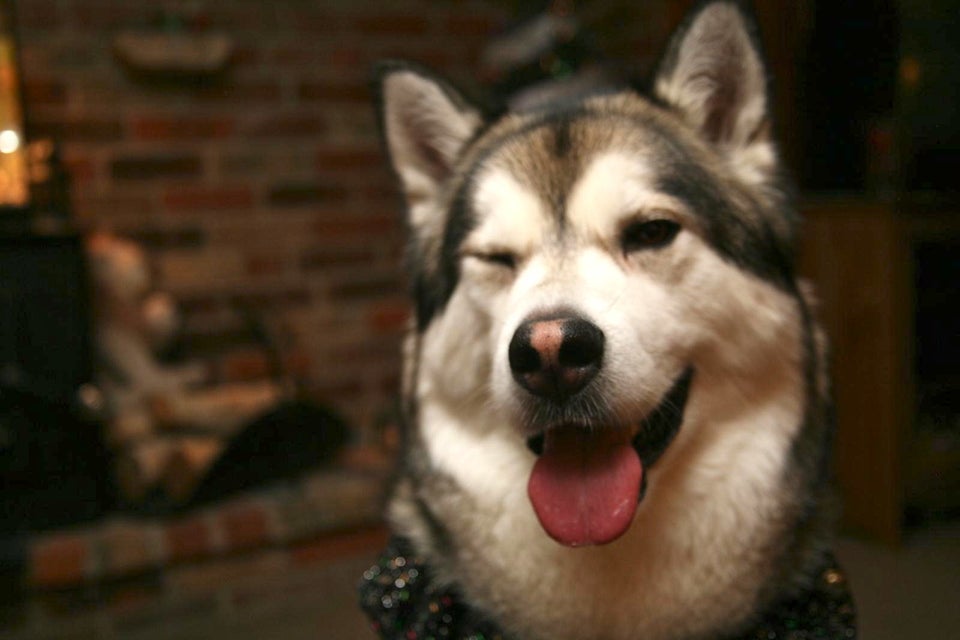 Cute Dogs On Reddit
Popular in the Community