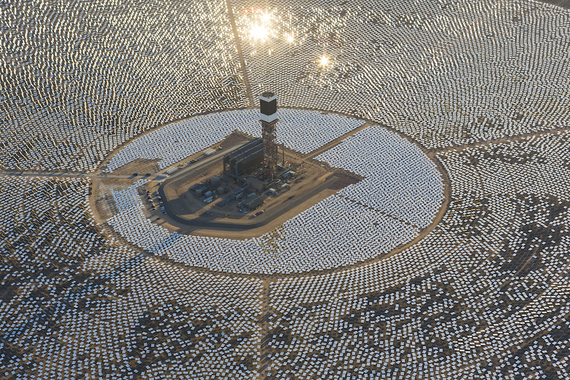 Have you seen the Ivanpah solar thermal system in the Mojave Desert of California? 347,000 mirrors on federal desert land capture the sun's rays and, with a complex system, ultimately generate power for about 140,000 homes using BrightSource technology. U.S. Department of Energy loan guarantees account for $1.6 billion of the $2.2 billion price tag, with the balance paid by Google, NRG Energy and others.
As spectacular a sight as it is, BusinessInsider and the New York Times say it may be out-of-date even as it opens, because solar innovation sped up and the price of solar panels went down so much since Ivanpah was developed. Nonetheless, Ivanpah was a featured guest as a model of energy innovation at the recent ARPA-E 2014 Summit in Washington, D.C., including being mentioned by Energy Secretary Ernest Moniz.
ARPA-E (Advanced Research Project Agency - Energy), the U.S. Department of Energy's innovation arm charged with spurring an energy revolution, holds these annual summits to supercharge productive dialogue about energy-related innovations across the country. ARPA-E was signed into law by President Bush in 2007 and funded by Congress via President Obama's American Recovery and Reinvestment Act in 2009.
"If It Works, Will It Matter?"
"ARPA-E's first question is always 'if it works, will it matter?" ARPA-E Acting Director Cheryl Martin, Ph.D. told a handful of reporters at the summit. The same question could be asked of Ivanpah and of ARPA-E itself, which is tasked with helping commercialize transformative energy technologies with three-year grants and hands-on mentoring. As Dr. Martin put it, "How do you help connect the dots in three years so that the right stuff happens to get a hand off on the other side?"
"Mattering" is measured in results, so, what's ARPA-E's track record? ARPA-E has funded 362 start-ups to date and Martin said 22 of them have attracted $625 million in follow-on funding from $95 million of ARPA-E funds. 22 have also started generating revenue (two issued IPOs), according to the ARPA-E website, but whether they "matter" depends on where you sit. Sandra Kwak of AutoGrid, one of the companies generating revenue, told me in an interview on Green Connections that with their "communications and analytics software layer in between the utility and any communicating endpoint on the grid...a utility can, with a single dashboard...manage supply and demand overall." AutoGrid is not alone in this space, helping us see what's using electricity in real time.
Making the "Implausible...Inevitable"?
When I asked Dr. Martin how they attract ideas they would not know about, she said:
We take areas that are of interest and we actually bring together communities that may or may not have thought about the problem before... People realize that if you parse the problem differently, that they might have a solution to your problem... [W]e constantly push ourselves to say 'how do we frame the question in a way that gets new eyes to the problem?... You start to change what's possible, right?... One program helps us see where another one should come from... The fact is the invention spawns the next stage thinking.

[It's] where you change the implausible to the plausible and then the plausible to the inevitable.
Aka an energy revolution. But who decides what's "plausible"? The "market"? Government contracts?
Fresh ideas? Government agencies are known more for calcification than fresh ideas. People stay forever, collecting great government benefits on the way out, but lose the spark as the years tick by. A key part of the ARPA-E model, however, is that the 42 staff members only stay for three years to keep new idea flowing.
Energy Secretary Moniz told me at the summit they are focused on job creation in the energy sector, because, "Right now, I would say a large fraction of the President's ladders of opportunity to the middle class are being produced by the energy developments in the country." He thinks this job-creation and the recent spate of extreme weather have moved public opinion in favor of clean energy alternatives and climate action.
Ann Randazzo, Executive Director of the Center for Energy Workforce Development told me on my radio show Green Connections last week that utility sector jobs offer great salaries and training that can transfer to other industries, such as biotech (training worth $200,000 in some cases).
A Sign of Much-Needed Transformation in the Utility Sector?
PG&E and SCE signed 20-year power purchase agreements with Ivanpah. Is this a sign that the slumbering utility sector is finally awakening to the need for serious innovation? Only time will tell.
There is a major talent turnover underway in utilities too, according to CEWD's Randazzo, too which will likely at least bring some fresh ideas. A (much) more diverse workforce would help. By the way, there seemed to be more women speakers at the 2014 ARPA-E summit than in years past, though still only about 15-20 percent of attendees were women and only a few of the 250 technologies in the Showcase had women on their teams in attendance (we counted 15).
Vice Admiral Michele Howard, Deputy Chief of Naval Operations, who was interviewed at ARPA-E by The Atlantic's Steve Clemons, gives us hope that diversity could be a secret weapon to shift calcified -- and white-male-dominated -- industries into innovation overdrive.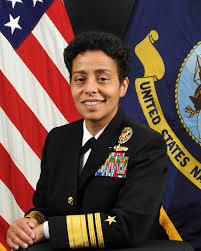 Howard showed why she deserves that fourth star and promotion to Vice Chief of Naval Operations she's about to receive, while also being witty and warm. "More energy independence gives you more maneuverability and more options...Carbon footprint reduction is consistent with safety, efficiency and security of the military," and makes us more resilient and less vulnerable to any volatility (in the enemy, prices, climate or geopolitics).
(Cool factor: Howard helped coordinate the rescue of the real Captain Phillips from being held hostage by Somali pilots, the subject of the current movie starring Tom Hanks.)
"Energy is the lifeblood of the economy." Therefore, if ARPA-E can help us keep "dirty" energy from holding our economies hostage and destroying our precious resources, then it will indeed "matter."
REAL LIFE. REAL NEWS. REAL VOICES.
Help us tell more of the stories that matter from voices that too often remain unheard.