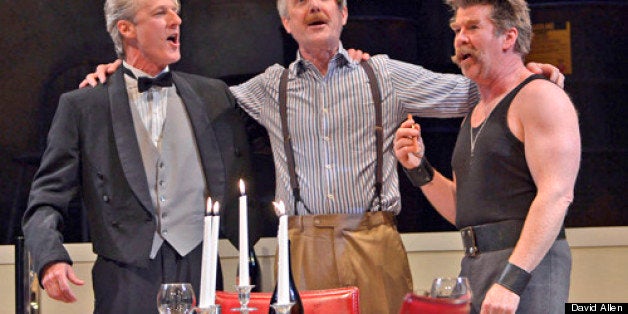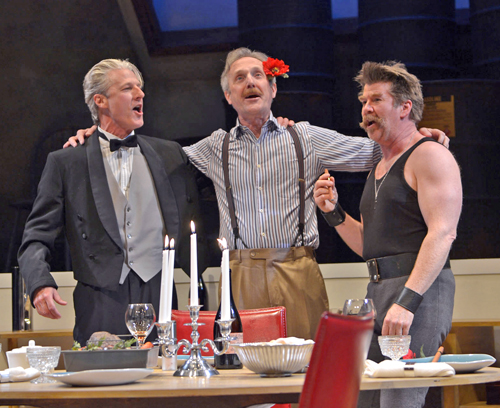 Host Biedermann (Dan Hiatt, center) joins in cheery song with the arsonists (Tim Kniffin, left, and Michael Ray Wisely)
Photo: David Allen
Swiss playwright Max Frisch wrote The Arsonists in 1958 as a belated response to the Communist takeover of Czechoslovakia a decade earlier. Nowhere in his text, however, did Frisch specify the target of his wrath, making the darkly satiric parable as timeless as it is timely. The message it carries lies in your perceptions and judgments, and mine.
Fifty-five years later, at Berkeley's Aurora Theatre, The Arsonists has resurfaced as a sizzling triumph of theatricality, and a wake-up call to any who choose to be awakened. It carries a simple but profound warning: Ignore or appease destructive forces at your own peril.
The play's setting is domestic, in the home of prosperous if sleazy businessman Jeffrey Biedermann, whose community has been overwhelmed by huge blazes, the work of arsonists. He deplores the situation, but does nothing when danger comes to his door in the form of a scruffy ex-wrestler whose approach fits a pattern that has preceded every disaster.
All that's wanted by visitor Josef Schmitz is a meal and a place to spend the night.
Much as the prospect appalls Biedermann, confrontation doesn't suit his personality, though he can be barbaric when dealing through lawyers. In a face-to-face situation, he opts for gentility and trusts that kindness will overcome the malice that he fears. He falls easily into embarrassment when his suspicions draw notice, a trait that Schmitz exploits to the hilt.
As a consequence, he succumbs to the intruder's blend of brashness and subtle entreaties, leads him to a resting place in the attic, and hopes for the best. Like Neville Chamberlain at Munich, or like today's deniers of climate change, Biedermann doesn't have a chance.
With superb performances by all in the cast of eight, Aurora's production is as gripping as is funny, and in flashes it's positively scary. The story develops smoothly in a recent British translation by Alistair Beaton, which has been Americanized and slightly trimmed on its journey to Berkeley.
Mark Jackson's direction draws out the parable's black humor and tension, with wonderful assistance from Matt Stines' throbbing background sound and Nina Ball's set, a comfortably modernist dining room on its lower level and a bleak attic above.
There's nothing subtle about either the text or the performances: Parables unfold with few complications, and this one runs its course in a very brisk 90 minutes. From the outset, catastrophe is inevitable.
But sterling performances and intelligent direction turn the obvious into engrossing and stimulating theater.
As Biedermann, Dan Hiatt displays a gamut of facades that evolve from smugness to uncertainty to disillusionment and finally to terror as explosions and flames consume his world. He's at his most ferocious, though, in a personal matter: showing no mercy toward a business partner who wants a share of the proceeds from a bogus hair-restoration potion that he invented.
The others in the Biedermann household include his fussy, nervous wife (Gwen Loeb) and their maid (Dina Percia), an obedient but perplexed soul whose dutifulness is sorely tested by orders that are constantly changed or reversed.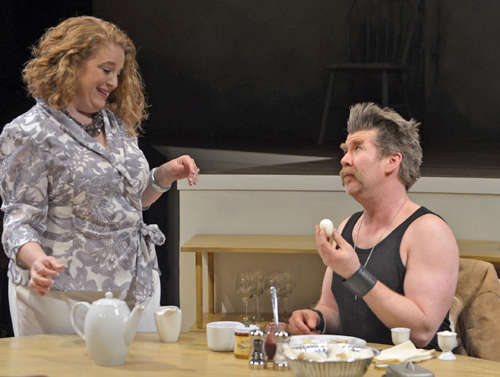 Babette Biedermann (Gwen Loeb) and Schmitz (Wisely) discuss the merits of a boiled egg.
Photo: David Allen
Michael Ray Wisely brings a robust and disarming coarseness to Schmitz, whose rough edges are contradicted by his appreciation of fine wines, exotic cheeses and precisely boiled eggs. Nothing in the play explains his sophisticated tastes, but every request or comment is good for laughs.
On the apparent premise that evil takes many forms, playwright Frisch provided Schmitz with two confederates. One is a former head waiter whose demeanor is as polished as Schmitz's is crude. Tall, erect Tim Kniffin fills the role to perfection. The other (Kevin Clarke) is an academic who renounces the bombers' cause when it is too late to be meaningful.
Clarke also joins with Tristan Cunningham and Michael Uy Kelly as a chorus of firemen whose taut postures, staccato pronouncements and voiced confidence belies their impotence against a foe whose power has burst the bounds of containment.
It's a chilling story that Frisch observed in various forms in his lifetime. What are today's forms and appropriate responses? That's up to each of us to decide.
The Arsonists runs through May 12 at Aurora Theatre, 2081 Addison St. (near Shattuck), Berkeley. Tickets are $32-$50, from 510-843-4822 or www.auroratheatre.org.
Popular in the Community