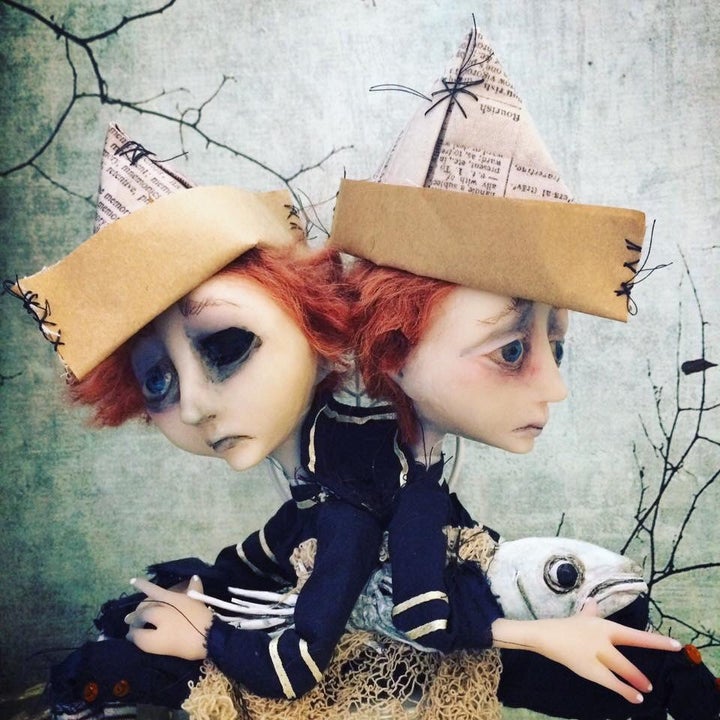 When most people think of art, they think of pictures on a wall, perhaps a sculpture, but perhaps they have not considered the Art Doll. These are not your mass-produced teddy bears or stuffed animals. They are not a simple knit toy. They are exceptionally detailed, emotionally engaging, pieces of work that you would be proud to display. Artists who work in this medium, have been crafting their skills for many years, and the pieces they create are awe inspiring, and even mind bending at times. Due to the extensive time and skill it takes to create each one of these handmade art dolls, the most popular artists have huge followings, often long waiting lists for a commissioned piece, and a mad dash by followers to purchase a piece when they do. I would like to introduce you to three artists, so that you can better understand the passion, skill, and creativity that goes into these pieces, as well as the time, cost, and effort that goes into each of these creations.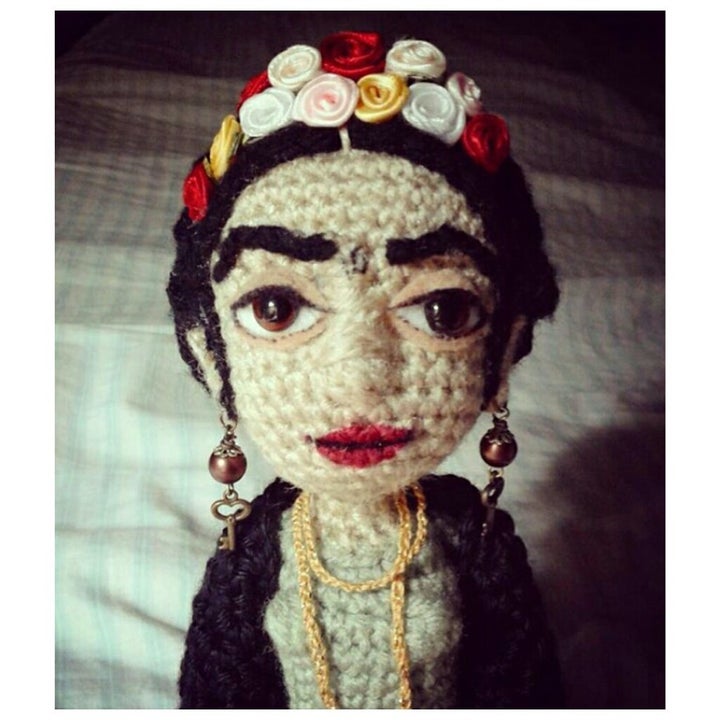 The first artist I would like to introduce you to, is LuLu Lancaster, creator of "LuLusAppledolls." She creates dolls that she lovingly refers to as her "Emotional Wrecks," and they are so soulful and evocative to see. LuLu is wildly popular, and has a very dedicated following, for good reason. Her pieces sell out in minutes, when available, and that is a testament to how much her work connects with people. She is warm and available to fans of her work, which makes her work that much more desired to own. Personally, I am deeply drawn to the depth and emotion she can convey in the eyes of her dolls. Here are some of Lulus' thoughts on her work her motivation, and her experience.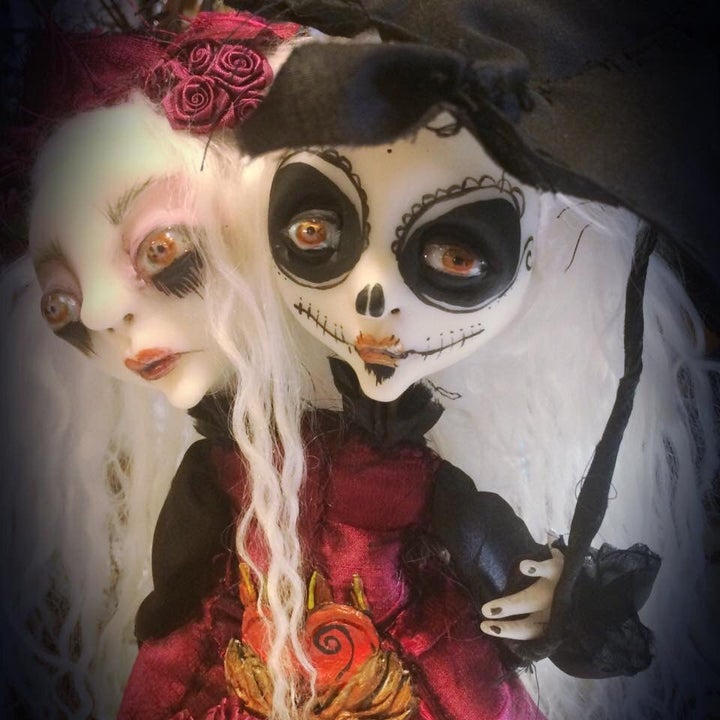 "Tell me a story has been my tagline ever since I can remember. I like to think everything I create has a tiny tale to tell, anywhere from joyous to dreadful. In 2007, I was painting Goth Girls in acrylic on canvas. I had envisioned them to be part of a bigger story to tell. The story didn't get bigger until a trip that year to SFMOMA where I saw an exhibit of Picasso and his sculptures which he had used as models for his paintings, and this sparked a thought in me. I could create dolls and use that doll as a model for my paintings and the doll would be a part of the painting.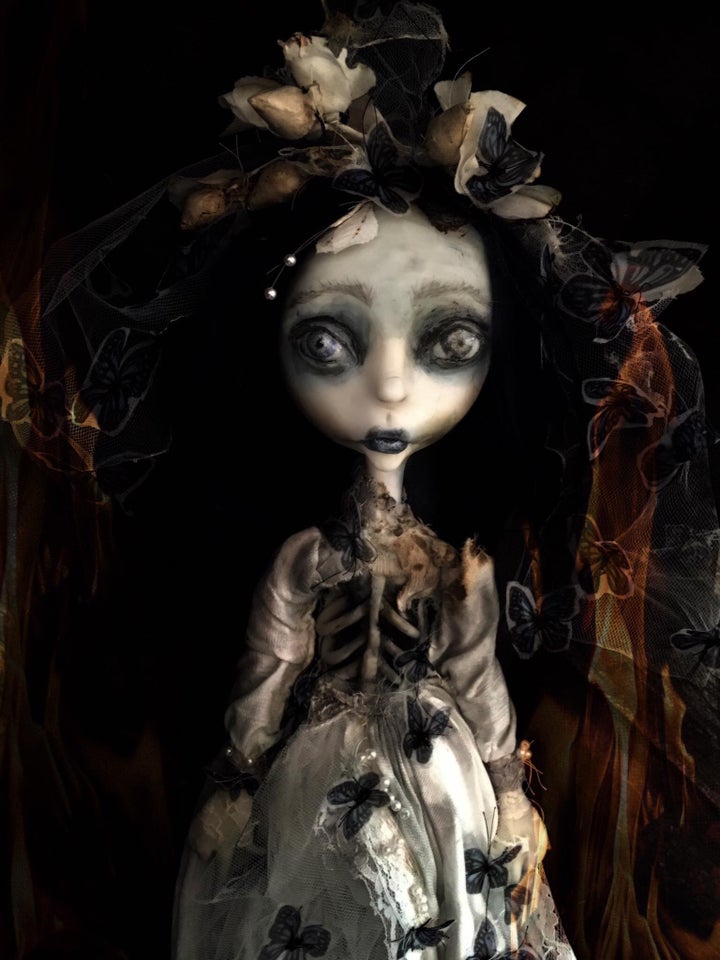 The first dolls I created were cloth. Mostly without definition but able to strike various poses. Soon I found the need to create on a more detailed level. I discovered needle felting and felt an instant connection. The process of stabbing tiny fibers 1000s of times to manipulate the wool into the semblance of a figure was therapeutic. Soon I found myself with many more dolls than paintings, and I needed more. I needed to see how far I could take this figurative art and explore a new medium. I found polymer clay and was hooked. Polymer Clay enabled me to create details I had not been able to achieve. Emotion in the face I had been yearning for. Once I started creating in Polymer I felt like I had found my place.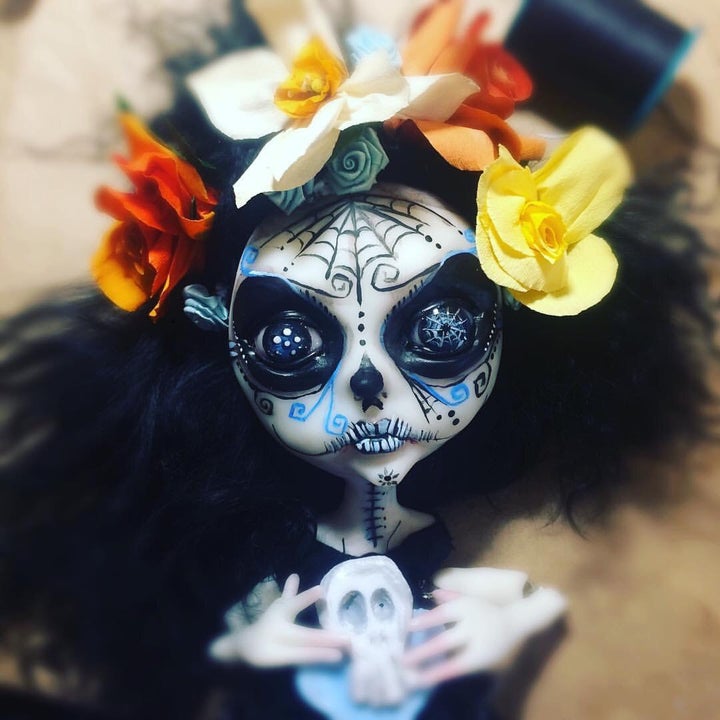 Within each little doll was an entire lifetime of learning. To be a doll artist is to have a myriad of skills. You are a painter, a sculptor, a costume maker, a makeup artist and a Story teller. My process starts with a head sculpt. Some days I can sculpt 8 heads, others I can barely get one out. My mind must be in the right place, and my thoughts and the mood must be there. If I am not feeling it, it isn't going to happen. I have sculpted thousands of tiny faces and each one has a mind of its own.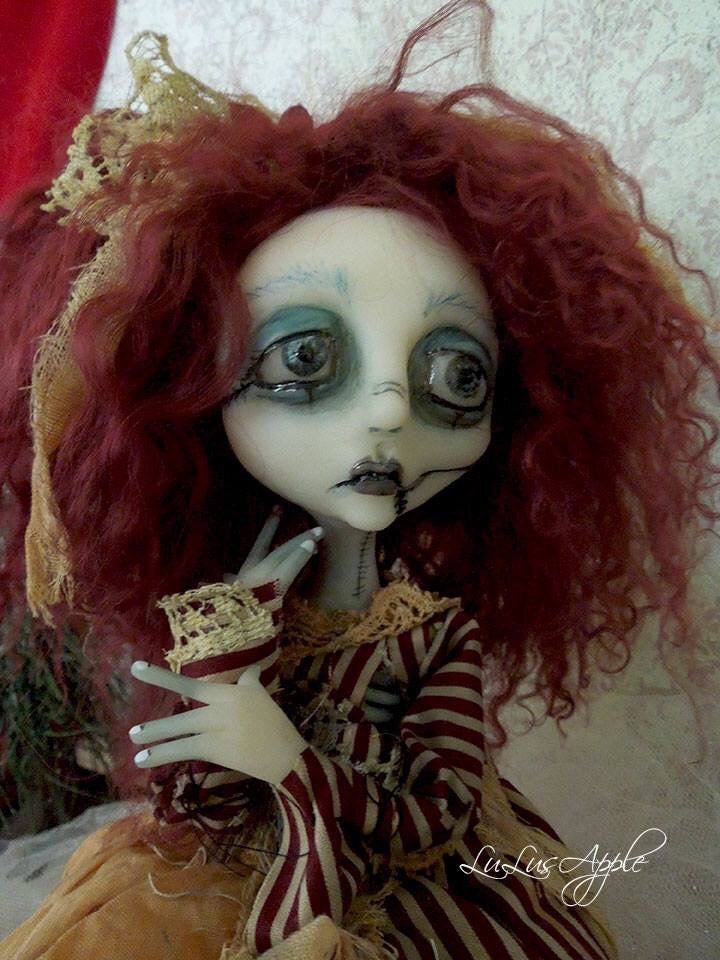 Once I have a head that speaks to me I create the body and limbs. If I find myself drawn to that shape I will continue with giving the doll its face and personality. This is where we stare at each other and decide who and what it will be. What does this doll need to say? I like to take a photo of the doll and sleep on my thoughts about her. The photo gives me a different perspective of the piece. It will reveal to me what is prominent about her in a way looking at the 3d sculpt doesn't at first glance. Is it her eyes, her lips, the general expression of her face? This will tell me who she is and what story she needs to tell. Once I know the direction of the piece I will start her costuming. This is where the fun starts. From hand dying fabrics to searching through my hoard of vintage and antique trims to find the right pieces to show the life she has and the story she must tell."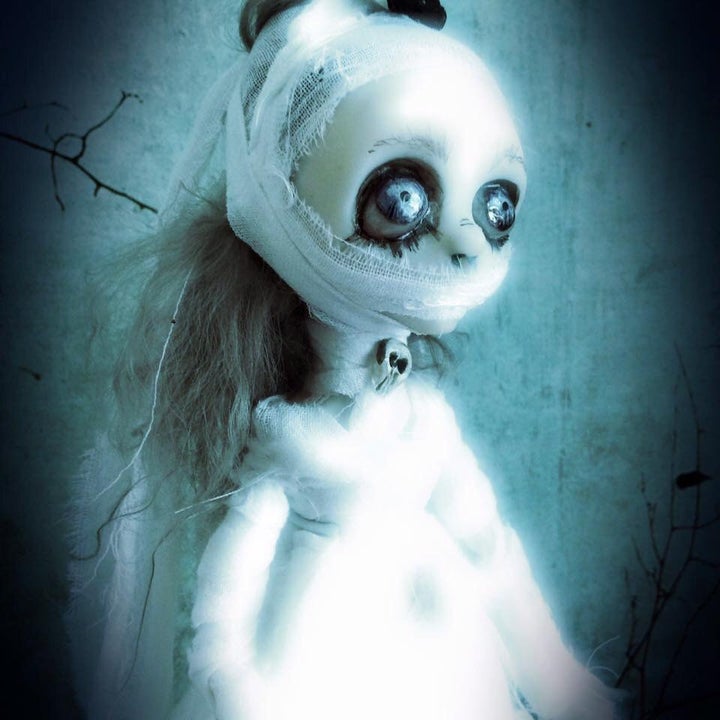 The next artist I would like to introduce you too is Cyndi, creator of the dolls known as "Moodyvoodies." They create the dark, adorable, and engaging art dolls. The details of their faces are hand painted and ink drawn. They are so detailed, you would not believe they were created by human hands. They are creative, available, and engaged with the people that love their work. They have a very dedicated following as well, and have created well over 3,000 hand-made dolls in their career. Their dolls sell out in minutes when available, and they have a huge number of requests for custom work on a continual basis. Here are some of their thoughts on their work and experience.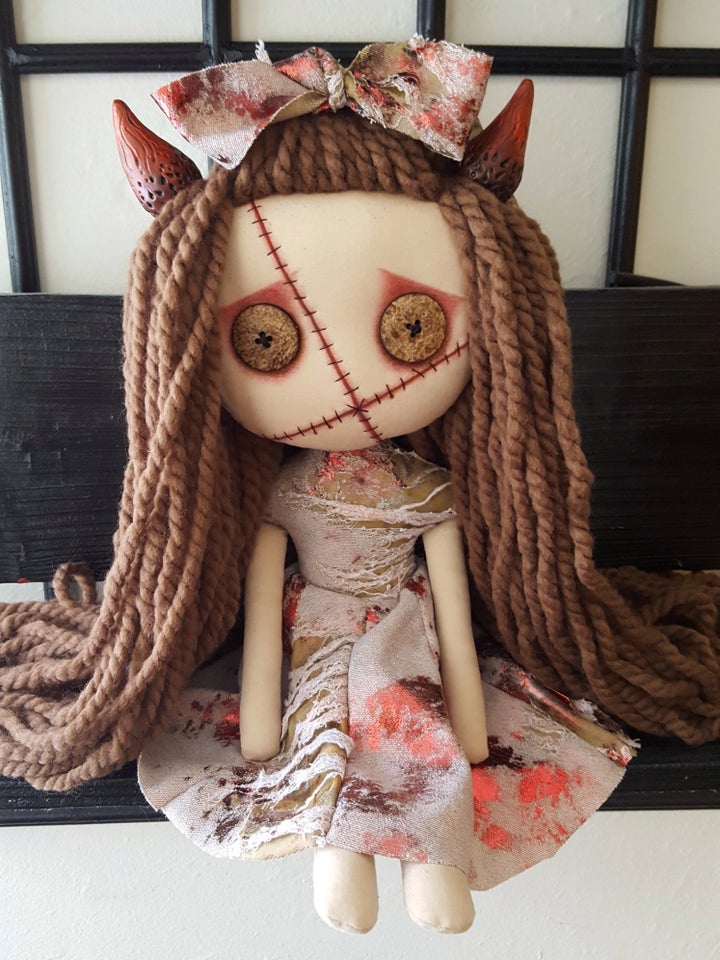 "Art has been a part of my life in various ways for a very long time, and artists in my family span generations, but I'm unaware of any that were able to make a living doing it because, as I've come to learn, it's really difficult! But, I had to take the chance because, frankly... I feel I have a point to prove.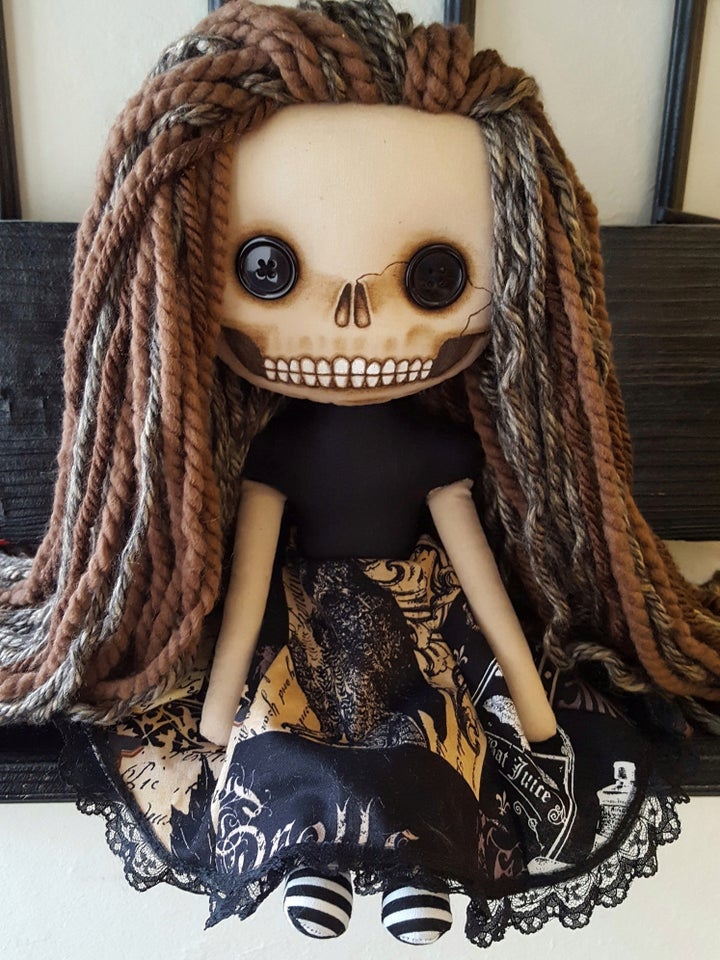 Drawing is what got me started on this path. I first realized I could draw around the age of 10 when we had to sketch our shoes in art class. When I finished, I thought, "Woah, how'd I do that?" I impressed myself. So, I eventually moved on to drawing album covers and then, much later, little cartoon characters that I'd conjure up, many of which were voodoo dolls. But, I had always wanted to make something tangible; something I could physically touch and hold. So, a few years ago I came up with the idea of making dolls based on my cartoon drawings, and everything just evolved from there.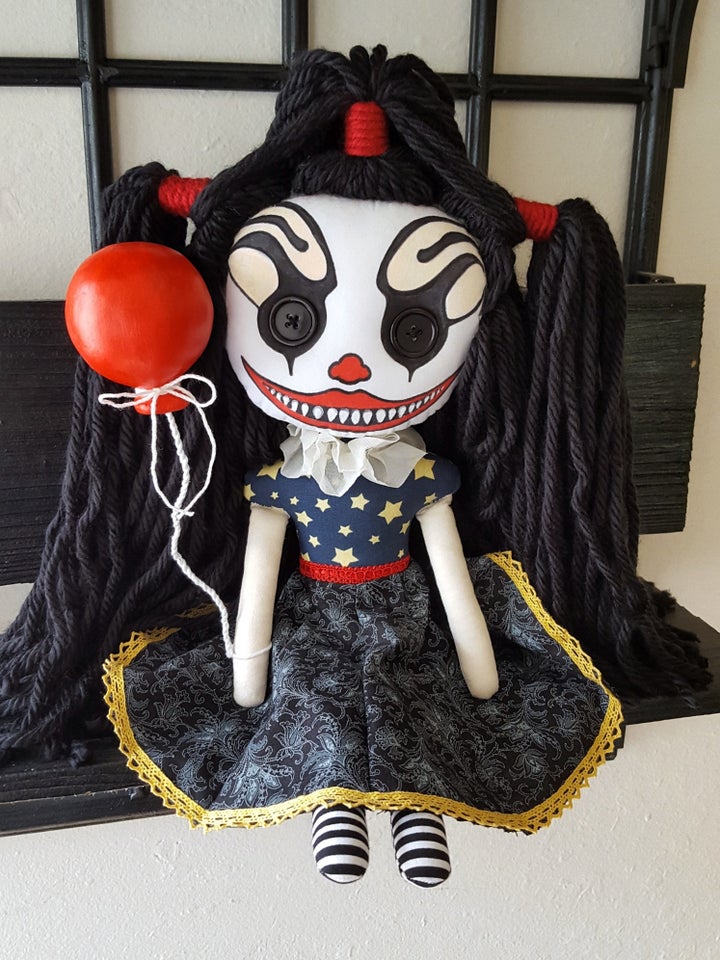 My inspiration comes from everywhere. Some ideas are inspired by popular characters, some by my own cartoons, and some simply pop into my head. They'll often start as a sketch, then a template is created, and finally the appropriate fabrics are hunted down. Then it's cut, sew, stuff, and sew again. (Glue, rip, stab, paint — whatever they ask for. And it does sometimes feel as though they ask.)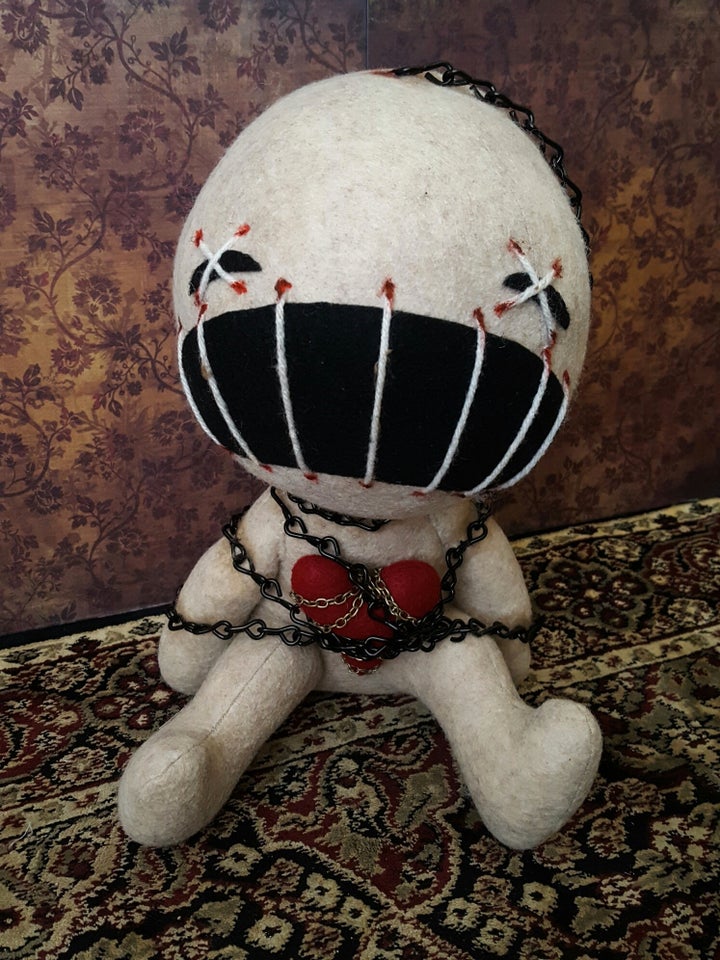 I don't think any of the dolls take less than 4 hours to make, but I've never actually timed the process. It depends on the doll, really. Some are so time-consuming that I've had to discontinue them simply because people aren't always willing to pay the price on a plush doll that takes 8 hours or more to create. It's taken years of hard work to get to the point where I can say that I make my living as an artist. And I'm proud to finally say that I'm an artist because, in my mind, I never thought I was much of anything at all.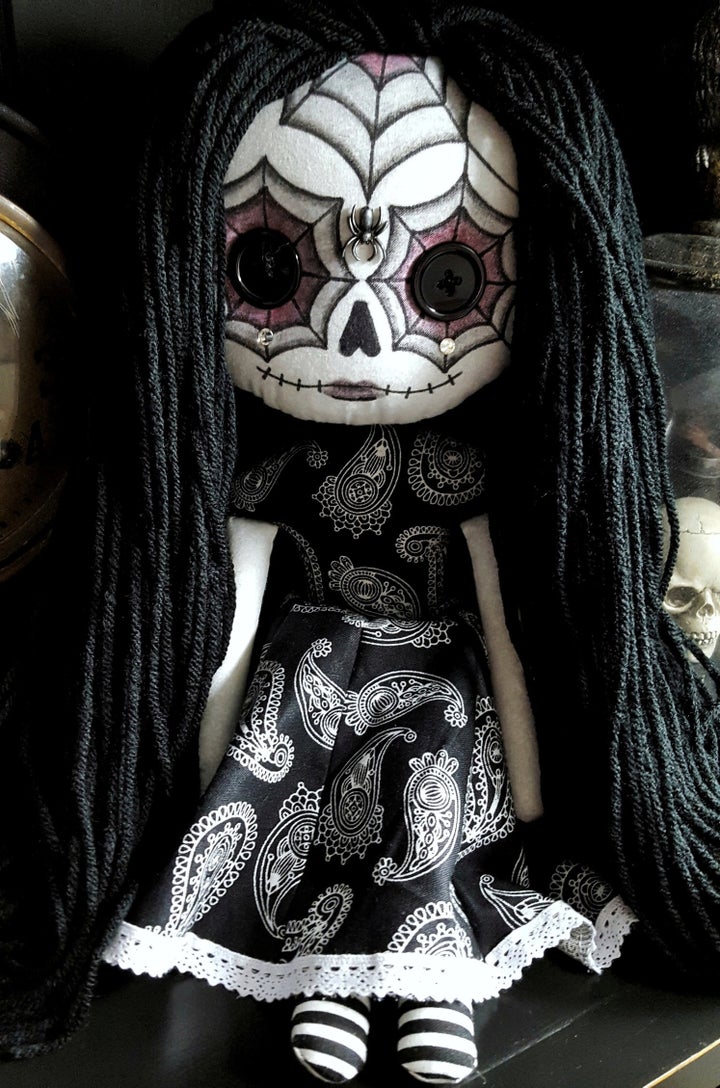 There are times I (and others) think I should get a "real" job, simply for the peace of mind of a steady paycheck, and the luxury of paid vacations and health insurance, but this has become who I am. I don't want to give it up and feel like 'nothing' again. Besides, from my experience thus far, this is just as much a "real" job as any 9 to 5. To make a living this way, you are on the go 7 days a week, all hours of the, day and late into the night. Because it's not just about making the dolls (which take up most of the day), it's managing multiple social media accounts, answering email, Direct messages and Etsy conversations, numerous trips to the post office, and shopping for supplies. I feel like an inventor, a factory worker, customer service representative, social media manager, courier, accountant, professional shopper, photographer and juggler, all rolled into one. And all for peanuts, really.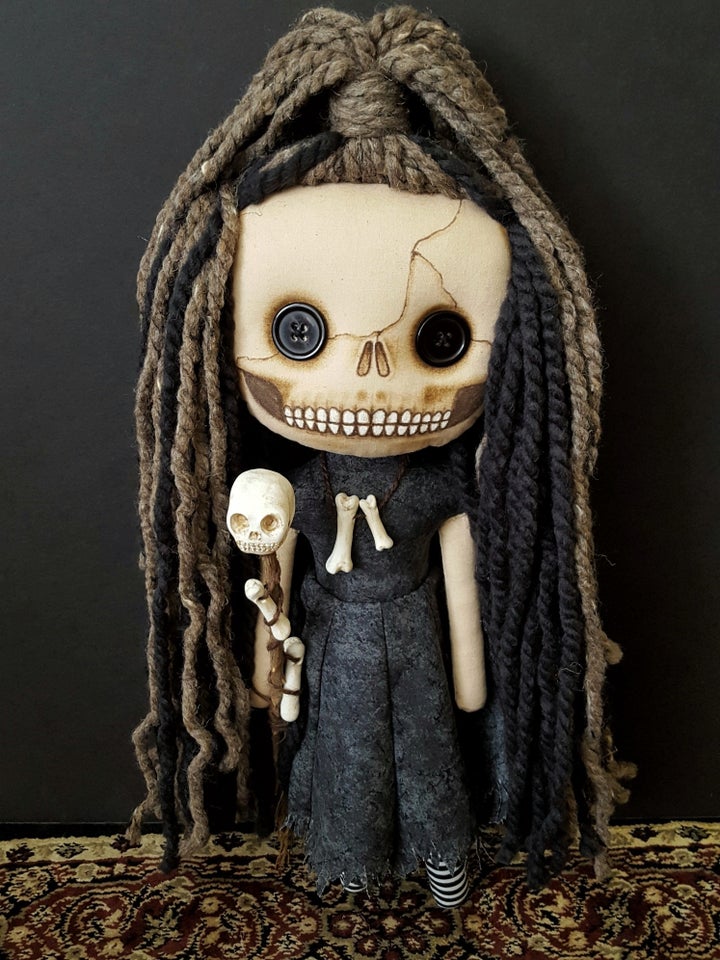 But hey, I get to work in pajamas! That's a cool perk. I save SO much money on clothing. I'm incredibly grateful to everyone who has helped me to continue doing this as a job. It's done wonders for my self-confidence, and has given me purpose and goals. And that's really all anybody with abnormal amounts of social awkwardness could ask."
The last artist I would like to introduce you to is Michelle Hopkins, from "Handicraftsnepitaphs." Michelle creates incredibly detailed and lifelike knitted dolls. Some are posable, movable, and most are created using the special art form, that she will discuss in detail for you. She is outrageously entertaining with her fans on social media, where she is known as Poenut35 after her love of Edgar Allen Poe, and is always available and engaging with and for fans of her work. Her works take a significant amount of time to create, and she often has a many months long waiting list, but her work is worth the wait. She loves to be given a challenge, and to create something she has never done before. Her pieces are truly a welcome addition to any collection. Here are some of Michelle's thoughts on her work, as well as some generous tips on the work she does.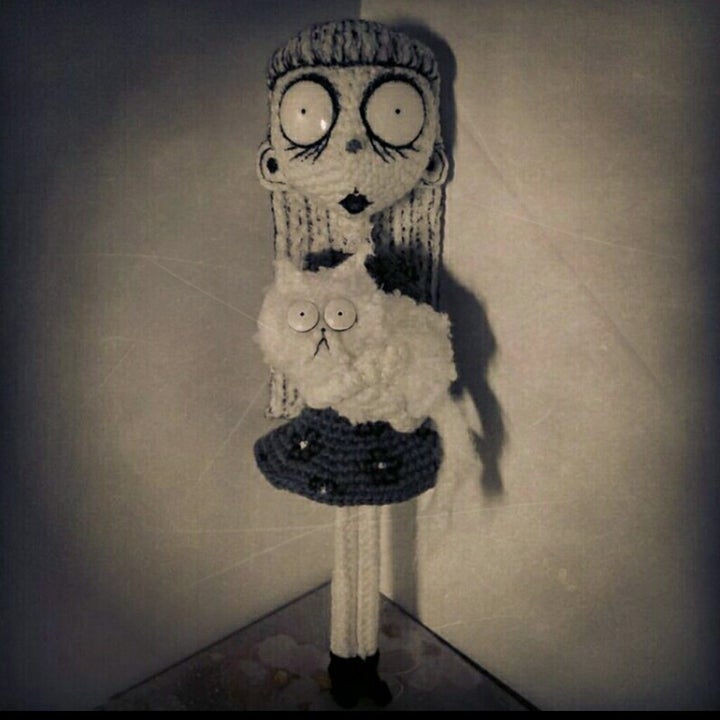 "I grew up in the deep South and come from a very artistic family. Every member of my family is creative in one way or another, be it through music, drawing, or in my mom's case, those two things as well as crochet! Thus I, too, was always extremely into art and took up drawing as soon as I could grip a crayon. Truth be told, I didn't pick up a crochet hook at all until a few years ago, January of 2014 to be precise. I was 33. Up until that point of my life I'd always been more of a black and white portrait artist who drew from photos. Graphite and charcoal were my mediums and paper was my "palette." But, in January of that year, something clicked. I'd gotten restless. I had given up drawing for about a decade at that point, and was looking for some new artistic endeavor to fill the void.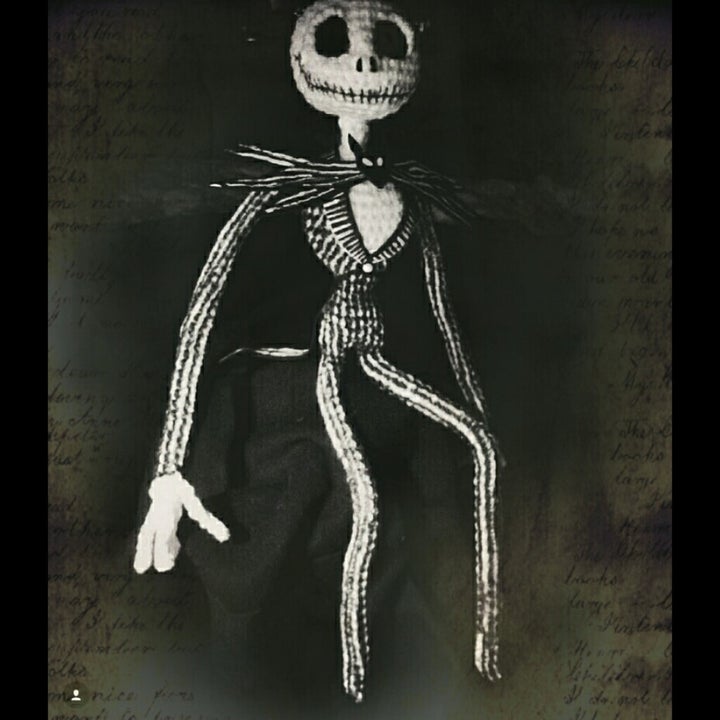 I'd always seen my mom crocheting and thought it looked fun, but assumed it was too difficult for me to master. On this day, I shoved aside all doubts and asked my mom to show me a couple of stitches. I was horrible. It took me quite some time to even master holding my HOOK properly! Mom had to physically take my hands and fold my fingers around the hook in the proper manner. So, as they say, "practice makes perfect." I found easy beginner crochet patterns on the internet (hats mostly) and then I found some fascinating YouTube tutorials on this strange Japanese technique of crocheting small, stuffed creatures out of yarn. It was called "Amigurumi Crochet."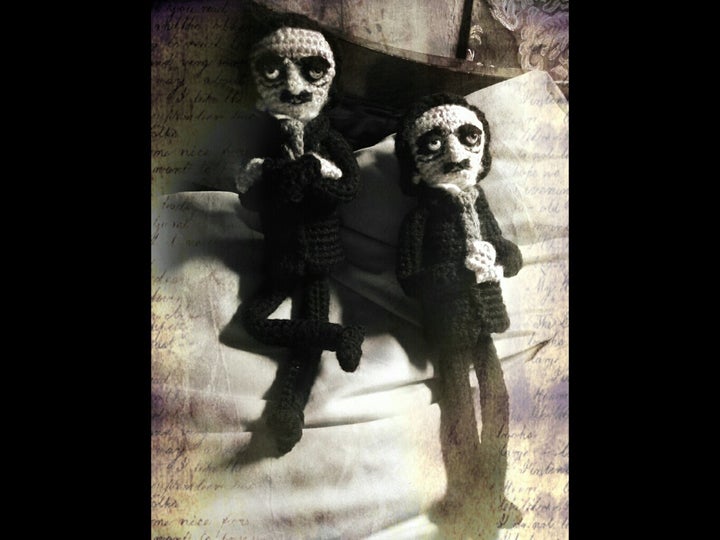 I started with very simple stuffed animals. My first one was a mouse, I believe. It was horrible. Well, he was cute, but from a TRUE amigurumi standpoint, he was horrible. You see, amigurumi crochet is NOTHING like regular crochet! Amigurumi takes time to truly master. The technique generally requires a smaller hook than usual (I use a Clover E hook 3.5mm with worsted weight acrylic yarn). It also necessitates VERY tiny, tight stitches so that your stuffing doesn't show through. The stuffing must be firm (the doll shouldn't be soft upon completion), but not overstuffed to the point that it's peeking through the holes between stitches. Finally, amigurumi crochet is worked in a continuous spiral without joins (my fellow crocheters will know what I mean here). Thus, amigurumi can be very hard work, and quite taxing on the hands, joints, and muscles (believe me!), but is very rewarding nonetheless.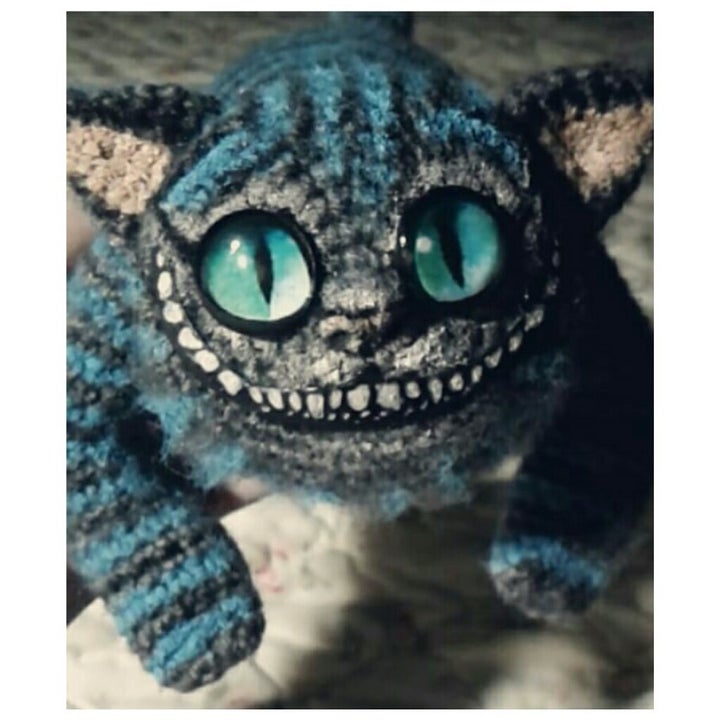 Basically, what I am making is an "art doll," NOT a "stuffie." Most of the dolls you will see listed in my shop are "made to order," which means once you place your order, I get to work making that doll just for you! Every amigurumi doll begins with a ball of yarn, a small crochet hook, my hand-scribbled pattern (if it's already written), and my imagination. With VERY few exceptions, most of my dolls are fully posable via wire armature in the arms and legs. Each doll has a wooden spine for stability. The doll's head can move side to side. Every doll has hand applied, painted, and created details. Over the past several months, I've been incorporating other materials besides yarn into my dolls, to create even more of an "art doll" feel.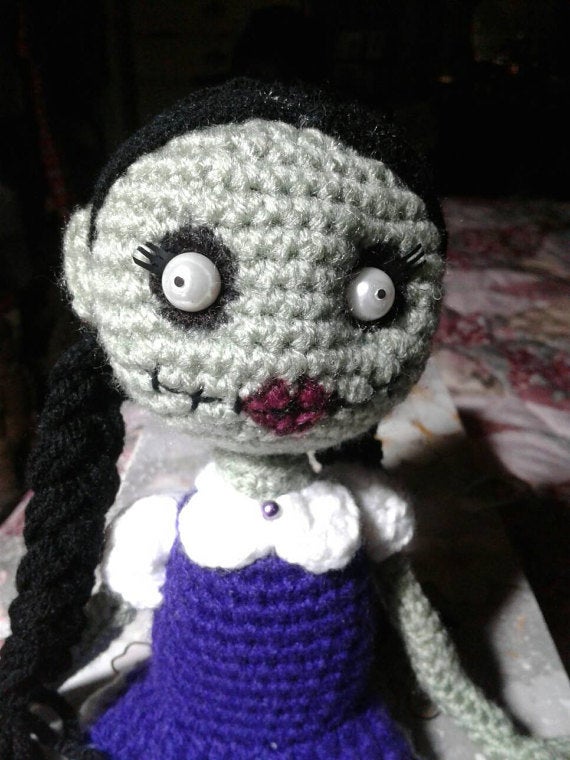 For example, most of my newer patterns are now sporting handmade felt or foam shoes! The doll's eyes can be painted felt, reverse-painted glass, or safety doll eyes. I like to add special touches to each doll to give it its own personality. Some have hand-rooted hair that needs special styling, like my "The Other Wybie" doll, for example. I've added real makeup and even dirt or hairspray! Each doll can take anywhere from 3 to 5 days to make, working at 6 to 10 hours a day or more. Thus, these creations are a true labor of love created by two hands, a far cry from mass-produced teddies under flickering fluorescents.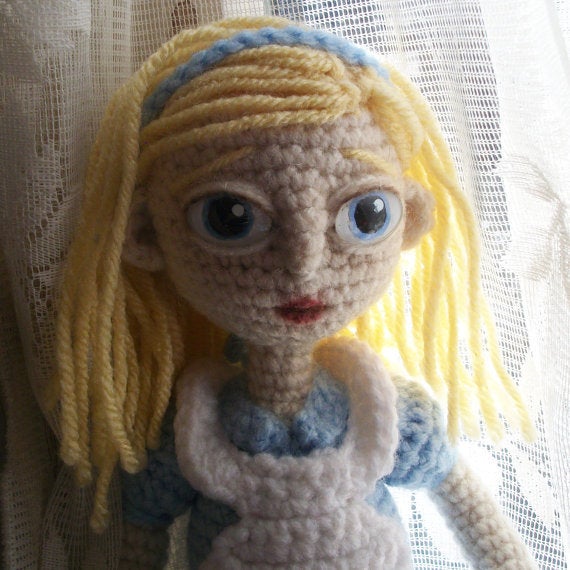 By the time I'm done with a commission, I feel a true connection with it, as odd as that may seem. It makes all the late-night pattern rewrites, yarn frogging, and cursing, worth it when I receive that happy customer photo, because that's why I do this. Besides that ceaseless desire to create, I also love to make people happy. And isn't that the point of dolls in the first place, to inspire happiness?"
I hope you have enjoyed learning more about the true artistic talent behind the art doll, as well as enjoyed learning about the path and process of these three ladies. Check out their websites, follow them on social media, and be in the know for when their unique labors of love become available. Who knows, maybe you will be lucky enough to take one of these little lovies home for yourself.
Related
Popular in the Community