I wish you could close your eyes to imagine what I'm about to write as you read it. But alas, that would not be possible. Instead, read this run on sentence and then close your eyes to soak it in:
Rolling hills with a vast array of various types of trees, dotted with a rainbow of wildflowers... farm homes with glorious organic gardens and horses cantering down endless miles of trails... lakes to jump in when the sun gets too close and restaurants to dine and drink at with food fresh from the farm... shops curated with great goods you've never seen before - all of this created to help you conserve our Earth and consume the best of our art in community.
That's Serenbe. I never dreamed that one of my favorite places on the planet could be so close to home (just 30 minutes from Atlanta). I never dreamed that a place so aesthetically special would also serve the environment and grassroots social impact artists. Luckily one family did have those dreams and make them come true. The Nygren family began visiting what is now Serenbe in 1991 in an effort to show their children growing up in Atlanta the wonders of the Georgia countryside. In 2004, they launched what is now home to over 400 residents, dozens of sustainable and responsible shops and restaurants, and thousands of acres of green space.
One percent of each purchased home price is donated to the Serenbe Institute for Art, Culture and the Environment. This incredible investment has turned into a movement of artists and innovators from around the world discovering and becoming part of this little slice of heaven. Part of this initiative is the Serenbe Art Farm, a 40-acre complex that serves as the central place for artists, the arts and culture at Serenbe. This complex is deeply rooted in process, education and creating multiple platforms for creativity. Artists, practitioners, and researchers come here to deepen their practice and broaden their creative connections.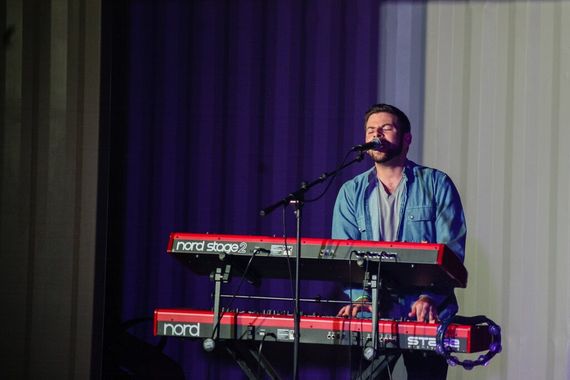 Matt Lipkins from the Shadowboxers (an ATL Collective regular) performing inside a shipping container on the Art Farm, J. Ashley
Garnie Nygren, one of three daughters of Serenbe's Founders and now its Director of Operations, says the Art Farm's goals are to "give back to the arts with space, time and fundraising opportunities and overall create a more beautiful life through the arts." One of the ways they do this is through once-in-a-lifetime live music experiences. This coming Sunday, for example, the ATL Collective (which creates monthly musical and cultural happenings where they relive a classic record) will perform Paul Simon's Graceland outside under the stars.
In an age where individuality and competition can seem to block creative channels, both Serenbe and ATL Collective are dedicated to meaningful collaboration. "We curate the shows carefully, retelling the history of the recording, the album's artist, the context of the release, the impact the songs have had, etc. We do this through collaboration, at every level, bringing together local musicians, visual artists, venues, chefs and more," says Micah Dalton, Co-Founder of the Collective.
I am openly aware of my obsession with African music and know that as a young woman who has grown up in the American South, I likely would never have heard it if it weren't for Paul Simon. "Many people would not have been aware of this rich African musical tradition if Paul Simon didn't work to synthesize it into a pop medium. I hope that we as artists and songwriters can always continue learning and collaborating in this way, giving less known musical traditions a fan base and market," Dalton explains. If you're not familiar with this album, 30 years ago in the midst of extreme racial tension and the cruelty of apartheid, Paul Simon - a white American artist from the famed Simon and Garfunkel - went to South Africa to record the album and share his fascination and passion for African music. It was a controversial album that ended up fairly recognized with a 1987 GRAMMY Award. Today, many people attribute Graceland to opening America up to the beauty of African music and culture.
ATL Collective is obviously a perfect fit for the Serenbe Art Farm. But I also wanted to know what other dream acts they would love to host, just in case those gifted artists are reading the Huffington Post today. Monica Olsen, Serenbe's Director of Marketing votes for Neil Diamond. And Garnie Nygren says Sara Bareilles. "We really have an eclectic and fierce love of the arts in most any form - film, music, theatre, dance, or the visual arts," Olsen says. So I guess you're all invited!
To come experience the magic happening this Sunday, or anytime, at Serenbe you can stay at the Inn or rent a residence. For more: serenbe.com and atl-collective.com.
All photos courtesy Serenbe and ATL Collective.
The views expressed do not necessarily reflect the opinion of Creative Visions Foundation. Personal opinion of the author only. More at imbafilm.com.
Calling all HuffPost superfans!
Sign up for membership to become a founding member and help shape HuffPost's next chapter