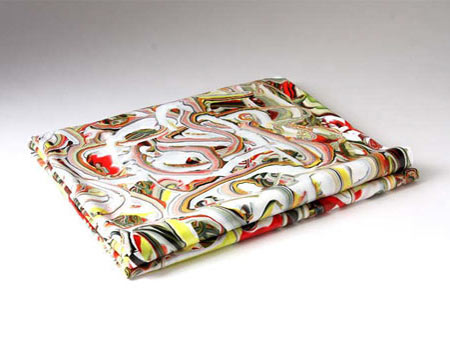 Margie Livingston, "Study for Spiral Block #3," 2010, acrylic paint, 6 x 6 x 6", at Luis De Jesus Los Angeles.
The shooting in Tucson, Arizona last weekend produced some valuable teachable moments over the course of the week. It was tempting to attribute the act to an atmosphere of political extremism that has produced a number of near and smaller tragedies, but the more substantial cause in this case was mental illness (itself an important public issue). Sarah Palin's self-consciously crafted statement revealed how the real person can be glimpsed even in the most controlled public performance. In her case it was a shocking, but not surprising display of empty bromides, intense hostility and narcissism. Then the president demonstrated the right way to produce a larger message to the nation even as he eulogized the victims as individuals. Their personal stories became the components of a narrative that integrated a larger mythos of family, community, heroism and that sense of possibility that energizes us to move forward. Hope, even in the face of great grief or hardship. There is an important point to this, and I find a path to it through my own experience of art.
When I look over the exhibitions our editors and writers are excited by week in and week out I experience each artist's work for its own particular merits. For example, this week we cover Laura Mackin's series of videos, "Time Enough," based on over a half century of home movies by a man named Dean. The artist successfully recasts endlessly quotidian banality into an aesthetic statement that emerges out of processes of categorization and compilation. Regarding Margie Livingston's objects constructed from acrylic paint, Jeannie R. Lee says that they "started with a hairball." The challenge of depicting the light filtering through so ordinary an object launched the artist into a journey in which one thing lead to another until, over time, the work comprising her current exhibition came into being, with no obvious relationship to that original source. Just as these two artists generated a body of work from the most seemingly unpromising starting point, so do the videos of Mackin and sculptures by Livingston display an intriguing connection between the rapid fire but related fragments in the videos and the rolled or folded sheets of paint. That connection readily expands to include some aspects of the other art our writers engage so as to create a common, one might say a civic space. Significantly, this is inevitably a large and open-ended space, one might say a free space.
Long experience has taught me that given that such a meritorious gathering is made up of arbitrary parts, there are larger lessons, coincidentally shared as well as contradictory issues, a meta-narrative that implies a new if imperfect whole.
What the president did with the random biographies of the shooting victims, who themselves have entered into the national mythos at random, was illuminate that inevitable connective tissue. I think we all gathered that his was a metaphor of national reconciliation, a call for civility. That this is the über-theme of the Obama presidency is not a point that need be elaborated on or critiqued here. What struck me is that without realizing it my private knowledge has been that the nature of art draws even the most diverse creative people into shared orbits all the time. Not in spite of but by virtue of the very pursuit of distinction there arises common purpose. The patchwork is rough, but so is that of America itself.
The tragedy of Tucson provided the unexpected occasion for collective self-examination. The president's narrative has clarified the process. If it is important that Americans challenge each others' ideas without, as he suggested, doubting adversaries' love of country, it is essential that we honestly criticize the creative production and strategies of artists while never forgetting to honor the largesse of the aesthetic enterprise.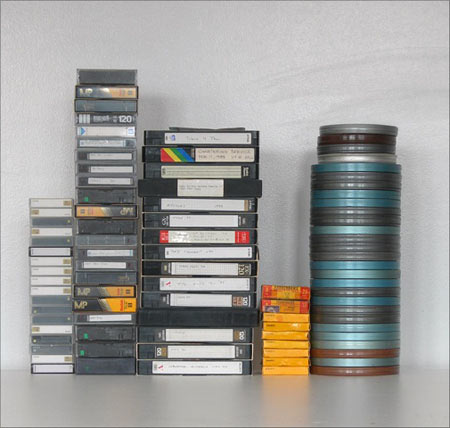 Laura Mackin, "Dean collection," shot from 1946-2006 by a man named Dean, 2008, C-print, 9 1/2 x 10", at Half/Dozen Gallery, Portland, Oregon.
Related
Popular in the Community