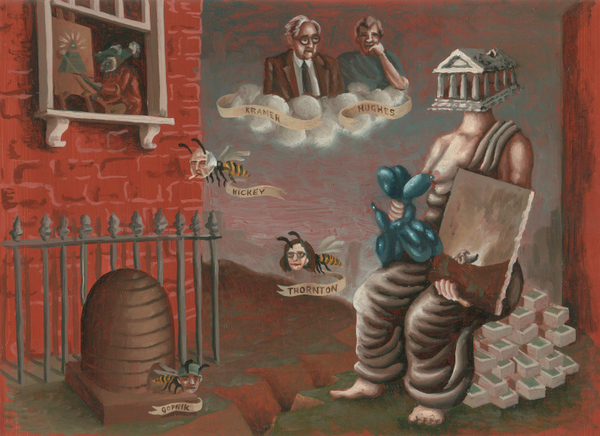 "The Divorce of the Art Market and Art Criticism," Ex-Voto Painting by Matthew Couper
NEW YORK -- In a joint prepared statement issued earlier today, The Art Market and Art Criticism -- two allegorical figures whose uneasy marriage has been under visible strain in the past month -- have confirmed reports that they intend to divorce next year:
"After long and careful consideration on both our parts, we've decided to end our marriage. We have loved each other deeply for many years, but recent developments have strained our ability to sustain a loving and meaningful partnership. It is a painful time for all involved and we ask that you respect our request for privacy at this very difficult juncture."
The announcement ended considerable speculation - fueled by a spate of reports in tabloids and art blogs - that the marriage was in trouble. Coming less than a week after reports that artist Damien Hirst was ending his affiliation with Gagosian Gallery, the news rattled rattled their friends and associates who struggled to make sense of the seismic instability that has recently shaken the art world.
One party close to the situation says that the marriage's problems first became apparent after Art Criticism, a classically trained scholar known for her wit and erudition, and her husband -- a high-powered businessman and financier -- engaged in a nasty public shoving match in front of a Jeff Koons balloon dog on the roof of New York's Metropolitan Museum of Art last month. The following week, Art Criticism was observed by a neighbor leaving the couple's palatial Manhattan brownstone clutching a Goya painting in one hand, and a box of books in the other. A blurry cellphone photo of the incident has been widely re-tweeted.
Musée M. Bord, a longtime friend of the pair, told the New York Sun that Art Criticism had been enduring considerable personal strain in the past year. "While the Art Market has been spending so much time at art fairs with oligarchs and billionaires Art Criticism has been relying heavily on her friends, but they have their own problems" she lamented. "The recent deaths of her longtime supporters Hilton Kramer and Bob Hughes hit her hard, and seeing Blake Gopnik laid off by Newsweek didn't help. Sure, there are a lot of bloggers who call themselves critics, but they are too self-absorbed to be of much help."
Christie Sothebys, another friend, offered this observation about Art Criticism's social circle: "She is just now beginning to realize that many artists who she thought of as friends have actually sucking her dry for years. Once they had become 'brands' they told her off and laughed in her face."
Art Forum, a close friend of the Art Market, offered a somewhat different perspective. "As anyone with a pair of eyeballs can see, the Art Market has been wildly successful in the past decade, and I think that grated on Art Criticism, who honestly has never really embraced his success. There is some real jealousy here, and I would remind Ms. Criticism that her husband has been exceedingly generous to her. And by the way, she needs to tell her busy bee friends Dave Hickey and Sarah Thornton to shut up."
A source who declined to be identified hinted that an affair may have been a factor. Last summer photos of the Art Market sipping champagne with Curatorial Integrity at a London Bistro briefly appeared on the Tattler website, but were quickly removed. "This is a very sad moment," the source commented, "as this couple complimented each other so well for years. Art Criticism does have a sharp tongue, but she can be very funny and through the years I think she has stabilized the Art Market and given him credibility. Honestly, I think he is just living in a bubble."
Dr. Connie Faux, a professor of Art Theory at the New School of Linguistic Obfuscation, and a long-time associate of Art Criticism, told ArtNews that she was "conceptually saddened" by the pending divorce. "During their long marriage, the Art Market and Art Criticism consistently functioned symbiotically within the web of differentiation which spans the chasm of the non-human over which we constantly live. They have left indelible traces on my personal epistemology."
Art Criticism's mother, Art History, has made only one public comment, posted as a status update on her Facebook page. "They never should have married in the first place, and I told her so when they became engaged. From the start, they had very different aims and were basically incompatible: I don't know how the marriage lasted as long as it did."
The Art Market and Art Criticism have three adult children: Pablo, a hedge fund manager, Andy a filmmaker, and Jean-Michel, a street artist whose struggles with drugs and alcohol have been widely reported. The couple will reportedly share custody of their 10 year old adopted daughter: The Chinese Contemporary Art Market.

To my readers: I'm sending my best wishes for a Happy New Year - John Seed
Related
Popular in the Community