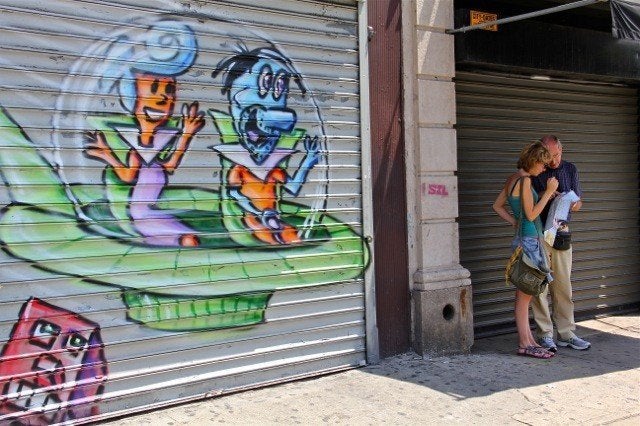 In 2011, I got one of those rare signs from the universe that everything is aligned for one to take action. During a short trip to Chicago, I saw Michael Dinges's DEAD LAPTOP Series and was blown away. He had etched dense images and ecological warnings about our relationship with technology onto discarded iBooks (the white plastic cases reminded him of the whales' teeth sailors used to inscribe). I thought Tekserve, the Apple computer store my husband co-founded in our loft in 1987, would be the perfect place to introduce this new spin on scrimshaw to New York.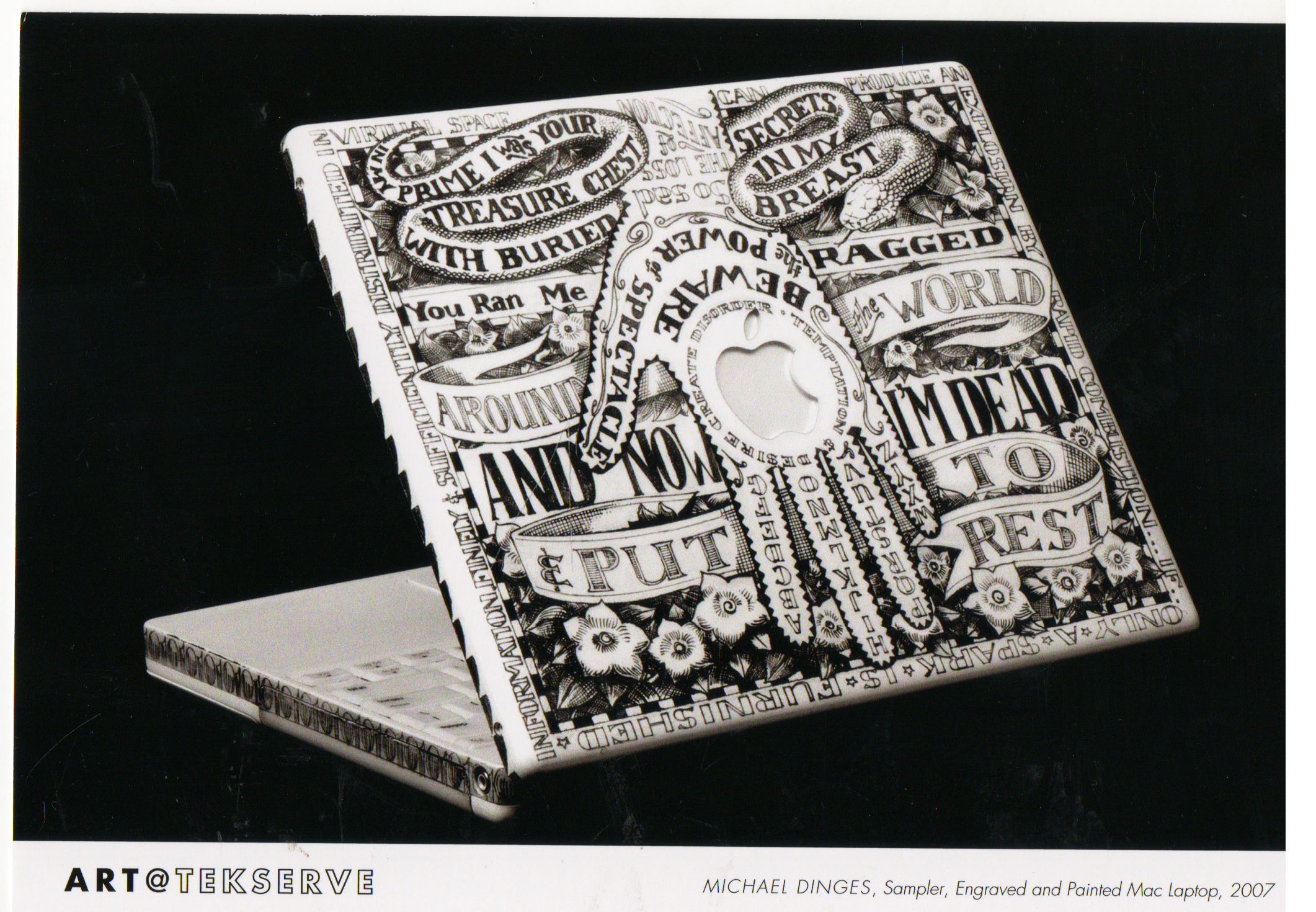 When I contacted Michael to ask what he thought of the idea, his response was a philosophical, "What goes around comes around." Turns out that when he embarked on the series (he'd never been to Tekserve), he blindly contacted computer stores on the web asking if they had any laptops headed for the garbage dump. Tekserve sent 12 iBooks his way.

The next year, when Art@Tekserve displayed Chester Higgins Jr.'s photographs of Africa and its people, they provided such a striking contrast to the hardware in the store, I worried it might be too big of a stretch, but judging by the response from our employees and customers, they too fit in beautifully.

Is a computer store an ideal place to contemplate art? Maybe not, but New Yorkers have a great tolerance for absorbing the unexpected and they like multitasking. Why not take in an art show while you're waiting to hear the fate of the data on your hard drive?

I've discovered that the skills I acquired over the years producing television documentaries translate well to putting on an art show. I've been privileged to learn from some of the best curators and scholars in the country while writing audio tours for museums and institutions including the Met, the Boston Museum of Fine Arts, the Detroit Institute of Arts, and the Library of Congress, among many others. Plus... I know what I like!

This January, we opened our fourth show, NYC STREET POP -- films, photos and other fun stuff By Ken Brown. I've been a fan of Ken's since I first saw his postcards back in the late 1970s. Over the years, he's created more than 600 post cards, as well as T-shirts, wrapping paper, rubber stamps, even dishtowels, adorned with his artwork -- a fantastic mash-up of garden gnomes, fast food logos, religious icons, robots, and other fever dream visions inspired by pop culture and flea market finds.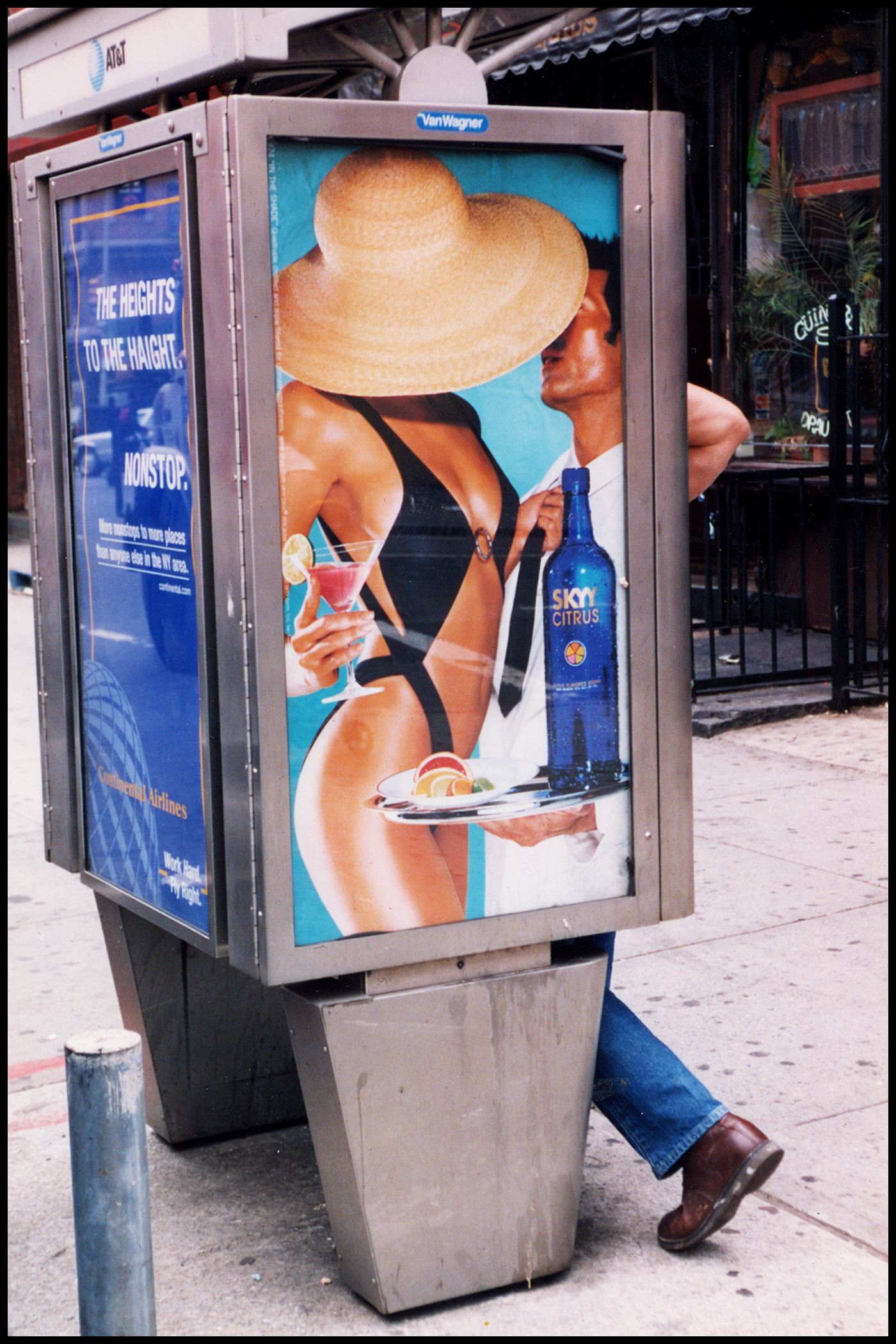 As many galleries and museums as there are in New York City, there just aren't enough to show the work of all the talented artists gathered on this island. Ken Brown knows that -- that's why in addition to producing his own prints, cartoons and animated films, he's been biking through the boroughs for more than 30 years now, collecting images of street art, hand painted signs and unique storefronts, before the walls come tumbling down and they disappear.

He's created special slideshows of these photographs for the show at Tekserve, highlighting favorite subjects ("Let's Eat," "Fellow Citizens," etc.) and saluting "the unknown artists who contribute so much to the visual vibrancy of the city." The pictures can be seen on large monitors and individual iPads throughout the store, along with Brown's short films, fizzy time capsules recalling memorable occasions, like "Wigstock," a day at Coney Island, and the patriotic display that followed 9/11 ("Flag City"). On display with the newest iMacs and digital cameras, we've got Ken's iconic T-shirts (Mick Jagger even wore one in concert in the '80s) hanging from a clothesline. One of his animated shorts is streaming from the vintage phone booth in the store -- another is coming out of a 1950s television.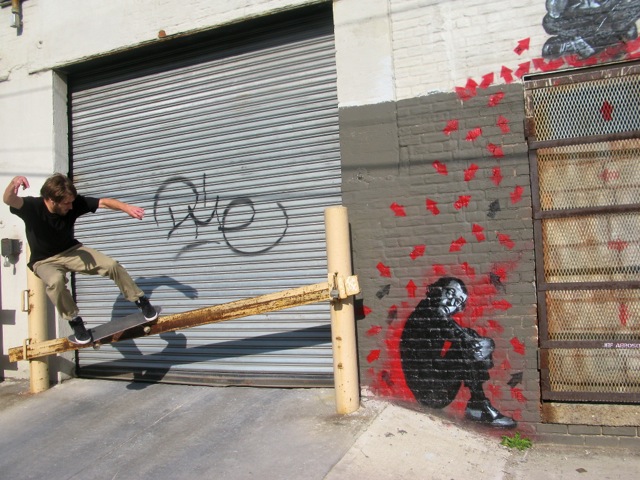 Skateboard Audience, Ken Brown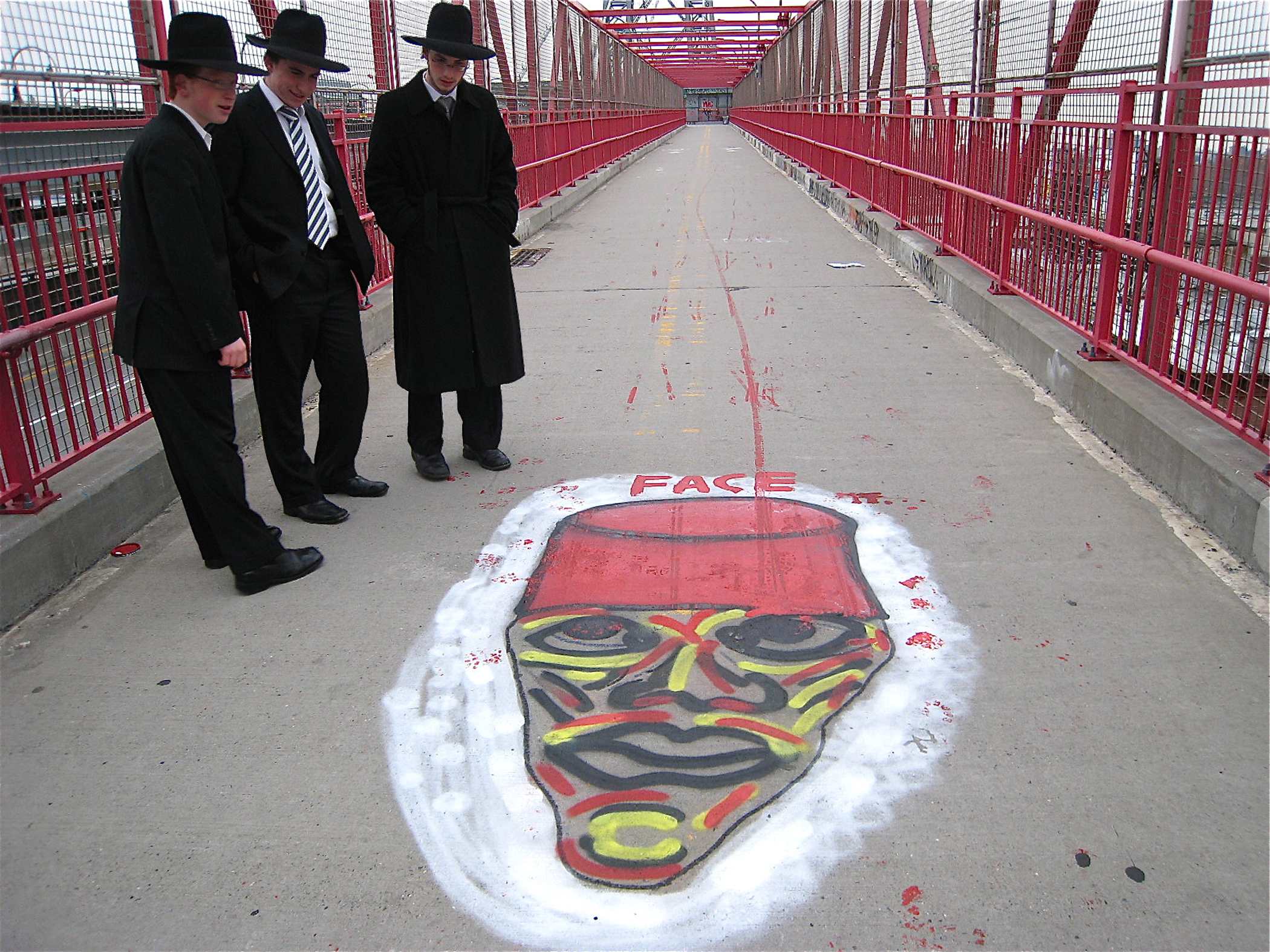 Face Time on the Williamsburg Bridge, Ken Brown


Since Ken Brown has the streets of New York covered, I gave a side bar show to Jowy Romano, just one of the many talented artists, filmmakers, 3D animators, musicians and other creative people who work at Tekserve. Jowy started the Subway Art Blog a few years ago and SEE SOMETHING (taken from the MTA's admonition, "If You See Something, Say Something") covers some of the best "uncommissioned" art below ground in NYC (including work by Jilly Ballistic, Poster Boy, City of Children, Moustache Man, and Tom McKean's must-see metrocard sculptures.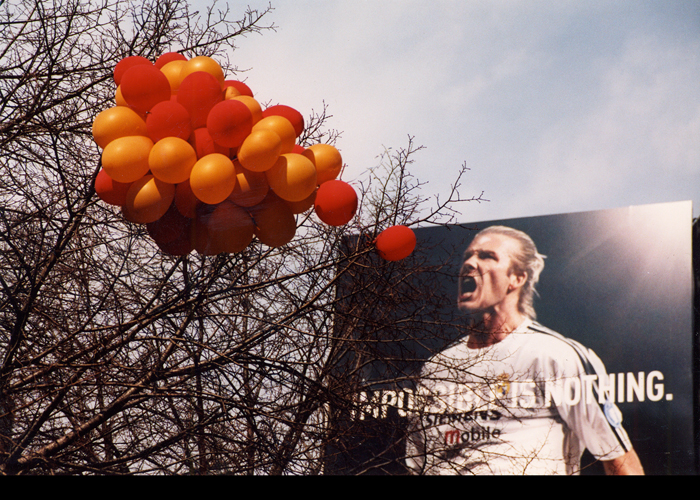 Windy City, Ken Brown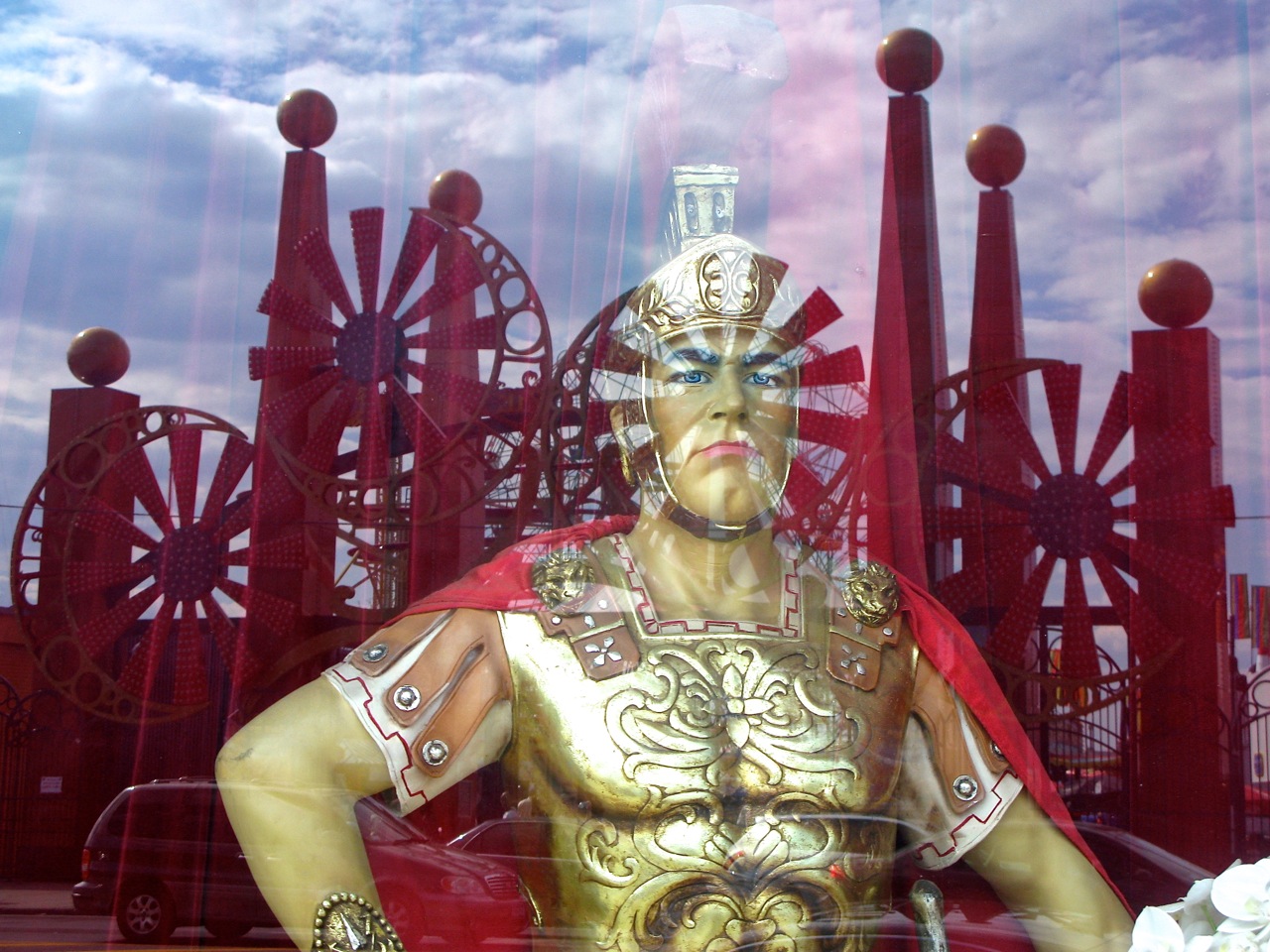 Coney Island Gladiator by Ken Brown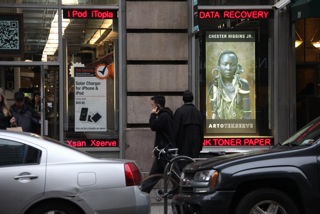 Tekserve Window, photo by Chester Higgins Jr.
The city is a muse for so many people. Come take a look.
NYC STREET POP is open to the public free of charge through Sunday, February 24th at TEKSERVE, 119 West 23 Street, NYC. www.art@tekserve.com.
Calling all HuffPost superfans!
Sign up for membership to become a founding member and help shape HuffPost's next chapter