What brought me to Adream's work is that it engaged me from the beginning and continues to linger even when I'm no longer in front of it. As a photographer, it's those images that linger that connect, that stays deep with the viewer. Little did I know that his work captures not only because of the visual aesthetic but because the stories he lets linger from each color, each pattern and each portrait.
He's been commissioned by many collectors and celebrities. Some of his notable work and commissions has been with/for Chris Brown and Kendrick Lamar.
Let me introduce you to Adream De Valdivia aka Dream.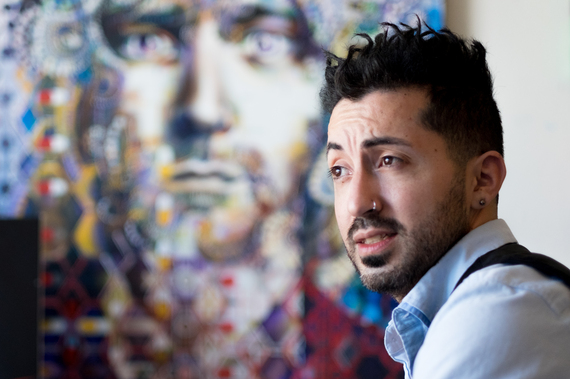 I grew up in the quiet farmland of Eastern Washington up in Sunnyside/ TriCities. I spent time swimming in the Columbia River and also harvesting apples and cherries. Sometimes I would tend to horses since our family friends would rent stables to keep their horses there. I was deeply connected to animals and definitely deeply connected to nature.
I was born out of a romance. It wasn't your typical upbringing. At age 11, my father was killed. Still to this day it is unsolved. So I had to figure out a way to express myself even at that early age. I then understood my connection and inspiration to artists who I found had similar life vibrations.
My first time visiting Seattle was when I was 10 and it was during the whole grunge era. I loved it and then I came back to visit on a high school field trip and saw Frida Kahlo's exhibit. That blew my mind. Being in front of Frida's work I had a deep connection. I could feel her presence through her work. That's when I knew that I wanted to become a professional artist.
Other artists who blazed the trails like Kurt Cobain and Jimi Hendrix, those people inspired me to move to Seattle and live here and soak up those vibrations. The people, the culture has all inspired me to stay here now.
To be honest, I didn't know how I was going to become a professional artist. I do attribute it a lot to a high school teacher who had took some of my work and told me, "I'm going to enter your work into this Washington State competition." I ended up taking first prize and went all the way to Olympia.
They offered me like $500-700 but I didn't want to and I waited until a lawyer sponsored me. The lawyer bought a couple of my paintings (paid well) and that's when I knew my path was to become a professional artist.
I also learned through my process that everyone can be an artist. It just depends on how they are told to walk a certain path or live a certain life. Sometimes they are pushed away from becoming an artist or being creative. Sometimes it's just society's way.
I hope that my art shows them they can appreciate the act of creativity and that they too are still artists.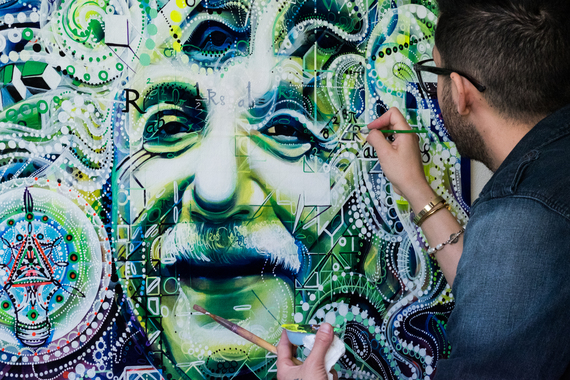 What is the process of your art?
My art uses a lot of patterns that are based on nature. If you magnify broccoli or general microscopic patterns in nature, that you get these beautiful organic patterns. For instance in my Kurt Cobain piece, these swirls and dots do come from the patterns in broccoli. Other patterns that I like to use and we see a lot is the patterns in ice. You can see that the process of freezing leaves a geometric pattern. Although my style is based in nature, many people...and I mean many, many people, say, "oh this guy obviously drops a lot of acid." I am very open to what people say but this really is just nature's doing. I haven't done any psychedelics or acid but its okay for them to see that because its their way of connecting to my work. It's part of being an artist. It's how you display your work and your art, but it's also a part of the artist life because you display your work for others to judge.
What I am learning is that the art becomes its own and speaks for itself. It speaks many things to different people. It becomes its own energy. Once I'm done with my art, I'm no longer needed. The art does what it needs to do with people.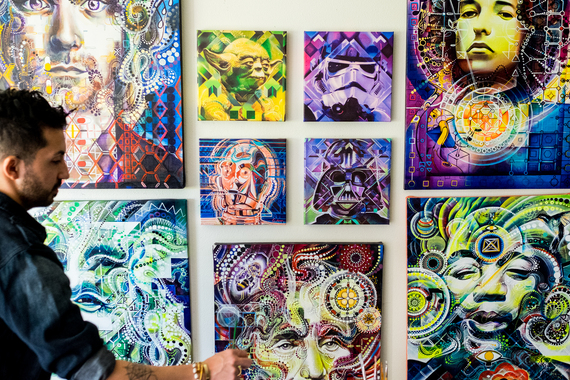 How has your art changed through gaining the fame, notoriety you have been getting?
When I first started, I started doing watercolor. It gained a lot of attention. I listened to what people had to say. What they liked. What they didn't like. What they thought they saw in the work. Everything that they said, I really paid attention. This reminds me of some of my friends and classmates who would say, "I would never sell my soul. I'll never change what I do because of what people want me to do." I always thought that stopped the process for them to become a professional artist. I create to draw people in. I also create to share what I see. My style has evolved but it always stayed within the same process of the organic pattern influenced by nature.
It always falls back to nature. The way the water drips. How hard it rains. So I let my paint run sometimes like the rain. The shadows in the night. All of my artistic expressions change by those changes.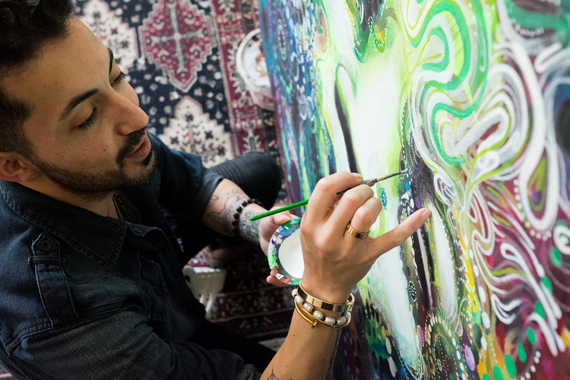 How has Seattle and the artists in Seattle influence you?
It really is about the rainy atmosphere and how it mixes with the caffeine in people. Artists also shows me how to stay at work. Although he's not from Seattle, I was really inspired to see how Chris Brown worked. At first I thought, "Oh he's just another rich artist." He was much more than that. He really worked hard to get to where he is at and I was honored to see that process. He was influenced by the work that Michael Jackson put in. When I delivered the work that was commissioned by Brown, watching how dedicated he was to his craft, to his art, was amazing. He went hard but he also went smart. For me, I feel the same way.
I like to work hard but also smarter. I have always focused my work based on the mathematics and science works in my patterns. This is how nature works. For instance when the Amazon was created it was based on mathematics and the fractals. It started from a seed, and the nature patterns were all geometric and in fractals. If you were to go above the earth you can see and pinpoint the patterns in how it was created.
Along with all of this you have to throw in the passion for the work. Returning back to Chris Brown and Michael Jackson, it was all about precision along with the passion and their own personal mission.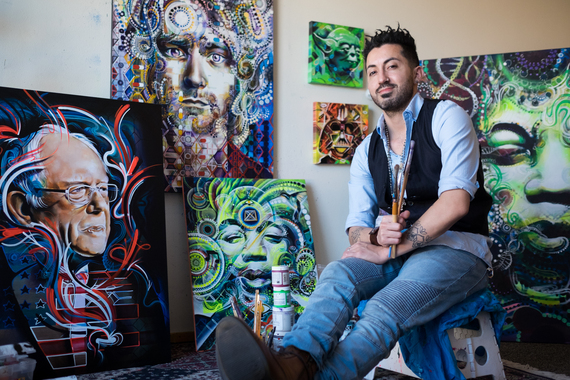 Who is your biggest inspiration?
I have many inspirations and many loves. My biggest though, is my 2 year old son, Adream Jr. He's inspired me to get out there and let go of my fears. I want to leave a legacy for him. I want him to be proud of his dad, his papa. I want to do that for him.
Calling all HuffPost superfans!
Sign up for membership to become a founding member and help shape HuffPost's next chapter