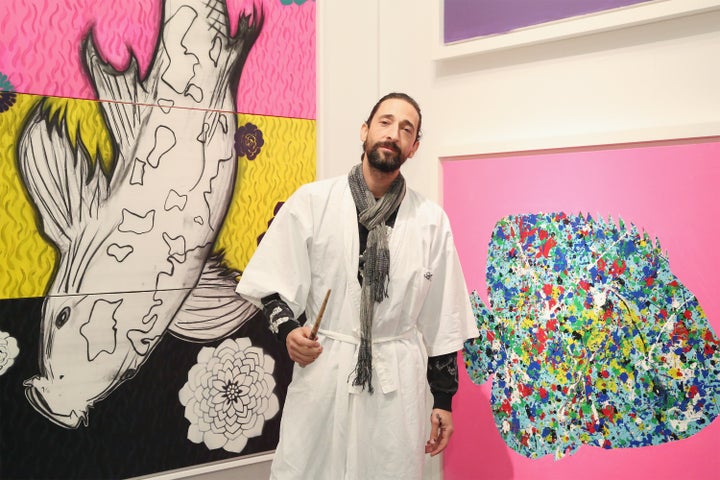 Attending an Adrien Brody art show feels like something out of a movie. For a man who's already portrayed Salvador Dalí in "Midnight In Paris," it's easy to believe Brody playing an artist, but a little harder to accept that he actually is one. That is, until you see him surrounded by his art.
Brody debuted his first art collection, "Hot Dogs, Hamburgers and Handguns," at Art Basil in Miami in December. The Oscar-winning actor is currently showing his second public series, "Hooked," at Art New York until May 8. Certain pieces of "Hooked" reflect similar views found in his first series, like a Starbucks mermaid holding two guns to her head underneath a "BRODYBUCKS" banner.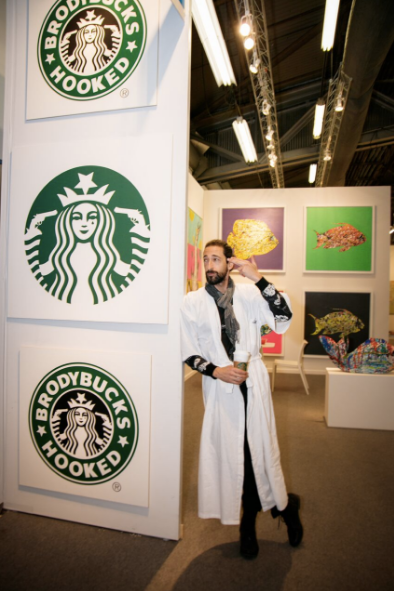 When I arrived at Pier 94, Brody was busy, so I wandered around the vast art collection, taking in glitzy VIPs and various figures in the art world introducing themselves to each other. An art dealer whispered to me that Leonardo DiCaprio and his famous gang of friends were stopping by this week to check out the exhibit.
Brody eventually waltzed back to his exhibit, apologizing for his tardiness. Sporting paint-splattered hands and a long white robe, the actor easily slipped into the part of "painter." The New York native told me his new series is "less overtly dark" than his first show, as "Hooked" instead encourages viewers to find light in the darkness.
Even without his famous name, Brody's fiery (and occasionally funny) art stands out amid the large show. His work is colorful and comedic when it's supposed to be, while depressing and reflective when focusing on more environmental issues. It's clear that he's passionate about his work and we spoke at length about certain jokes and twists hidden within his various pieces.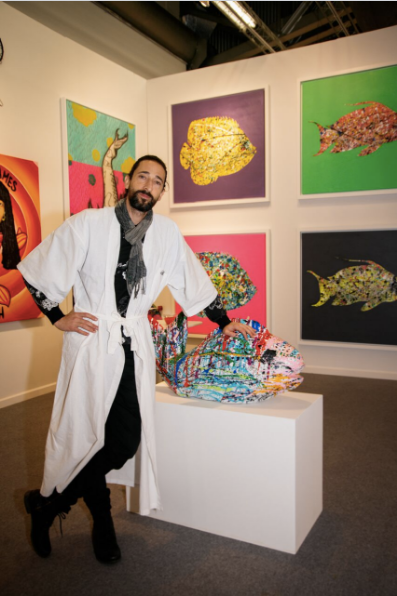 When I asked him the obvious -- what it's like being an actor in the art world -- Brody said it's been a "weird thing" for him.
"On one level I relate to it, I understand people see you, they're exposed to you in a certain way," Brody said. "But even as an actor, you're limited by what people feel you are. What they've read about you, you know, if you're in the tabloids. Or, if you've only done dramatic films, you couldn't possibly have a sense of humor, and if you've only done comedic movies, you couldn't be a great dramatic actor."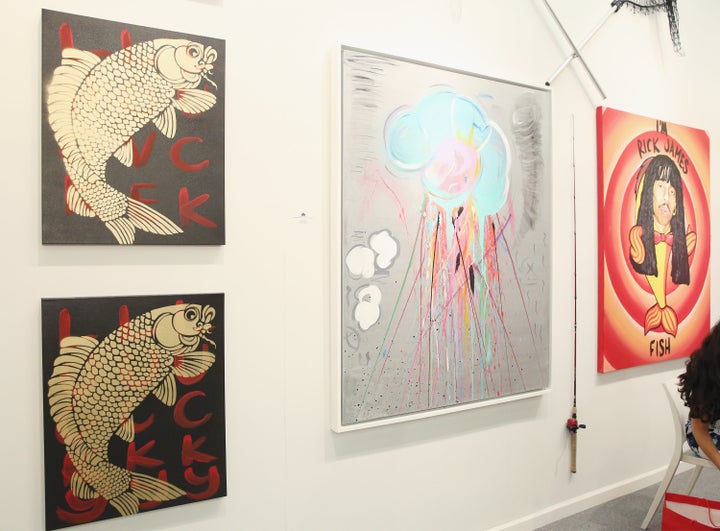 Brody used his filmography as proof that he's tried to break through the public's perception of him, which makes a second act in art easier to comprehend. But with standout and award-winning roles in films like "The Pianist," "Midnight In Paris" and "The Grand Budapest Hotel," Brody understands that it might take time for some of his fans (or new art peers) to accept him as an artist.
"Most people think actors are incredibly vain, and probably most actors are," the Queens native explained. "And maybe I am vain, to a certain extent, but the purpose of doing this is far from vanity."
Instead, the star of the upcoming movie "Manhattan Night" sees his art as a method of authentic communication. Brody, who says he grew up drawing and painting, might've been an artist first -- possibly instead of an actor -- if he'd gotten accepted into art school when he was younger. But despite his early rejection, he has no regrets about the career path he went down.
"It's so difficult to be successful in any creative art form, so whatever cards were dealt, whatever mistakes I've made, or whatever good fortune I've had, I'm really grateful for [it] at this point," Brody said. "I'm grateful to be able to have a voice to then expand my creative expression and share that with people. And that's the result of, you know, making it in another creative art form."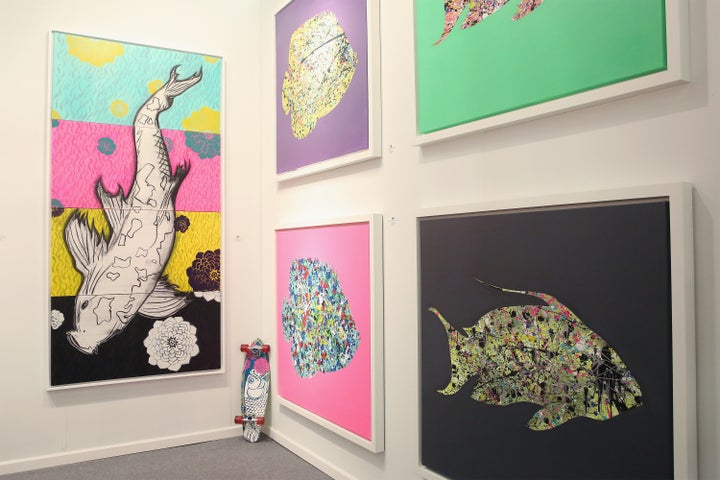 Before You Go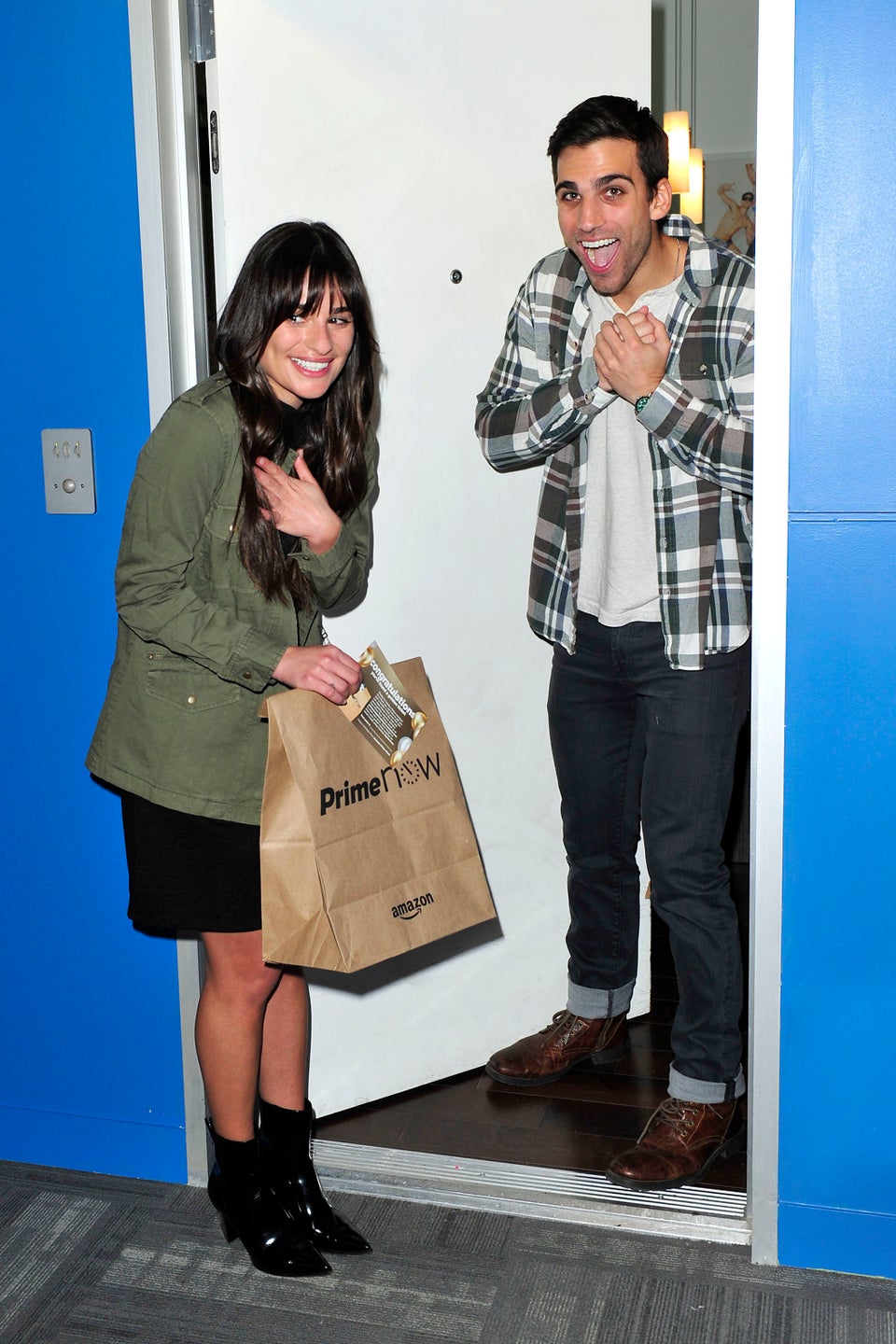 Celebrity News & Photos
Popular in the Community