TO "MAKE" IS TO CREATE, THROUGH INVENTION AND DESIGN, FROM CONCEPTION TO COMPLETION. - Open Space Project
Open Space is a project space that strives to facilitate new, emerging and innovative makers, artists and cultural enthusiasts. The pop up will feature a range of makers whose crafts include everything from handmade and vintage fashion, to metalsmiths, to photography and fine art, to food and music.
Their mission is to create a platform that will help develop brands and gain recognition for artists of all sorts. It will be a month to celebrate the collective artistic endeavors of homegrown talent locally and beyond. The month-long pop up retail space and gallery is located in The Lower East Side of Manhattan. They will have a regular events calendar focused on creative talks, public exhibitions and a workshop series of master classes by nearby artists and craftspeople.
Open Space will be home to many necessary and overdue conversations on emerging entrepreneurs, underrepresented artists and social awareness.
The Art of Being Alive is on the ground uncovering stories exploring the meaningful life. Bringing to readers through these interviews background stories of innovative, creative individuals who are all life artists in their own right and are finding meaningful ways to do something that makes them feel ALIVE. Folasade and Sasha are the creative designers and artists behind the innovative Open Space Project and their story is a sure inspiration for other artists and innovators who are aspiring to take their craft to the next level, or are feeling stuck and not sure how to go about their ideas.
Adedayo (Interviewer): What are your background stories ( culture) and how did the two of you meet?
Where are you both from? Where did you grow up at?
Folasade (Artist) - I am a Nigerian born artist. I was born in Abeokuta, and was raised in Toronto, Canada. During my senior year of highschool I moved to NYC. I am currently living in Bedford Stuyvesant.
Sasha and I met a few years ago. We both lived in Staten Island and would occasionally see each other on the ferry during our daily commute into the city. We bumped into each other again earlier this year at a pop up that we were both involved with. We connected so well that we decided to work on a pop up of our own.
Sasha (Artist) - I am a New York born artist with parent from the Caribbean. I grew up in Staten Island and I currently live in Bedford Stuyvesant.
Adedayo: What are your educational/creative backgrounds and how have you been able to create this innovative path for yourselves?
Folasade - I am a self taught graphic designer / web designers. By knowing how to code and having knowledge in photoshop I was able to create art which open the doors to many other possibilities.
Sasha- In college I majored in Fashion Marketing and Business Administration with a concentration in Marketing. Initially, I learned how to make jewelry by picking up the right books and buying the tools to create. I later took classes to get a fuller understanding of the business and built relationships with mentors that I could turn to for help in the industry.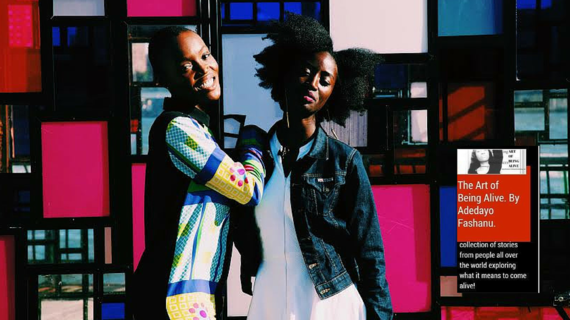 Adedayo: What is OpenSpace and what inspired you to create it?; Who are some of the artists you've collaborated with and what sort of change do you aspire to make with this innovation?
Folasade & Sasha: Open Space is a month-long pop up retail space and gallery located in The Lower East Side of Manhattan. It will support new, emerging and innovative makers, artists and cultural enthusiasts in a single place. The pop up will feature a range of makers whose crafts include everything from handmade and vintage fashion to metalsmiths, to photography and fine art.
We are both artists and designers. Both knowing the struggle of what it takes to financially make a product, Shop your product around, be part of pop ups that require you to pay a crazy amount in vendor's fees and also to have people shut their doors in our faces. Our ups and downs have inspired us to create Open Space.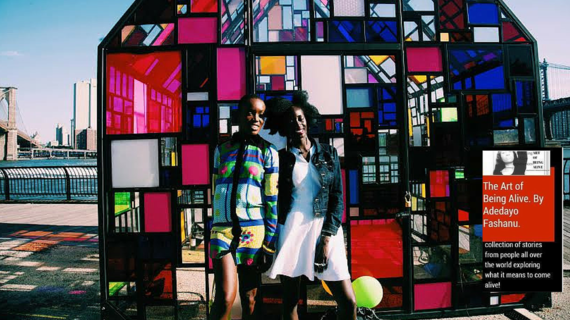 We hope to make a major impact with Open Space. We will begin in NYC but we want it to be known globally that there is a home for any well deserving creative. The idea of this platform being "pop up" style will allow us to move the shop to different cities in the future. There will also be an online component to Open Space which will be shop-able all year round.
Adedayo: What has been the most difficult challenge for both of you as co-creators and for you as individuals, what has been the most difficult part of your journey so far?
Folasade & Sasha: One of our biggest struggle is raising the funds via kickstarter. Although it is a fun process it is very rigorous, but also well worth the challenge. Sometimes it seems like there isn't enough time in the day. We're both really good with time management but it can be difficult to manage our personal lives or a full time job into the equation.
Adedayo: When you hear the phrase "ART oF BEING ALIVE" ; what does it mean to you both respectively?
Folasade & Sasha: We both feel like it means the art of survival. The freedom to create and to have passion to share that with others.
Adedayo: What gives your lives more meaning?
Folasade & Sasha: Right now the ability to create a platform like Open Space definitely gives our lives more meaning. This platform is beyond just the both of us. I think that's why we are the most passionate about it.
Adedayo: What makes you both feel alive? When are you most creativity?

Folasade & Sasha: Honestly it's as simple of being grateful for having our vision, being in healthy functional bodies, having ability to create and the power to bring social change. It's our gratitude for the simplest things in life that makes us feel the most alive at all times.
Adedayo: What are the different ways that one can one be a part of OpenSpace Project?
Folasade & Sasha: We are currently looking for innovative thinkers and interns to give a hand on the creative aspect and build out of Open Space, such as a marketing / PR and a creative direction team.
We encourage people to check out our website where they can find all of our information, including the application for the artist and designers.
Adedayo: What is your message/ advice for aspiring/young creators who have dreams like yours, how can they go for what they desire?
Folasade & Sasha: Just go for it. Whatever it is that you have your mind set on, whether that's a creative endeavour or personal goal of yours. As cliche as it may sound it is the honest truth. Use all of your resources. Don't underestimate the power of people in your inner-circle. You'll never know who can bring what to the table.
Follow Adedayo on Twitter @Adedayofashanu and like the Art of Being Alive on facebook
If interested in being interviewed for your craft and you have a unique story to share, or you would like to learn more on how to be a part of this project, please email me at dedayofashanu@gmail.com
Calling all HuffPost superfans!
Sign up for membership to become a founding member and help shape HuffPost's next chapter