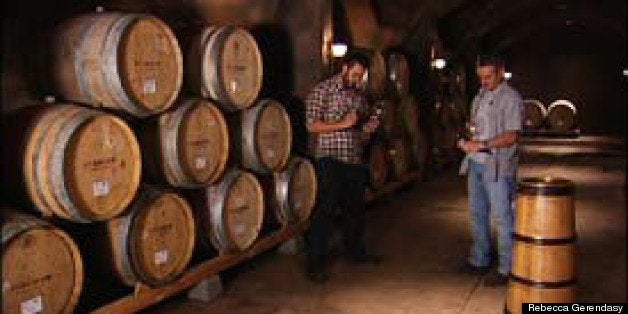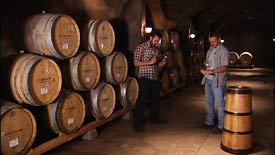 Newberg, Oregon For James Frey, owner and co-winemaker at Trisaetum Winery, Vineyards, and Gallery, the art of winemaking is quite literally another art form that he endeavors to perfect.
Both in his paintings that line the walls of his winery, and the wines from a particular vintage that he (and co-winemaker Greg McClellan) blends together into a finished style, his wines are perceived within a rich palette of colors.
"When I'm approaching a painting, I don't want to paint just in blue. In fact, if I'm using blue, I don't want just one shade of blue, I want eight different shades of blue, I want to paint with reds and yellows, greens and oranges.

The same thing happens when we put together a bottle of wine. We don't want a single note, a single color let's say, and so the palette that we use as an artist effects the palette that I taste my wine with. And so, I'm looking for lots of different variety in the barrels of wine that I have, so that when I put together a blend, it's not just one note."
Watch the video to learn more about the art of the blending process: