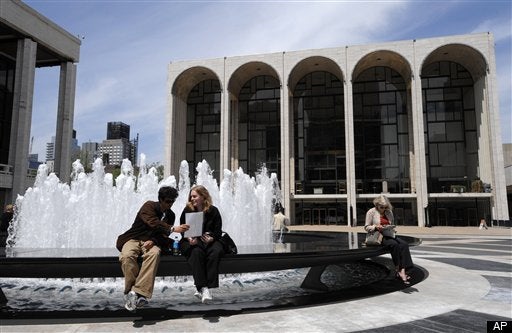 I had a really disturbing dream last weekend, an especially surprising event given that I rarely -- if ever -- have dreams so clearly driven by what is happening at work. In the dream I woke up to a headline in the New York Times proclaiming that Albert Imperato had led one of the most brilliant pianists of our time -- my client, the celebrated Norwegian pianist Leif Ove Andsnes -- down the wrong path. Without Imperato's influence, the article argued, Andsnes wouldn't have strayed from the purity of the traditional classical piano recital into the circus of a multi-media project. Since the dream I have walked around with a quiet sense of dread wondering if perhaps my company had given Leif Ove the wrong advice. Thankfully, a drink I had this evening with Robin Rhode, Leif Ove's collaborator in "Pictures Reframed," the multi-media work that receives its world premiere on Friday, November 13 at Lincoln Center's Alice Tully Hall, got my head back in the right place.

To summarize the project quickly, "Pictures Reframed" unites artists from two entirely different worlds. The New Yorker has called Leif Ove Andsnes one of the rare musicians who possess "both power and poetry in equal measure;" Berlin-based South African visual artist Robin Rhode is known for his creative "moving" drawings and performance-based video. "Pictures Reframed" is their collaborative interpretation of Mussorgsky's Pictures at an Exhibition, the monumental piano work -- known to many in the famous orchestration by Ravel and by interpretations by several pop musicians including Emerson, Lake and Palmer. Schumann's piano suite Kinderszenen (Scenes of Childhood) and wonderfully evocative new music by Austrian composer Thomas Larcher fill out the concert program, which will feature drawings and video art by Rhode, inspired by the music, that will be projected onto a specially-designed set that surrounds Andsnes at the piano on stage. Here's what the stage looked like when the work was previewed in June in Risor Norway (photo courtesy EMI Classics/Norwegian TV (NRK):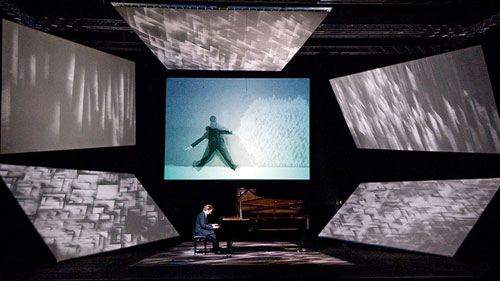 EMI Classics has just issued Andsnes's studio recording of the Mussorgsky and Schumann works on CD, as well as a deluxe CD+DVD coffee-table art book (the DVD contains a live preview performance of "Pictures Reframed" that was filmed this summer in Risor, Norway, along with a "making of" documentary by Norwegian TV). This summer, Leif Ove and Robin discussed the project with Robert Siegel of NPR's All Things Considered, and it's worth hearing if you want to listen to the artists talking about the project in their own words:

For now, I want to get back to that dream -- I suppose nightmare is a more accurate word -- I began to tell you about.

Long story short is that Leif Ove's reputation is for being an artist of extreme seriousness of purpose, someone who never imposes his own personality onto the work he is playing but rather lets the music somehow "speak for itself." Reviews tend to stress the clarity of his playing and its rich sonority, its honesty and integrity and purity, which are delivered with impeccable technique. An editor for Gramophone once described him simply as a "Prince amongst today's pianists." No critics have ever hurled the kind of negative thunderbolts at him that a more obviously "showy" pianist like Lang Lang has endured from the beginning of his international career.

So why did Leif Ove decide to tour "Pictures Reframed" around the world instead of just playing Mussorgsky's Pictures at an Exhibition in a standard recital and recording it as he had done with so many of his other favorite works in the past?

I remember distinctly a few years ago sitting in the hipster Coffee Shop on Union Square in downtown Manhattan and discussing this Mussorgsky work with Leif Ove and my colleague Glenn Petry. In usual fashion, Glenn and I rifled off a dozen or more "crazy ideas" for what Leif Ove might do for this and other future projects. There was much back and forth and Leif Ove shared a number of his own ideas with us. Nothing was decided, but weeks later Leif Ove called and said he was seriously thinking about commissioning video makers to create works to accompany his performances of Pictures at an Exhibition. Glenn and I encouraged him to the hilt and helped him with some research. A few years later, this project -- which underwent a series of changes before arriving at its current conception -- is getting ready for its world premiere.

So why am I so nervous about it?

The closer we've gotten to the premiere, the more I've heard about the challenges doing this kind of multi-media project has been for everyone involved. It has been costly. The technical challenges are considerable: you have to ship the screens and even a production team, for starters, and the complexities mount more quickly than you can imagine. Remember, Leif Ove usually tours with just a stack of sheet music! One presenter -- not Lincoln Center, the work's commissioning arts institution, which could hardly be more excited about it -- complained that a standard recital would have been easier to sell, that all these "extras" had simply made the project unnecessarily unwieldy. One very important industry VIP -- working for an organization that is not presenting it -- seemed genuinely shaken that Leif Ove had been "talked into" such a thing. As if an artist of the integrity, intelligence and sincerity of Leif Ove could be talked into anything he didn't feel a compelling reason to do!
Still, the closer we have gotten to the premiere the more guilty I have felt that perhaps my better advice would have been to encourage Leif Ove to stick to the "tried and true" and not "do something different." You know -- if it ain't broke, don't fix it. Leif Ove, after all, is already at the pinnacle of his profession.

Those feelings lingered on and off until tonight, when I snuck off with Robin for a quick drink after he and Leif Ove had finished giving some interviews. Robin's message to me was simple: that I should do everything in my power to encourage Leif Ove to continue down this road less traveled, to not stay in his or the classical music world's comfort zone, and that by doing so Leif Ove could really have a huge impact on how people think about and respond to classical music. He felt this strongly because in the process of doing this project he and Leif Ove have genuinely become friends and they really know and understand each other deeply. They have had a profound impact on each other's views about art and music and life. They have both been changed by the experience of working together on a project that is so important to both of them.

As Robin talked, I fell more and more under his spell. He has incredible energy and simultaneously gives off a sense of great gravity along with a lightness of spirit and insatiable vitality. On the surface he and Leif Ove would appear to be as different as two people and artists can be, but the more I chatted with Robin the more I realized that in the way that matters most he's exactly like Leif Ove: They both burn with a fire that flows from art out into life and back into art. For both of them, I think, life and art are one and the same.

At one point Robin said that he felt that art critics and feature writers were really eating up and savoring the project thus far. "You can't give them enough that's new, and innovative," he told me, and he had genuine faith they'd embrace the work when it was performed.

I wish I had that same gut feeling about how classical music critics will react to "Pictures Reframed." Sometimes I feel that people who write about classical music respect it too much and don't love it enough -- or perhaps just love it to death. But they do what they do, and I do what I do, and in the end it really will be the audience who decides if this project really matters and what it means. And having watched Leif Ove and Robin interact even briefly together this afternoon, I realize that the bond they have forged has already made "Picture Reframed" an undeniable success.