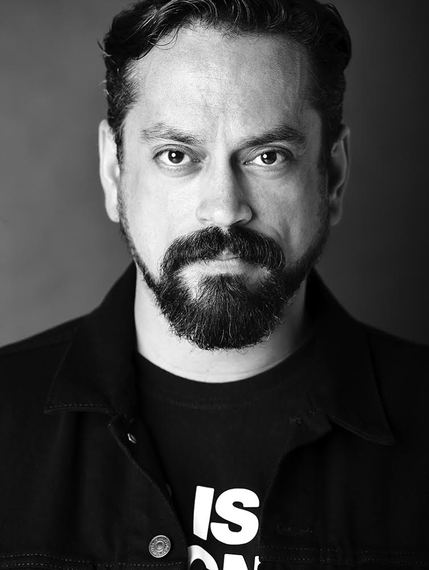 Jimmy Choo once said that he, "loved the idea of couture and its emphasis on creation." At only 14 years old Calderin may not have known exactly what he wanted to become, but he knew without a shadow of a doubt that he wanted to create.
And create he did. Having trained as a fashion designer at the High School of Fashion Industries, Calderin learned the art of couture and later went on to begin his career working for luxury clothing licensors, then as a photographer, professor and talented fashion designer whose work has graced the pages of Vogue and Elle Magazine.
After moving to Boston in 1989 and finding himself enchanted by the emerging designer scene, Calderin founded and became the Executive Director of Boston Fashion Week.
Now, with Boston Fashion Week celebrating 20 years, the author and professor at the School of Fashion Design on Newbury Street sat down with Style by Zoey to talk about where it all began.

When did your love affair with couture begin?
"I have to give credit for that first experience with couture to Mrs. Garofalo, one of my teachers at the High School of Fashion Industries in New York. She ran her classroom like an haute couture atelier, demanding that we produced garments which were as beautiful on the inside as they were on the outside. They also had to be fitted with great precision. I never looked at clothing the same way after her class. And although our industry does produce great quantities of uninspired, disposable clothing, the promise of this level of excellence keeps my love affair with fashion alive."
Having been to New York Fashion Week several times myself, I couldn't help but notice the difference in pacing at the runway show of "The Launch," was this intentional?
"It was intentional. I don't believe that fashion is meant to be devoured, it's meant to be seen and enjoyed...slowly."
"Exactly. Much like a chef can appreciate what went into cooking a meal, I wanted the audience to admire the time and precision that went into crafting each designers collection. Bill Cunningham once said, "he who seeks beauty will find it," by pacing the show as I did, my hope was that the audience would be able to slow down and do just that."
You mentioned wanting to educate the fashion industry beyond the "small, medium, large mentality," how do you think this can be accomplished?
"I think it's a matter of exposure and encouragement. You now see more companies focusing on transparency regarding sustainable, organic, and fair trade products, but as an industry we need to expose the public to the ideas and processes behind fashion so that they understand and appreciate what goes into producing creative quality clothing. We also need to encourage consumers not to settle for generic fit or finish when it comes to the clothes they wear."
I couldn't agree with you more. With that in mind, I am a firm believer in consumers investing in wardrobe staples that stand the test of time both in quality and style. What is one investment item you think every man should have in their closet?
"Comfortable, well made shoes. Preferably classics like brown wingtips or black chelsea boots."

What was your favorite fashion show from Boston Fashion Week over the past 20 years?
"Over the years my favorite shows have usually been designer debuts because they're so full of hope and they give you a glimpse into the future. But if I'm honest, I have to admit that there is a special place in my heart for the first ten years of Boston Fashion Week when I was presenting a new exhibition collection of my own almost every year. There is no substitute for being in the heart of it or for the thrill of putting your own ideas on the line. I miss making. I think there is at least one big collection left in me."
One last collection that I have no doubt will allow new generations to see fashion for what it truly is, an art form. After all, at the heart of Calderin is a man who not only has an insatiable thirst to create, but also to inspire through teaching.
Williams Butler Yeats once wrote that, "Education is not the filling of a pail, but the lighting of a fire." After speaking with Calderin, I think its safe to say he has several fires he has yet to light. Here's to hoping he finds that match.
Written by: Zoey Gulmi
Photography by: Joel Benjamin and Tracy Aiguier.