After being given an unnecessary hysterectomy at the age of 42, Michelle King Robson saw a dramatic shift in her health. She went into menopause overnight, gained weight, experienced hot flashes, joint pain and memory loss." I got so sick that I didn't want to live anymore," she recalls of the experience. Her struggles with the procedure and the long road to recovery that followed, lead her to create her website EmpowHER.com.
Michelle recently sat down with Deepak Chopra to have a discussion on her experience as part of the One World series on NEWSWIRE.FM.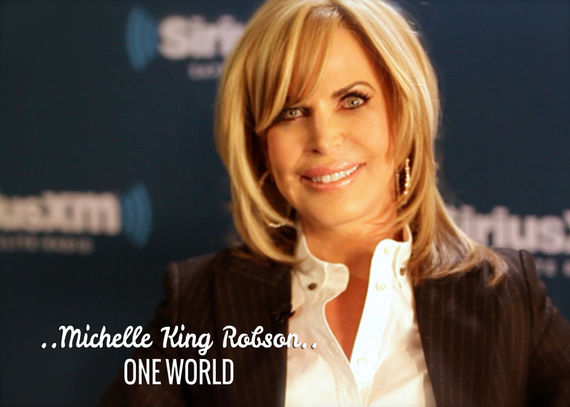 As Michelle struggled through recovery, she searched for someone who had been through something similar. After visiting hundreds of websites and reaching out to doctors across the country, she couldn't find a single person who could tell her what to expect, recommend a course of action or even give her any words of encouragement." I got sick, I got well, and then I got mad and that's when I decided to start a company." Michelle explains. EmpowHER was created to ensure that no woman has to go through the struggles that Michelle went through around her health.
"What happened with me was I didn't advocate for myself, and most women don't. We advocate for everybody else...but we don't do it for ourselves." She told Deepak for the One World episode. EmpowHER allows women to not only find support when they are dealing with a variety of health challenges; but also helps women (and men alike) take control of their health with condition-specific medical information and access to a dynamic community.
EmpowHER offers resources to women around what questions they should be asking of their healthcare providers and what things they can be doing to advocate for their health." I wanted to make sure women have valuable information and support because that's what I was lacking." This is how EmpowHER's 24-hour promise was born. Anyone can log into the site, ask a question and they are guaranteed a FREE answer within 24 hours. In this way, Michelle can ensure that no one gets left behind."We all deserve answers, validation and support around our health."
As caregivers in most societies, women are taught to put their own wellbeing last. With EmpowHER, Michelle seeks to turn this trend on its head. "It's ok for you to be first in your life. Because if you're not first guess what happens? The whole family suffers." Rather than becoming bitter as a result of her own experiences, Michelle has created the support system and tools she wishes she had. EmpowHER brings credible health information and women together in a safe trusted community. "When you have information, you have the power to change outcomes in your life and every life you touch."
Since establishing EmpowHER, Michelle has become a nationally-recognized women's health and wellness advocate spending her time speaking before women's groups, health care organizations, political leaders, regulatory bodies and the media about women's health and the importance of women advocating for themselves and their loved ones.
You can see Deepak's whole conversation with Michelle at NEWSWIRE.FM
This is a blog series produced in partnership with One World, a video series with Deepak Chopra and NEWSWIRE.FM. To view the full video and subscribe to all the episodes click here: