Taking care of your family at home is hard in itself. Then imagine taking your family and all your things to travel through different countries, living in different places, eating different foods, and trying to keep your sanity as parents along the way.
Family travel is art that requires consistent practice to attain mastery.

My wife and I have been working on mastering the art of family travel over the past five years or so. When our oldest daughter was born, within two weeks of her birth, we were applying for her passport, so we could take her to China when she was three months old. Taking a photo of a two-week old infant is next to impossible. The baby needs to be awake, her eyes need to be open looking at the camera, and her face needs to be looking straight at the camera. I took about 50 photos to get one usable one, then used that as our daughter's first passport photo. This is just one of the infinite issues you will face if you want to start traveling with your children at an early age.
Boarding our international flight to Shanghai from San Francisco, by the grace of God, we were able to bring on our rear-facing car seat onto the airplane to put in the unoccupied middle seat of our row. Due to favorable conditions and good preparations on timing and feedings, our first plane ride with our daughter was actually very easy. Of the twelve hours of the flight, our daughter slept peacefully in her car seat for more than half of the time. The loud din of the airplane noise and the lack of turbulence helped to rock our daughter into a deep sleep while on her first airplane ride. For perhaps the first time in three months, my wife and I had a quiet respite from the craziness of tending to our baby at home. On the airplane, we watched movies, ate peacefully, and even took a nap -- all while the baby slept.
Sometimes traveling with kids isn't as smooth as you'd expect. In fact, it can be a total nightmare.
On a family trip to San Juan, Puerto Rico, I opted to book cheaper tickets, which routed us from San Francisco to Chicago on an overnight flight, with a three hour layover in Chicago before our flight to San Juan. On this trip, we now had two daughters, four years old and 10 months old. The baby flew just fine even between time zones and going on and off airplanes. Emily, our oldest daughter, however, was another story. She slept a few hours on the red-eye flight, but once we arrived in Chicago, she woke up and stayed that way until our next flight. It was 3a.m. California time and she was on three hours of sleep. We were tired and she was tired, but she wouldn't go back to sleep.
Once we departed from Chicago to San Juan on another five hour plane ride, Emily eventually fell asleep. However, she would wake up intermittently to throw-up, first on the seat she was lying on, next on our carry-on bags beneath our seats, then on some blankets that we caught her throw-up on. She would throw-up four separate times before we touched down in San Juan. At that point, my wife and I were exhausted and worried about our daughter's state. We eventually made our way off the airplane and out the airport to finally get some fresh air. Emily would feel better and we would all get the nap we desperately needed once we arrived at our apartment rental.
We learned our lesson the hard way and don't book anymore red-eye flights, especially with connections a few hours later.
Do we still travel to far places with our children?
Of course, we do. We're just better about it now.

We recently completed twelve hours from Honolulu to Seoul, Korea, fifteen hours overnight at Seoul's airport, and finally six hours from Seoul to Phuket, Thailand.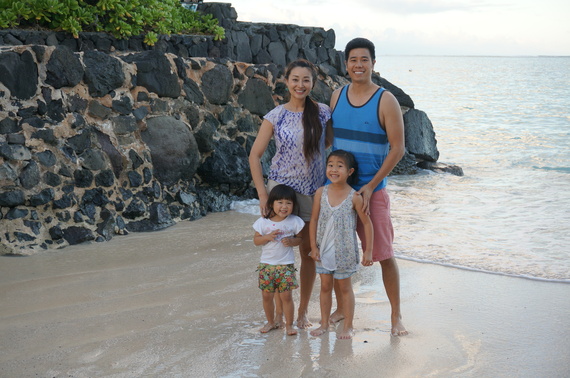 How do we keep traveling as a family?
We travel as a family -- one trip at a time -- and we've gotten better at family travel over the years. Initially, we went on frequent trips to China and Hawaii to visit family when we were a family of three. When we grew to family of four, we started with a four week trip to Nicaragua. Then we got more adventurous and took a trip through Peru, Uruguay, Argentina, and Trinidad over the course of two months. Recently, we've gone on trips to Guatemala, Taiwan, China, and Thailand, all with the kids.
We continue to travel because we enjoy being together as a family and living life as an adventure, full of discovery and wonderful surprises. Family travel has become our lifestyle and a gift that we keep giving to our children, as often as we can. We love our home and community back in San Jose, California, but we also have been able to be at home wherever we are together in the world. We collect memories and build the bonds of our family through the shared experiences of being in different countries, interacting with different people, speaking different languages, and eating different foods.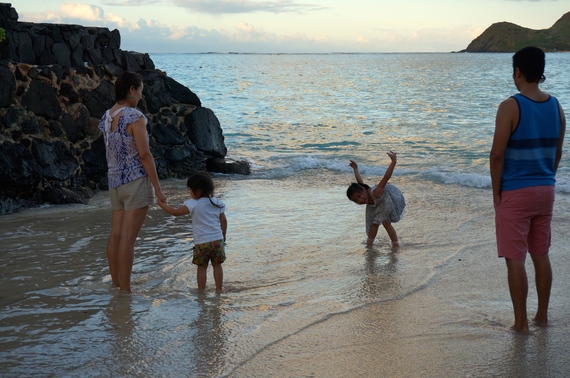 Every real artist will tell you they are just winging it, improvising as needed. As parents, we are traveling the world with our kids -- improvising every day -- hopefully to create a masterpiece of a family life that one day will be worth talking and laughing about with our kids when we are old and gray.
Cliff Hsia is a father who is determined to live a better than normal life by traveling the world, slowly and purposefully, with his wife and two young daughters. He writes about travel, family, love, happiness, faith, and everything else that life throws at him.