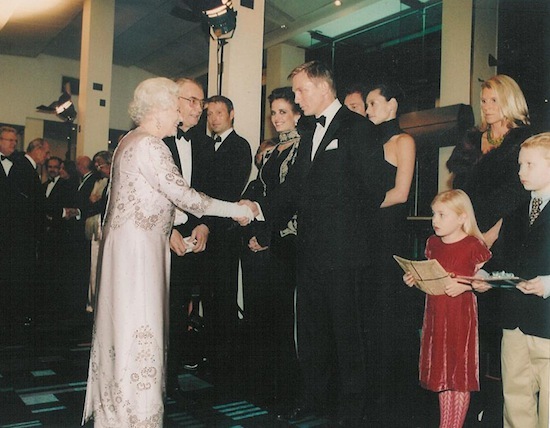 Her Majesty Queen Elizabeth II and Daniel Craig, at the Royal Film Performance, photograph by Scott Myers
"As artists, we are eternally heartbroken" is a personal favorite quote by Lady Gaga and while the struggle, the hardships of being an artist in today's world cannot be avoided (and at times are fabulously creative) sometimes it would be nice to have a soft place to fall. You know, to find an organization that recognizes what could be a screenwriter's want for a little therapy, or a director of photography's need for paying their rent for one or two month, while they sort out their troubles.
The unforeseeable can happen to everyone -- including to those who help create great art.
When I first heard of The Cinema and Television Benevolent Fund, an organization based in the UK that helps professionals from the film and TV arts to get back on their feet after the unimaginable happens to them, I thought it sounded too good to be true. I've heard of similar organizations in the U.S. but I've never really believed in them. My own skepticism could be due to the fact that their help usually stops at small financial loans, without any thought given to state of mind of the individual and the follow up care they require to get back on their feet.
The CTBF is anything but just a dream. It's a solid reality, one that many film and TV professionals have experienced first hand. The John Brabourne Awards (the JBA) are a talent development program providing financial assistance of between 1,000 and 5,000 pounds to individuals working behind the scenes in the Film and TV industries and their next series of awards will be handed out in London on October 3.
One of last year's recipients is filmmaker Chris Dundon, whose first film, Bro, was a big success on the international festival circuit. Dundon said that for him, "the award was a real confidence boost after a difficult time personally, and it also enabled me to make a short film." He continued, "beyond the award though, what really means a lot to me is simply the kindness and outstanding support that you receive afterwards, which I believe speaks volumes for The CTBF and JBA staff." When I asked Dundon how he would spend a favorite day, he replied, "with my family and wife. But sometimes, it's nice to be in the cinema, or at the quiet river near my house thinking over stories for films."
Another past JBA recipient is filmmaker Sandhya Suri, whose 2005 feature documentary I for India screened in Sundance and at several other festivals around the world. Suri started a family and admitted, as a result, to have "found myself struggling as an artist to make time for my projects, particularly in terms of childcare." She described the JBAs as "the greatest gift," because, she continued, "having this award meant money could be ring-fenced for a child-minder for a set number of hours every week -- time that was just for me and my work." Suri disclosed that her favorite city on earth, the one where she would choose to live even without any financial or family restrictions, remains her hometown London.
Whatever the reason or the recipient, there is one constant behind The CTBF and their annual John Brabourne Awards, in the figure of Mr. Richard Wilson, their CEO. Passionate about the fund's mission, caring in his actions and words, Wilson is the perfect person to ask about this wondrous organization and their life's work. I did, via email, and the resulting interview left me wishing I lived and worked in the UK. But then London was just crowned "Best City in the World" wasn't it?!
How did The Cinema and Television Benevolent Fund come to exist?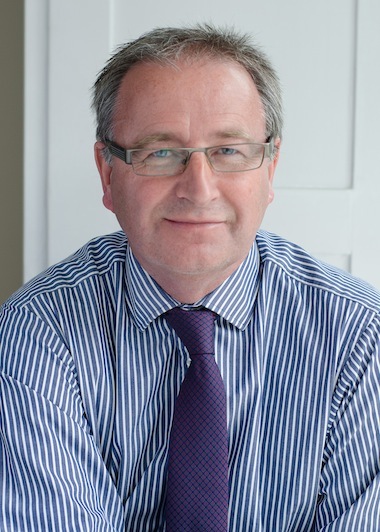 Richard Wilson: Founded in 1924, The Cinematograph Trade Benevolent Fund was set up for film and cinema professionals. By 1964 the charity had extended its reach and support, with the growing national influence of commercial television, following the award of the ITV regional franchises in the late 1950s. Recognizing this development, our charity expanded into The Cinema and Television Benevolent Fund, and, for the first time, membership and benefits were extended to staff working in the commercial television sector.
To this day, we continue to support creatives, production professionals, marketers and administration staff from script to screen, who find themselves in times of need for one reason or another. Each year we spend around 3 million pounds helping people across the UK in a variety of ways -- and a key goal of ours is to constantly extend our offering and reach out to as many people as we can who need our support.
What are some of the challenges you face year after year with this very unique organization?
Richard Wilson: The key challenge, with the incredible pace of digital transformation in cinema and television production and viewing platforms is that the traditional lines of the two complementary industries are increasingly blurred. A talented freelance resource pool works seamlessly across both genres, often on short contracts, looking for the next role. And because that pool is widely spread and often unattached to a business entity, there are many people working in the film and TV industries who simply aren't aware of the support we can offer. It's always been a key focus of ours to continue to react to these changes in the market place, recognizing the expanding UK film production sector, the diverse nature of the television industry, the exponential growth of the independent sector, and the uncertainty of employment in the freelance market. As a result, we're successfully building upon a range of new relationships to support as many people as we can.

What are the requirements for taking advantage of The CTBF's initiatives?
Richard Wilson: The key criteria for beneficiaries applying for CTBF support is that individuals must have at least two years of UK-based paid work in our industries, either as staff, or freelance -- and this period does not need to be consecutive. When it comes to offering international assistance, these same rules apply. Anyone who has worked behind-the-scenes in the UK film or commercial television industries for two years is eligible, regardless of nationality or whether they currently reside outside of the UK.
Where do you see The CTBF in ten years? With the changing aspect of the movie and TV industry, are there changes coming in this program?
Richard Wilson: We have already seen significant change in recent years -- changes in production, transmissions and viewing platforms. On my commute to work this morning I was surrounded by people watching films and TV drama series on their iPads, making the most out of VOD platforms. These services broaden the range of potential beneficiaries eligible for CTBF support -- the practitioners involved in the uploading and streaming process, the companies behind the content. If this is happening now, in 10 years' time our reach will be even greater. It's imperative that practitioners know that support is available through the CTBF should they need financial support to re-train, adapt or expand their skills to suit an ever-changing landscape.
We've also noticed a considerable change in methods of providing care and nursing support in the UK in the recent post-recession years. There has been a big drive to meet the demand for Assisted Living in the home with increased support packages. These changes are being driven by many factors -- local authority funding levels, UK age demographics, and the whole focus on person-centered care within a strict regulatory framework. Providing support for dementia care is a growing area of need, and this is one of the reasons why we have introduced a National Care Plan in partnership with Anchor Homes, for the first time providing discounted care, nursing and dementia care support right across the country.
Additionally, we want to continue tackling issues such as the lack of diversity within our industries, by continuing to offer support to those struggling to make their mark in an increasingly competitive environment. We are keen to develop further initiatives to champion emerging talent, and to promote diversity in its widest sense across the industries we support.
Aside from the financial support, what is the emotional support that you offer your beneficiaries?
Richard Wilson: That's a very good and important point, especially relevant in our creative industries. We receive constant feedback from beneficiaries that our support through home visits and professional counseling is a key part of their relationship with the charity and the support we give. We're able to offer practical assistance, such as help with career matters and advice on government benefits available. We offer a strong welfare program, with regional staff available nationwide to visit beneficiaries at their homes and provide the emotional support they require. Similarly, our 'back to work' package is available for those out of work and finding it difficult to obtain more work. We also offer a free confidential helpline available to call for support and information.
And finally, a bit of insight on the Royal Film Performance. What it is like to organize and present such a lavish event, complete with an appearance by Her Majesty Queen Elizabeth II, who is the Royal Patron of the Fund?
Richard Wilson: The Royal Film Performance is a fundraising mainstay for the fund and we're delighted to have Her Majesty The Queen as our Royal Patron. Each year, The CTBF is approached by a number of distributors, and we consider a wide range of films suitable for our event. We look for iconic titles to showcase to our audience, and are honored by the presence of members of the Royal Family every year, which truly is an unbelievable experience for our guests.
Last year we hosted Mandela, attended by the Duke and Duchess of Cambridge, a particularly moving event at which the sad news was announced of Nelson Mandela's death. Year on year, The CTBF has continued to be involved in this glittering event, with stars and creators of the films in attendance alongside an enthusiastic audience of high profile supporters of the Fund. The Royal Film Performance is undoubtedly the jewel in our event crown.
All images courtesy of the CTBF, used with permission.
REAL LIFE. REAL NEWS. REAL VOICES.
Help us tell more of the stories that matter from voices that too often remain unheard.