"Of course, it is my hope that my work be appreciated in the fine art aspect, but my goal is for it to have a much greater impact on people's lives. Painting has brought me so much joy, it's my duty to give that joy back to others." – Bethany Brooke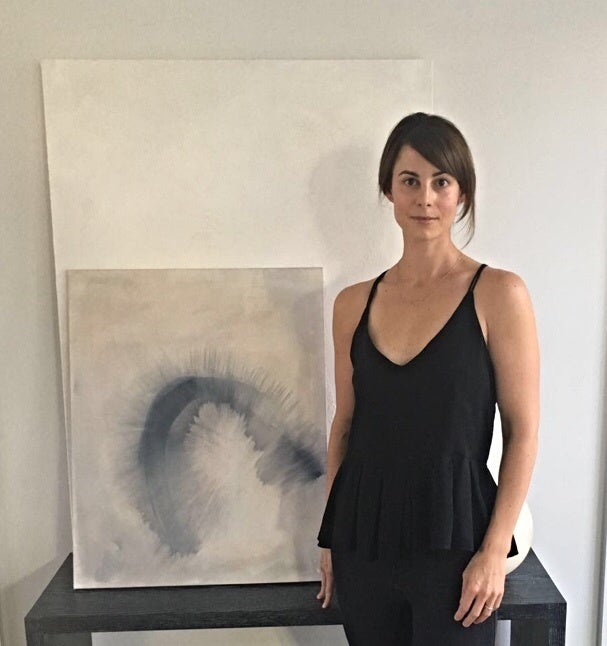 Up until six years ago, Bethany Brooke lived a very different life than the one she has today. A self-described "type A personality" who thrived on schedules, deadlines and order, and an esteemed graduate of Barnard College in New York City, she was the perfect fit for a career in finance. And so she landed an internship with J.P. Morgan and spent the next ten years working around the clock and moving up the ranks of the corporate ladder. When her tenure in finance ended upon the birth of her first child, Brooke's life took a 180 turn down a completely different path.
Today, she is a quintessential Connecticut stay-at-home mom with three young children, but this mom is also capturing attention of the fine art world as an abstract painter with an altruistic heart. What began as a creative outlet for expressing her joyous journey through motherhood has evolved into a distinguished collection of work recognized for its crisp contemporary appeal and bold emblematic compositions chronicling her dueling approaches to life.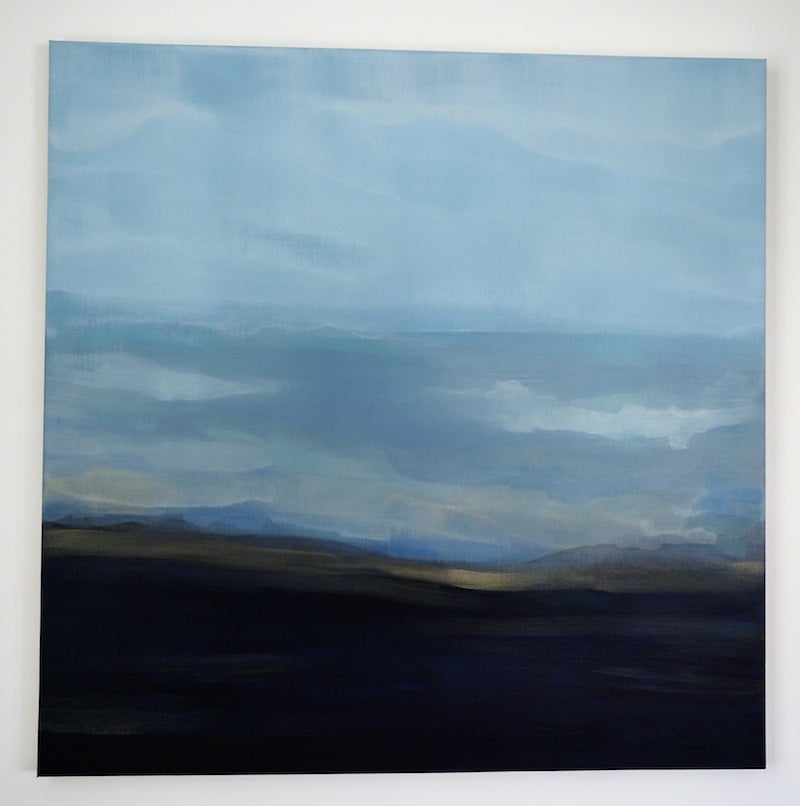 "When I first started working at J.P. Morgan, a mentor gave me the advice that 'you can make any mistake, but only make it once' and that always resonated with me," Brooke explains. "I spent so many years trying to avoid making any mistakes in the corporate world, and then, when I became a mother, I quickly learned the importance of flexibility and the realization that no matter how hard I try, with three small children at home, not everything will be perfect. However, it was through painting that I gained a new perspective. On canvas a mistake can be magic. There are mistakes that evolve into new techniques and beautiful masterpieces. That freedom from error has been extremely liberating for me."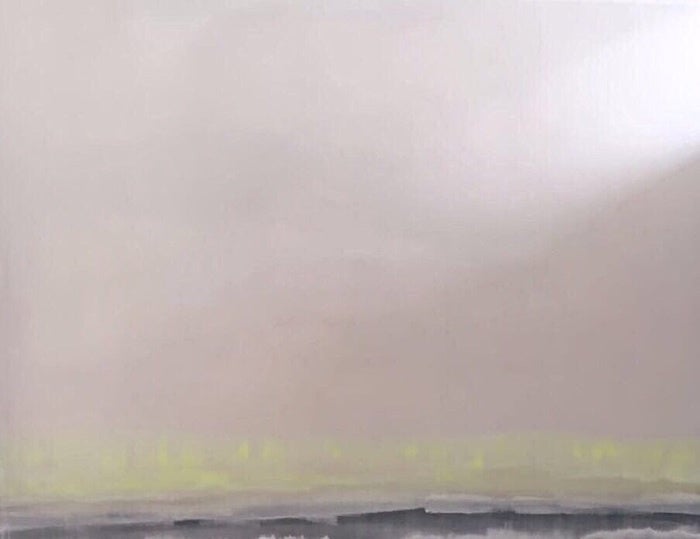 Inspired by the minimalist yet bold appeal of icons such as Yves Klein, Agnes Martin and young artist, Jeremy Holmes, Brooke has embraced the majestic contrast of her dueling mindsets in a symbiotic balance of order vs. chaos on canvas. "My work is soothing and calm and fluid, which represents my approach to motherhood, but there are also very strong, spirited and aggressive elements reflecting characteristics in me that thrived throughout my corporate life," she says. While her landscape painting, "Guardian," is a prime example of her two personas reflected through a soft, landscape punched with bold neon yellow strokes, Brooke reveals that it was a painting from her "Born" series that finally taught her to fully embrace the organic magic that can evolve from the unexpected.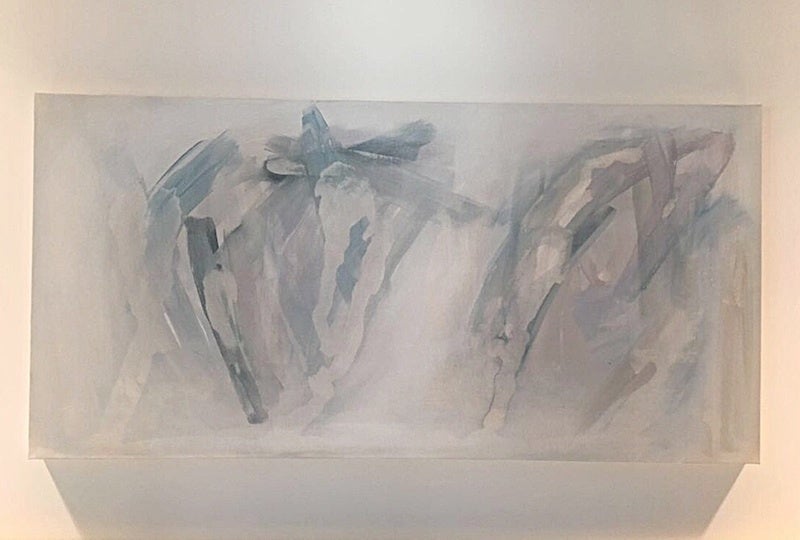 "Usually, I start with a specific color palette to determine the mood of each piece," Brooke reveals. "The process itself evolves organically and depending on the mood of the work, I build color with acrylic paint and thinning agents to create richness or utilize water as it's own medium to create depth and fluidity. Much of my work employs various feathering techniques to create a more ethereal effect through layers or shapes or colors," she continues.
"Recently, I set out to paint a piece as part of my 'Human' series. Each of my works in the 'Human' series take on a character trait and I was intent on painting 'Formidable.' After starting the piece, I felt stuck, it felt forced and not inherent of my other works within that series. I redirected the painting by experimenting a bit, playing with color and space, and suddenly I gained a fresh perspective on the painting itself. It became my third edition in the 'Born' series. The painting embodies the same organic nature of my other 'Born' pieces, but the moodier backdrop highlights the play on shapes and adds to the dimension of the piece. 'Born 3,' a favorite work of mine, reminded me to follow my gut and embrace flexibility, it is with this approach that my work continues to evolve."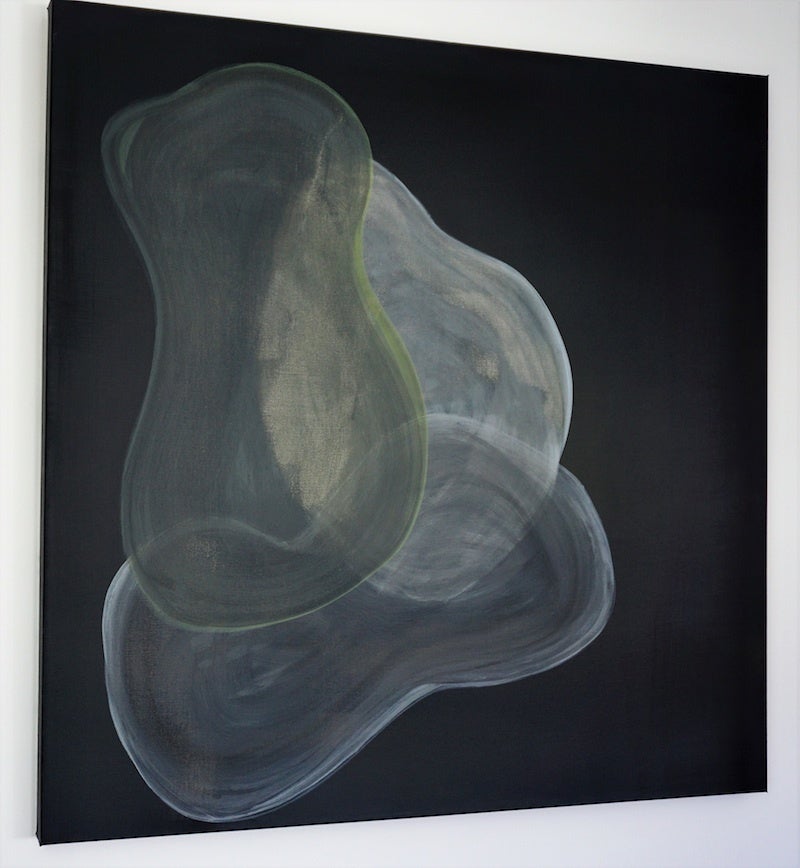 Not only has Brooke managed to turn her passion for painting into a liberating personal journey and a burgeoning career, she is also using her art to power her mission in philanthropy. For years, she and her family have been involved with the children's charity, Al's Angels, both as active benefactors and volunteers. And now that her paintings are capturing a growing audience of collectors and private buyers, she is helping the organization even further by donating a portion of artwork sales.
"Al's Angels was founded with the mission of providing moments of cheer and support to families facing childhood cancer, rare blood diseases, and the financial hardship that often accompanies battling such illnesses," Brooke explains. "Our family's involvement with Al's Angels and the organization's mission has filled our life with love.
There are a handful of things I do in my life that bring me pure exuberance, helping others and painting both happen to be at the top of that list. I have now found a way to marry those efforts. If my paintings bring beauty to the lives of those who acquire them and the proceeds can be used to help thousands of others in need, then my art is truly a gift that keeps on giving."
To find out more about Bethany Brooke and her collection of work, go to her official website www.bbrookeart.com or follow the artist on Instagram.
To find out more about Al's Angels or how you can become involved with the organization, go to: www.alsangels.org
Calling all HuffPost superfans!
Sign up for membership to become a founding member and help shape HuffPost's next chapter
This post was published on the now-closed HuffPost Contributor platform. Contributors control their own work and posted freely to our site. If you need to flag this entry as abusive,
send us an email
.