Last night I happened to be listening to a recording of Dione Warwick's Alfie and found myself moved by one phrase in particular. "Are we meant to take more than we give? Or are we meant to be kind?" Perhaps it's the time of the season that has us reflect on the true meaning of giving. One thing I am sure of is that artists, certainly the artists I know, are both kind and giving. Particularly when it comes to contributing their work for one cause or benefit, or another.
So in the spirit of giving and in honor of all those who have made gifts of their artwork to help those in greater need, we lead off this week's issue with one of the many art benefits you have made possible.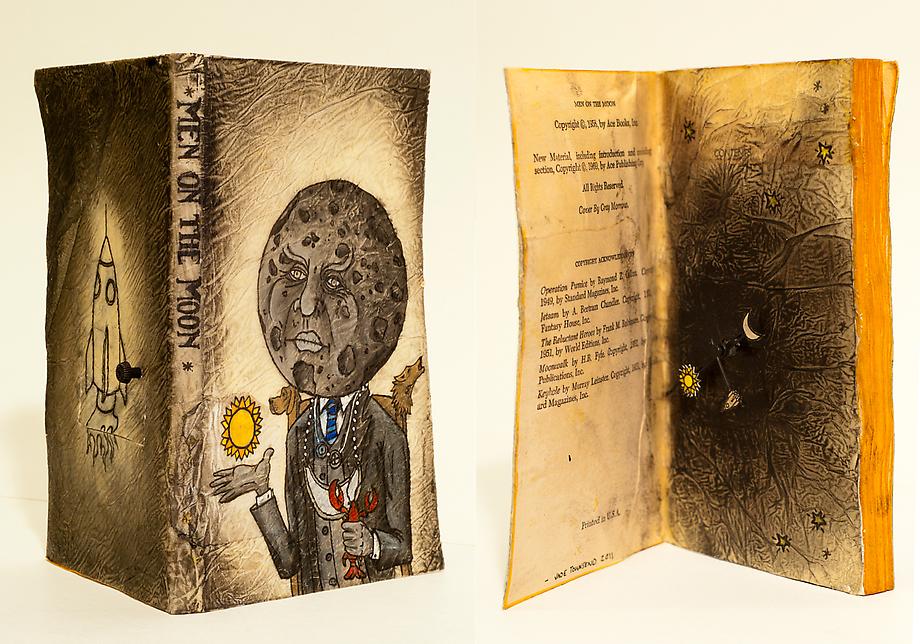 Spread the Word: An Art Auction Benefiting 826LA | A one-night exhibition and silent auction featuring the unique works of over 80 contemporary artists, with all proceeds from ticket sales and auction bids benefiting 826LA.
Artists invited to participate in Spread the Word were provided with a vintage pulp novel to manipulate in honor of 826LA's literacy programs. Featuring artists such as Gary Baseman, Jade Townsend, Mia Taylor, Feodor Voronov, Colin Roberts and Tomokazu Matsuyama, "Spread the Word" works can be previewed on the Mark Moore Gallery's dedicated exhibition page.
Founded by celebrated novelist, Dave Eggers, 826LA is a non-profit organization dedicated to supporting K-12 students with their creative and expository writing skills and to helping teachers to inspire their students to write. By providing after-school tutoring, evening and weekend workshops, in-school tutoring, help for English-language learners, and assistance with student publications, 826LA is a pioneering non-profit focused on youth literacy, creativity and fostering unique voices in the arts.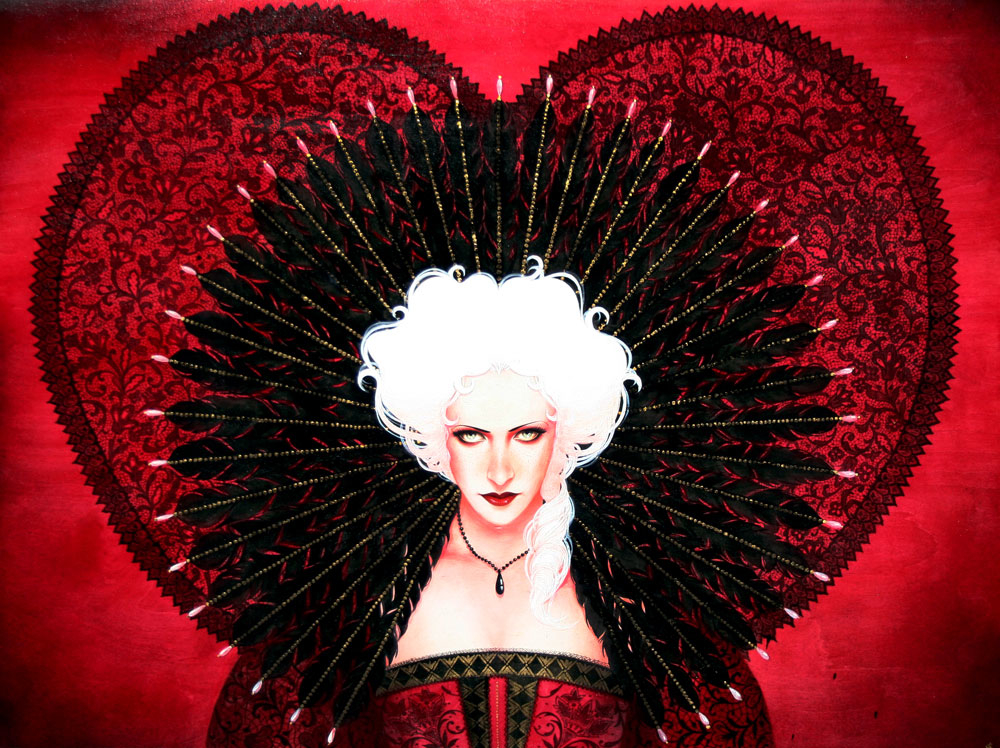 Sylvia Ji: Gilded Roses | Ji is internationally recognized for her highly collected works that capture beauty in its rarest of forms. A study of "the ornamented being," Ji embodies this beauty as a rose in her new collection, Gilded Roses. For the exhibition, Ji will unveil twelve new paintings inspired by western European costume designs and modern couture. Ji explains, "As a child I would revel in and devour all things related to historical costume; it is a passion of mine. Bygone eras of corsets, crinolines, explosions of lace, feathers, silks, satins, glinting jewels--all gilded to a state of heightened beauty and sartorial elegance."
Each piece created for the exhibition is "a unique exploration into my fascination with the past and what we wore" Ji notes about the intricate patterns, fine textures, and historical silhouettes that define her subjects. Her signature red palette is highlighted by an assortment of jewel tones: deep crimsons, seductive purples and crisp emeralds with extensive use of gold leaf to accentuate each piece. Capturing the essence of the show is "Regina," Ji's Elizabethan style portrait of "a gilded rose heavily ornamented, but behind the veneer there is strength and power."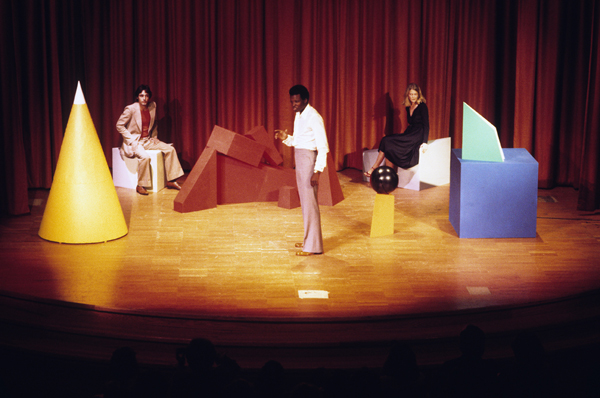 Civic Virtue: The Impact of the Los Angeles Municipal Art Gallery and the Watts Towers Arts Center | These exhibitions showcase the work of the artists, curators, and community activists whose contributions enhanced the culture of Los Angeles and helped to define it as an international artistic center.
Included in the exhibition, which spans close to a century of art history, are more than 130 works by artists who shaped Southern California's destiny as an art capital. Traced through painting, drawing, sculpture, ceramics, photography, and film, the exhibition at the Los Angeles Municipal Art Gallery is a chronological survey examining the role of the gallery in the development of the arts in Los Angeles. The story of the gallery is linked to a complex social history that includes politicians, curators, "old Hollywoodians," and a heterogeneous group of artists from throughout the city. Intersections between art and policymaking are framed through a timeline denoting key events: architectural plans by Frank Lloyd Wright, modernist artworks scrutinized under McCarthyism, and early "All-City Outdoor Arts Festivals" that opened the exhibition process out into the city and continue today.

Civic Virtue opens December 15 at the Los Angeles Municipal Art Gallery and December 17 at the Watts Tower Arts Center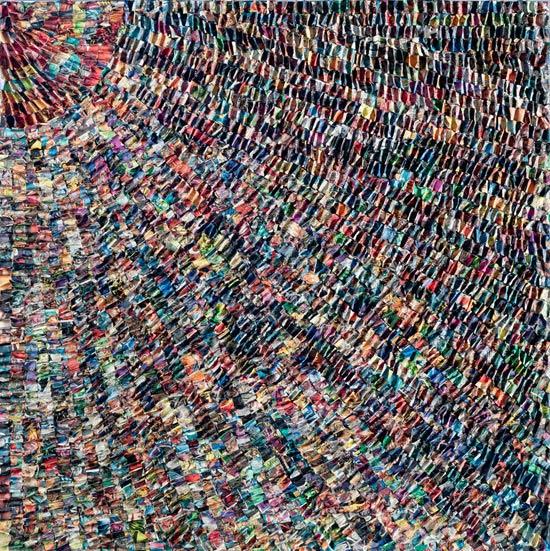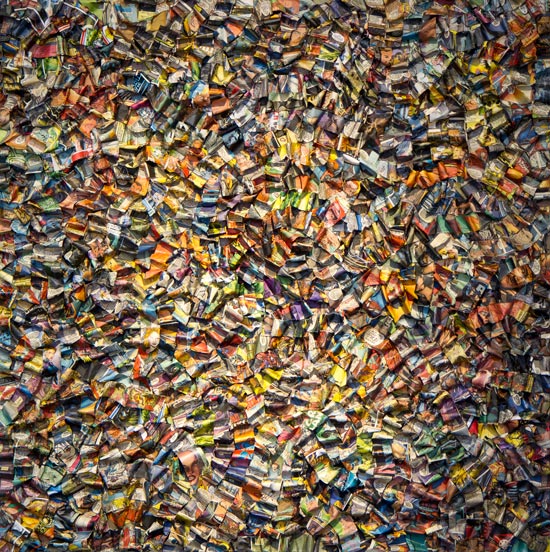 Don Morris: The Art of Deconstruction | Morris' comic book deconstruction pieces represent a mixed amalgam of cultural and architectural inspiration. He takes subliminal cues from the cartoons to create works that feature undulating compositions of color and texture, presenting pop art visual narratives of culturally familiar materials turned into an art medium.
Best known for his Our Heroes series, Don Morris' constructions with comic books recall memories of the Pop Art of the sixties when Andy Warhol reigned supreme. In Our Heroes the ever-popular comic book is transformed into energetic architectural elements that are highly textured and brightly colored.
From a distance the viewer sees only the interplay of colors and texture, but as the viewer is drawn closer, the super heroes of the comic book fly, struggle, and climb before us in small fragments and vignettes. Word bubbles from the comic book text are clearly visible throughout the pieces and the viewer can read the dialog of our action heroes. The viewer, almost without exception, also experiences a spontaneous, delightful, impulse for a tactile inspection of the uniformly undulating surface of gentle peaks and curves in the folds of its comic book pages.
For the most comprehensive calendar of art events throughout Los Angeles go to Artweek.LA.
Support HuffPost
The Stakes Have Never Been Higher
Related
Popular in the Community