The menu in the Slovak Republic: full-contact video below.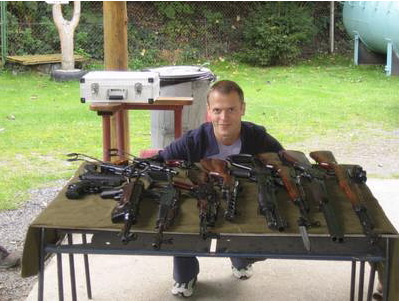 Long time no see! I just landed back in CA from a long overdue mini-retirement through London, Scotland, Sardinia, Slovak Republic, Austria, Amsterdam, and Japan.
Some unpleasant surprises awaited me when I checked in on the evil e-mail inbox. Why? I let them happen.
Here are just a few of the goodies that awaited me this time:
-One of our fulfillment companies has been shut-down due to the president's death, causing a 20%+ loss in monthly orders and requiring an emergency shift of all web design and order processing.
-Missed radio and magazine appearances and upset would-be interviewers.
-More than a dozen lost joint-venture partnership opportunities.
It's not that I go out of my way to irritate people -- not at all -- but I recognize one critical fact: oftentimes, in order to do the big things, you have to let the small bad things happen. This is a skill we want to cultivate.
What did I get in exchange for temporarily putting on blinders and taking a few glancing blows?
-I followed the Rugby World Cup in Europe and was able to watch the New Zealand All Blacks live, a dream I've had for the last 5 years.
-I was able to shoot every gun I've ever dreamed of firing since brainwashing myself with Commando. Bless the Slovak Republic and their paramilitaries (video at the end of this post).
-I was able to film a television series pilot in Japan, a lifelong dream and the most fun I've had in months, if not years.
-I met with my Japanese publisher, Seishisha (Tel: 03-5574-8511) and had media interviews in Tokyo, where the 4HWW is now #1 in several of the largest chains.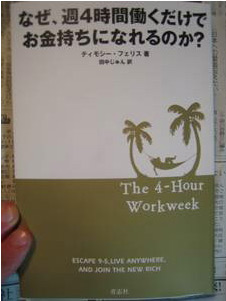 -I took a complete 10-day media fast and felt like I'd had a two-year vacation from computers.
-I attended the Tokyo International Film Festival and hung out with one of my heroes, the producer of the Planet Earth television series.
Once you realize that you can turn off the noise without the world ending, you're liberated in a way that few people ever know.
Just remember: if you don't have attention, you don't have time. Did I have time to check e-mail and voicemail? Sure. It might take 10 minutes. Did I have the attention to risk fishing for crises in those 10 minutes? Not at all.
As tempting as it is to "just check e-mail for one minute," I didn't do it. I know from experience that any problem found in the inbox will linger on the brain for hours or days after you shut-down the computer, rendering "free time" useless with preoccupation. It's the worst of states, where you experience neither relaxation nor productivity. Be focused on work or focused on something else, never in-between.
Time without attention is worthless, so value attention over time.
Here are a few questions that can help you put on the productivity blinders and put things in perspective. Even when you're not traveling the world, develop the habit of letting small bad things happen. If you don't, you'll never find time for the life-changing big things, whether important tasks or true peak experiences. If you do force the time but puncture it with distractions, you won't have the attention to appreciate it.
-What is the one goal, if completed, that could change everything?
-What is the most urgent thing right now that you feel you "must" or "should" do?
-Can you let the urgent "fail" -- even for a day -- to get to the next milestone with your potential life-changing tasks?
-What's been on your "to-do" list the longest? Start it first thing in the morning and don't allow interruptions or lunch until you finish.
Will "bad" things happen? Small problems will crop up, yes. A few people will complain and quickly get over it. BUT, the bigger picture items you complete will let you see these for what they are-minutiae and repairable hiccups.
Make this trade a habit. Let the small bad things happen and make the big good things happen.
Weapons of Mass Distraction: boys love guns. I'm sorry, but that's how we are wired, especially at $80 for a full Soviet arsenal, complete with anti-tank machine gun. Don't worry, I'm just a target shooter. No strapping guns to my bed just yet.


Timothy Ferriss is the author of the #1 NY Times, WSJ, and Businessweek bestseller, The 4-Hour Workweek.

Popular in the Community