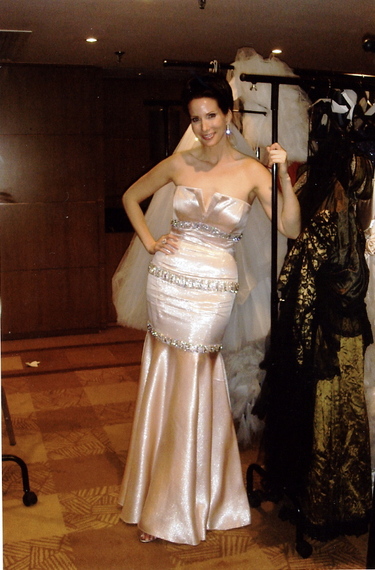 Megan Phillips grew up in Canada surrounded by beautiful things. Her European parents had an eclectic collection of art and antiques. One of Phillips' earliest memories is of sitting on her mother's lap while her mother showed her great works of art from one of the many art books in the house. Her parents gave Phillips etchings for her 21st birthday, so began her own art collection.
An injury aged 19 forced Phillips to abandon her career as a dancer with London's Royal Ballet so she trained as a child psychologist. Her father suggested Phillips also study for a degree in art history and restoration. "He told me it would be a great conversation starter. And he was right. I learned about architecture, history, religion and different cultures. It opened my eyes to the world. And then when I travelled to Paris to see the Mona Lisa, to Greece to see the Parthenon, what I'd been studying for years came to life."
Phillips moved to LA 15 years ago, had a thriving therapy practice in Beverly Hills working with terminally ill and depressed children and saved her money to buy art whenever she could. Then she met Richard Duardo, an artist known as the Warhol of the west, who established Modern Multiples that became one of the leading printing houses in LA. Duardo was the first person to print Banksy and Blek Le Rat in LA.
Phillips helped Duardo curate exhibitions including the LACMA fine print fair, and would take friends and family to Duardo's studio to hear his amazing stories like how he had a big fight with Andy Warhol that made him decide to move from New York to LA. The people Phillips took to meet her mentor started buying art from him and she would receive a commission.
She was still a practicing child therapist but selling art soon took over. When Duardo died suddenly and unexpectedly in 2014 aged 62, artists whom Duardo had represented started calling Phillips to help them sell their work.
Now Phillips has a roster of twelve street and fine artists, some emerging and some firmly established like renowned graffiti artist Risk and Lincoln Townley. Her working relationship varies with each artist. For some Phillips is their manager, others their agent or she curates exhibitions of their work. Sometimes all three. Top artists often have multiple agents and managers so commissions have to be split.
Lincoln Townley's painting of Prince recently sold for $500,000. Risk's paintings sell for around $100,000, depending on size. Phillips says there's no jealousy when one of her artist's work sells for bigger bucks than another. "When I told Risk Lincoln's painting sold for five hundred thousand he smiled and said great, what are you going to sell my next one for?" said Phillips.
Deciding what a painting will fetch is part of Phillips' job. "I suggest a price to the artist and they say yay or nay. Most of the time I'm right on the money. It depends how long they have been in the art business. Does everyone know their name? Will the art increase in value? When I started working with Duardo I bought a Banksy and a Blek Le Rat. Art I bought ten years ago is now worth a hundred times more than I paid for it."
Creating an eclectic art collection isn't just for the wealthy and privileged. Prints of originals are usually available for around $150.
While original art can be an excellent investment, Phillips says buyers should be inspired and moved by a piece before they purchase. "You have to love it passionately as you'll be living with it on your wall."
Phillips has just sold (for an undisclosed sum) the first photograph ever put on the market by Pulitzer Prize winning photographer Nick Ut who has worked for Associated Press for 50 years. Ut took the iconic photograph of the running girl burned by napalm in Vietnam. Photographs are highly collectible with a few fetching north of $6Million. Landscape photographer Peter Lik (not a client of Phillips) claims to have sold $440 million worth of prints.
Collaborations between Phillips' artists are proving popular with both the artists and collectors. "Two signatures can be better than one," she said. Phillips suggested a collaboration between Lincoln Townley and artist and musician Billy Morrison (Billy Idol's guitarist) for an exhibition Phillips is curating for Morrison.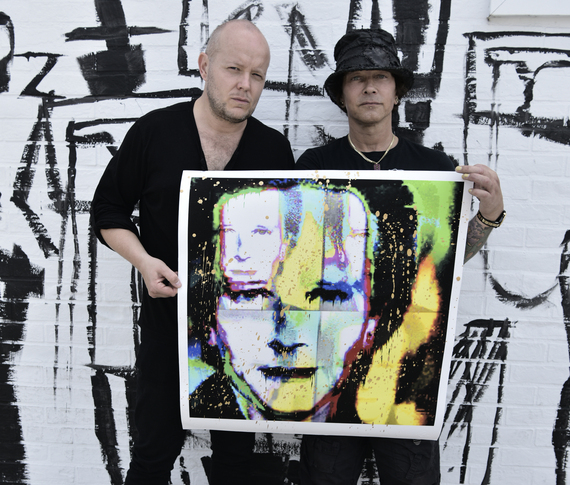 Townley arrived in LA from London with a portrait of Morrison that Morrison hand embellished with gold paint in a back alley in Hollywood. Photographer Per Bernal (also repped by Phillips) captured the two with their collaboration and Morrison immediately posted the photo on his website.
A collector in El Paso, Texas bought the one-off mixed media portrait within four minutes for $15,000, before the paint was even dry. It will be on display at an exhibition of mixed media by Billy Morrison, Mixed Messages, in aid of Rock Against Trafficking, that opens June 10 in LA.
Calling all HuffPost superfans!
Sign up for membership to become a founding member and help shape HuffPost's next chapter