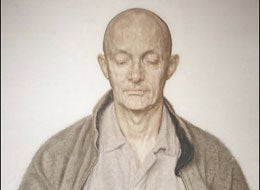 There are lots of ways to do it. Dervishes whirl ecstatically. Quakers sit in silence. Holy men in India (never sleeping through the night, or wandering very far) might keep a fire alight for months or even years. Religions of all different sorts have found, through meditation, ways of nearing the divine.

"Perspectives: Y.Z. Kami," now on exhibition at the Arthur M. Sackler Gallery, is itself a meditation -- a meditation in three paintings, big ones from New York.

Will Kami's three big oils-on-linen lead you toward the numinous? Maybe, maybe not. Are they Eastern art or Western; old in mood, or new? Yes, all of the above.

You see: a figure of a man. He's wearing a fleece jacket. His identity is not given. His portrait is nearly 10 feet high, and since it shows only his upper half, he's a lot bigger than you. He seems to be, he is, meditating deeply. His eyes are closed but not squeezed shut. He's half-humble, half-exalted.
Click here to sign in and keep reading.