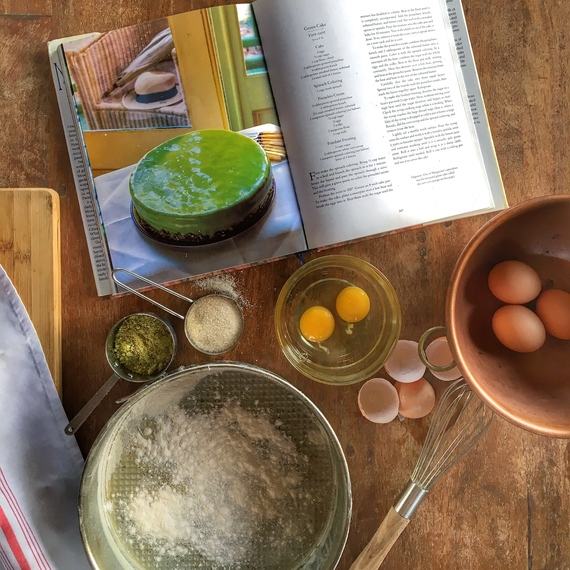 The Impressionist artists of Paris captured images of their food with paint daubs on canvas, like Claude Monet, who was just as much a food obsessed gourmand as he was a painter. He began his day with an early breakfast: omelette aux fines herbes, sausage, toast, jam and tea, then off to paint water lilies until lunchtime. Monet employed a cook, grew his own vegetables, planned seasonal menus, ate fresh eggs from his own chickens, and had a cider press. Today he would be considered a homesteader, living off the grid in Giverny. We know all about his beautiful nymphéas (those famous paintings of water lilies) and the Japanese bridge in his garden, however, his paintings of food were still lifes of fruit, sun-dappled picnics, tea and cake underneath a shady tree, rustic fruit galettes and his homemade compote jars full of preserved peaches.
At Monet's house, guests and family enjoyed organic food without worrying about genetically modified organisms, pesticides, or additives. His housekeeper prepared dishes such as gratin de champignons made with foraged field mushrooms. A chervil soup might begin an afternoon meal, and a crème-laden gâteaux served for dessert. In mid-April, Japanese apple trees blossom outside Monet's kitchen window, inspiring tarte aux pommes after the apples ripened.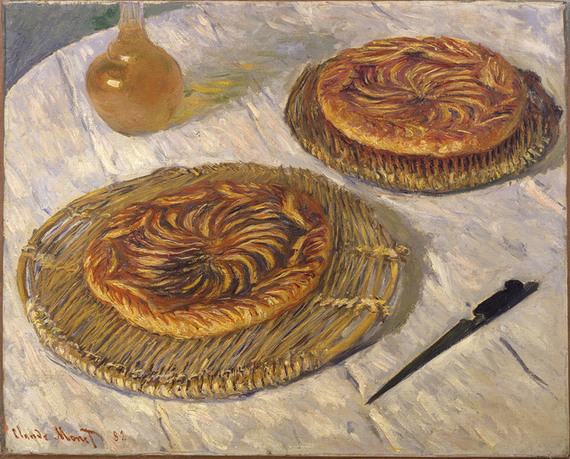 Claude Monet's paintings were influenced by Japanese woodblock prints that decorated his dining room walls, some of which were fortuitously acquired because the boulangerie used the prints rather than newspaper to wrap their daily baguettes one morning.
It seems food and art have gone together for quite a long time.
I've leafed through the cooking journals of Claude Monet for many years, usually while hungry. My raggedy cookbook is dog-eared from use. A few recipes have been attempted, such as the Oignons Blancs Farcis Charlotte Lysès, or rather, Charlotte Lysès's Stuffed White Onions ---omitting the pork, chicken or calves' liver--- prepared with extra Gruyère cheese to make up for the lack of meat. (No one in my house complained.) The Gratin de Champignons, Glazed Carrots and Cèpes à la Bordelaise are rustic and uncomplicated. I had made the Soupe aux Herbes with available herbs from the farmers' market, and it proved that sorrel is not easily found in most California supermarkets, although sometimes can be had by purveyors of greens at local farmers' market stands. The garlic soup, soupe à l'ail, however, is made of 12 cloves of peeled garlic, 6 eggs, ½ cup of butter, 2 cups of croutons, and a handful of parsley (just in case you felt that the butter and eggs were heading toward a sauce).
The desserts, such as Tarte Tatin, Galette Feuilletée, Gâteau au Chocolat, were flagrantly enticing and très français, yet the one cake that caught my eye in the cookbook was the Vert-Vert (Green Cake). The glistening smooth fondant of spring green color enchanted my senses; its beauty revealed by the ingredients (spinach for coloring the pistachio cream frosting). I've gazed upon this beautiful cake recipe for over a decade within the creases of my well-worn cookbook. The reason, perhaps, why I haven't yet made this cake is due to the amount of sugar, eggs, butter and flour it requires. Also, white corn syrup is not an ingredient I'd ever consider. I'm sure a few substitutions might be better for a healthier version of this cake, alas, it is a French recipe for gâteau, not super healthy vegan energy bars spiked with chia seeds.
I suppose to at least make this cake just once according to the exact ingredients would be worth a kitchen experiment in honor of its culinary history. Since the quality of the ingredients in Monet's kitchen were fresh from local sources, it can affect the delicate nuances of taste. Don't assume eggs are eggs and butter is butter. It would do the recipe some justice to find the best quality ingredients to prepare this cake. Some pastry skills are needed, but it can't be that difficult to manage, and certainly possible to make, sans years of staging under a chef in a French kitchen.
Coincidentally, I had a good friend send a message to me soon after I had written about this recipe. We haven't seen each other in 16 years, since we both moved away from New Orleans. In her message, she mentioned a distinct memory of the two of us "sitting on the couch, munching pistachios, talking about baking that green Monet cake."
I think it is time to finally make this recipe from Monet's cooking journals.
Cake
4 eggs
3/4 cup sugar
1 cup flour, sifted
2 tablespoons ground pistachios
4 tablespoons kirsch (fruit brandy)
2 tablespoons unsalted butter, softened
grated rind of 1 lemon
Spinach Coloring
3 cups fresh spinach
Pistachio Cream
4 tablespoons ground pistachios
2 tablespoons kirsch (fruit brandy)
2 1/4 unsalted butter, softened
2 teaspoons spinach coloring
1/3 cup sugar
2 eggs
2 yolks
2 teaspoons flour
1 cup milk
Fondant Frosting
3 cups sugar
2 tablespoons white corn syrup
1 teaspoon spinach coloring
juice of 1 lemon
First make the spinach coloring. bring 1/2 cup water to a boil and blanch the spinach in it for 1 minute. Strain the liquid and pass the spinach through a sieve. This will give a green purée to color the pistachio cream and the frosting.
Preheat the oven to 300F. Grease an 8-inch cake pan. To make the cake, place a saucepan over a low heat and break the eggs into it. Beat them with the sugar until the mixture has doubled in volume. Beat in the flour until it is completely incorporated. Add the pistachios, kirsch, softened butter, and lemon rind. Stir well with a wooden spoon or spatula. Pour the mixture into the cake pan and bake for 30 minutes. Test with a kitchen knife to see if the cake is done. If so, remove it from the oven, turn it upside down on a wire rack and let it cool.
To make the pistachio cream, combine the pistachios, kirsch, and 2 tablespoons of the softened butter into a smooth paste. Color it with the spinach coloring. In a saucepan off the heat, combine the sugar with the whole eggs and the yolks. Beat in the flour and milk, stirring constantly. Heat this mixture over a low heat, stirring, and beat in the pistachio paste. Remove the mixture from the heat and beat in the rest of the softened butter.
Carefully slice the cake into three equal layers. Spread two of the rounds with the pistachio cream, then stack the layers together again. Refrigerate.
To make the fondant frosting, dissolve the sugar in a heavy pan with 2 cups water. Heat, without stirring, over high heat until the sugar dissolves and begins to boil. Check the syrup cooking stage while it is boiling. When the syrup reached the large thread stage (that is, when a little of the syrup is dropped into cold water it forms a large thread), add the corn syrup and the spinach coloring, and remove from the heat.
Lightly oil a marble work surface. Pour the syrup onto the surface and work it with a wooden spatula, until it starts to become opaque. Sprinkle with the lemon juice and continue working until it is a smooth, pale green paste. Roll it into a ball and wrap it in a damp cloth. Refrigerate until needed. Roll it out with a rolling pin and use it to cover the cake.
REAL LIFE. REAL NEWS. REAL VOICES.
Help us tell more of the stories that matter from voices that too often remain unheard.