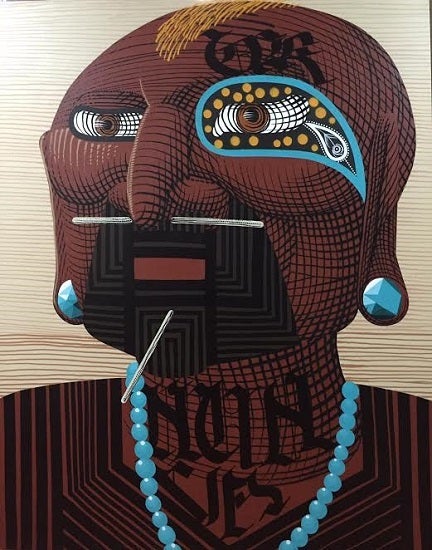 Recently the 2017 L.A. Art Show looked back on its 20 year history and reflected on its trajectory and commitment to showcasing Los Angeles talent, continental works, and art from Pacific Rim countries. Ranging from installations to paintings, the yearly exhibition highlights the evolving art community and brings forth artists from all over the world. Some of the best displays of local art included an installation by Ramiro Gomez Jr, a noir collaborative photo/lettering presentation by Jim McHugh, David 'Big Sleeps' Cavazos, and Jose 'Prime' Reza, and a collection of fine artists with graffiti backgrounds from the MSK/AWR crews: Retna, Saber, and Zes, along with Brazilian artist, Francisco Rodrigues da Silva, also known as Nunca. Nunca's pieces, which included a hand juggling narcotics and a modern-day tattooed cannibal with elongated earlobes and colorful jewelry, are an assessment of metaphors and parallels that he sees between past civilizations and current trends.
The first time I saw his work, a few years ago on La Brea Boulevard, it was a paparazzi on a red carpet, with spectators in awe of an indigenous person stepping in from the wild. Cell phone flashes and cameras piled up from the industry, the media, and the general public. The central character's contoured lines, tribal jewelry, and facial structure conveyed astonishment. It is a metaphor for the new society in transition, where one can take a selfie in San Francisco, and immediately be viewed and processed by someone in Finland. The receiver of this culture can then imitate the style or look, and digest the image instantly. On a larger scale, it is a reference to cannibalism and the idea of absorbing culture, a philosophy developed in Brazil by Oswald and Mario de Andrade, avant-garde modernists from Sao Paulo, back in the 1920s. Nunca's work and reference brings this perspective up-to-date. Sao Paulo, like other major cities around the world, has a unique blend of topography, climate, art, history, people, and language, and it is through this assortment that the artist carves out an original iconography in his work.
According to Nunca, we are in a new society, where we are blessed with tools, information, and interests that can materialize into sustainable careers and life paths. The new human, in this new society, is setting the foundation for a sustainable culture that will be around for the next few generations. And there aren't any rules to outline how it should be done. We are in an open world, where ideas of open source information flourish. Long gone are the barriers of borders and inaccessibility. And although Nunca has exhibited around the world and traveled the globe, his work is still a representation of Sao Paulo and his view of regionalism. Through a self-examination process of space and place – a bleak and depressed built environment, his regionalism reflects the human condition and thus becomes universal. The closer you paint or write to your truth, the more relatable it becomes. People hunger for and cannibalize authentic culture, and you can see expressions from Los Angeles being replicated in places like Tokyo, Barcelona, or Mexico City. This is the general concept of Dark Progressivist art, where the somber social conditions experienced in one's community, inform the creative process. Since every major city has an underbelly, this cultural experience is felt globally.
Similar to other fine artists with graffiti backgrounds, Nunca started painting in the streets as a teenager. The way he sees it, graffiti was like an international political movement that gave marginalized people the ability to do art without permission, or without patrons pulling puppet strings. In places like Los Angeles and Sao Paulo, where the boundaries between urban and suburban are complex, even non-marginalized people joined in on this phenomenon. "On the streets you have no curator," says Nunca, words that should be taught in art schools. And that is just one part of it. Then comes the imagery, the slogans, messaging, or whatever else the artist is interested in saying or showing. In Nunca's work, you will often see indigenous people with colorful regalia, which he surveys as a parallel to graffiti culture. They are both subcultures outside of the status-quo, with their own social contracts, and they interrogate society on their terms. He often paints these indigenous people with tattoos, which symbolize and observe a cultural tradition, not because a popular trend advised them to do it. The same can be said about Mexican American gang members in Los Angeles, or Russian mafia inmates.
In the 1920s, the Mexican philosopher, Jose Vasconcelos, identified a new man in a new society, one that would represent all the races of the world – the cosmic race. He believed that the place where this could develop was Brazil, and this new place and man, in transition, would maintain a universal concept of culture. He called this place Universopolis. And that is what Nunca's artistic expression represents, Universopolis, because the true conqueror of today is culture.
Nunca has shown at the Tate Modern in London, Maco in Oaxaca, MAM in Sao Paulo, and many other places. Check out his work on @nunca.art or if you're lucky enough you can catch it on the streets. Photos courtesy of Nunca 2017