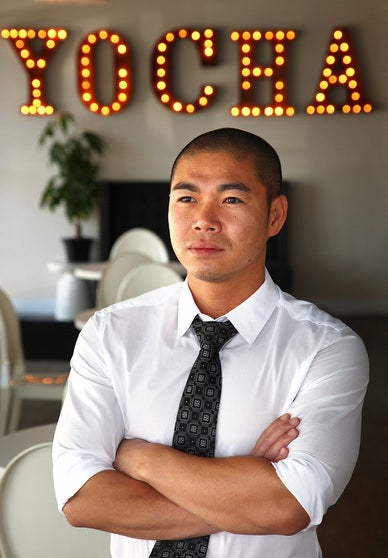 Some people are simply born with hustle. It certainly seems to be the case with this particular entrepreneur. His first job was at eight years old, delivering newspapers, and he subsidized that job with others. Since his family didn't have a lot of money, friends would give toys to him, and he would fix them or clean them up and resell them for a profit. By twelve, he was working at a local Chinese restaurant in Woburn, Massachusetts, packing take-out food, and by fourteen he had moved onto a different restaurant where he began learning the art of scratch sushi making. At seventeen he graduated high school and by eighteen was head chef at a Boston based Japanese restaurant. He tried college for a stint, but it mostly taught him that his best mode of education was working – making food, talking to customers, and negotiating with vendors.
His name is Jimmy Liang and at 38 years old, he, along with his partner Peter Tse, own JP Fuji Group which consists of ten restaurants in and around Boston including Fuji 1546 Restaurant and Bar, B Café, Shabu Restaurant, Bistro Chi, Kama Loung, Fuji at Kendall, Shabu & Mein, YoChá, Fuji at Assembly, and Fuji at Ink Block. Jimmy considers himself a homegrown sushi chef who takes great pride in not only hand picking scratch ingredients to build his award winning sushi rolls, but also taking equal pride in selecting and training his chefs so that no matter which of his ten restaurants a customer arrives at, the culinary Asian food experience is exceptional.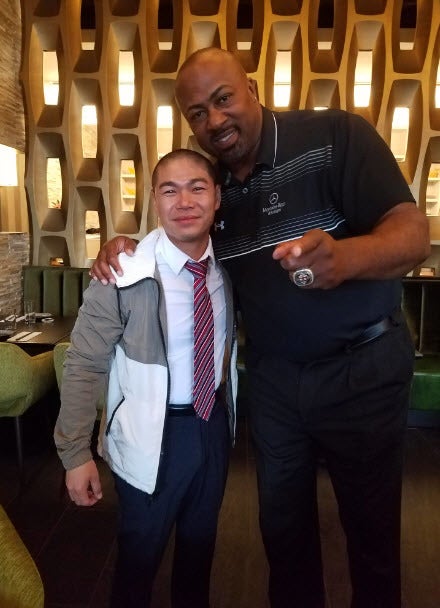 The word on the street is that athletes and celebrities from in and around Boston are regulars at JP Fuji Group's chain of restaurants, and that they come for the atmosphere and the food, which is not only delectable but also healthy. That's why it was no surprise when I arrived at Fuji at Ink Block to find former Boston Red Sox player, Sam Horn, quietly enjoying his lunch at a window overlooking the street. It was here that I spent an afternoon getting to know the man behind the empire, Jimmy Liang. He's a bit unconventional, yet very simple. He arrives at work daily in his Chuck Taylors ready to take on the world. And, his business bible is The Art of War by Sun Tzu. Here are Jimmy Liang's 4 strategies to building an empire Art of War style:
"Ponder and deliberate before you make a move."
A commonly known statistic in the restaurant industry is that one out of four restaurants will change hands or close its doors in the first year of business. Three out of five restaurants will change hands or close over the first five years. Competition is fierce and the stakes are high for anyone looking to delve into food service, so of all the businesses he could have chosen, why did Liang choose to build a restaurant empire? Jimmy says that by the time he was nineteen years old, he had accumulated enough of a life savings from working that he could invest in building a business of his own. He pondered all of his options, weighing his strengths and weaknesses. He had spent five years learning how to make perfect sushi, to the point that he understood this art better than anyone else. He knew that although the numbers were stacked against the industry, they were not stacked against him if he built the restaurant around his greatest asset at the time, his ability to make world class sushi. So, he opened a sushi restaurant in Wollaston Quincy, just outside of Boston. Liang says that if you want to build a first-class business, you must carefully deliberate all of your options in order to pinpoint your greatest strengths. Ask yourself, "What is my greatest asset?" Liang says it is the only way to make sure the odds of success are stacked in your favor. Even today, with ten restaurants under his belt, Liang says he still works the kitchen and he is still very much involved in teaching his chefs how to make the best sushi. He says that mastering your art is the only way to mitigate your risk in business.
"In the midst of chaos, there is also opportunity."
When Liang decided to quit school and start his own restaurant, he was the head chef at Apollo, a popular sushi bar in Boston. Liang says that he recognized that his bosses at Apollo had invested in him by making him head chef, and letting him run the sushi bar. He says that it was because of them that he had the knowledge necessary to build his own dream, and so he wanted to be extremely fair to them upon leaving. Liang gave his bosses five months' notice, offering to fully train any successor to his position. Liang did leave after the five months but his Apollo team called a week later asking him to come back and work part time since they had not fully filled the gap created by Liang leaving. Liang had officially opened his own restaurant, and as much as he really just wanted to concentrate on that, he couldn't lose sight of the fact that his dream was possible because others gave him a chance. So, after closing his own restaurant each night at 10pm, he'd head over to Apollo where he would work until their close time of 4am. He would then sleep in his car until 6am, then go to the market to pick out fresh fish for his restaurant, before heading to work to get ready for his 11am opening. This was Liang's schedule two days a week for a year until Apollo could train the right person to replace him. Those times were absolute stress and chaos, explained Liang, but they were also opportunity. He learned how to manage his time, stay focused, and how to never disappoint people who had been good to him.
"He will win whose army is animated by the same spirit throughout all its ranks."
Liang says that he continues to learn leadership and entrepreneurship daily, as his business consistently grows. He says that as he has expanded into ten restaurants, he's come to learn that success depends heavily on his ability to develop an army of team members who are as committed to the success of the business as he is. Liang says that doing this is much simpler than it seems. He says the only way to develop human capital (which he says is the most important capital your business has) is to care about them. He says that when you care about each and every one of the people at your company to the core of your being, they tend to care about you and your mission too. Liang says there are many ways in which he demonstrates he cares about his people. One way he does this is by providing English classes to employees who are not fluent in English. Liang says that when his parents immigrated to the United States, they did not speak English. Growing up, Liang was often the interpreter for his parents. He says that even if one person in a family can speak English, it positively impacts that family forever. Liang says that everything he's done in his life is a byproduct of the mentor-ship, support, and dedication of his own two parents and grandmother who encouraged him, even when they weren't sure he was heading in the right direction. Therefore, Liang tries to give his own team members the ability to develop similar bonds within their own families. For example, Liang encourages his people to pick up their kids from school, even if they have to leave the restaurant for a little while, as he recognizes that one-to-one parent/child time each day can immensely impact a child's life. Liang also develops his human capital by giving them opportunities to advance within the company. He recognizes that trusting team members with greater responsibility is one of the best ways to allow them to grow, a lesson he says he learned when he was the head chef of Apollo at eighteen years old.
"He will win who knows how to handle both superior and inferior forces."
Last but not least, Liang says that one of the greatest lessons he has learned is the ability to realize that every day is a good day. That's not say that there are no challenges or obstacles. He admits that there are plenty of days that knock him down. However, he has learned to see that every challenge he faces is just an opportunity to grow. Liang says that he can't think of one bad thing that has ever happened that didn't make him stronger or wiser. For example, he says that in grade school he was an overweight kid who got teased and bullied about how he looked. Today, Liang is conscious of health in his own life and in the food he makes for customers. He says that some lessons are harder than others, but growth as a person requires one to soul search and to turn the stumbling blocks into milestones to a better life. When he opened his first restaurant at eighteen years old, there were three partners. Two weeks after opening, one of those partners left the business because he no longer believed in the vision. He demanded that his investment be returned. Liang says that while you are in the middle of experiencing a crisis, it sometimes feels like it's the end of the world, which is how he felt when his partner suddenly left. Now almost twenty years later, he sees it as a blessing. He feels that he and his other partner, Peter Tse, who is also his best friend since elementary school, became better business owners because of that early struggle.
He's young, ambitious, and humble – qualities that have impacted his ability to grow a massive empire even before he's reached his fortieth birthday, suggesting that there's a whole lot more in store from Jimmy Liang. He says, perfection is a journey, not a destination, but he loves the challenge of striving for it daily. He's Jimmy Liang, the man behind the JP Fuji Group empire.
Related
Popular in the Community