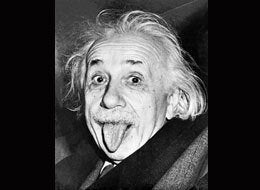 As I navigate the web, both as an artist and a new media person, I think about the images we use to present ourselves. Other than movie stars and professional personalities such as Oprah and Martha, real estate agents were actually the first profession to use headshots as one of the means of conveying who they are and what they would be like to work with. In the marketing and advertising world they call it "branding". But since that always makes me think of seared flesh on a cow's ass I tend I stay away from that expression. Whatever you call it, we're all doing it now.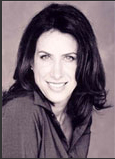 Sharona Alperin, Real Estate Agent Extraordinaire
Take my friend Sharona, for example. Occasionally I receive postcards or web announcements with her face smiling at me. She's smart, confident and looks it. When I see her picture, I also instantly hear her signature sexy voice. I think to myself, "Man, if anyone is going find me a great house it's going to be her." As realtors go, she's pretty low-key. (She also has the curious distinction of being the namesake of the Knack's famous song "My Sharona" so she doesn't have to sell as hard.) But most real estate agents take it much further, putting their faces on everything from billboards, bus stops and print ads. I often wonder when the trend started. It must have been in the seventies, and some blond babe, probably here in Los Angeles, an out-of-work actor, perhaps, thought "I bet if I put a picture of myself on every business card and bus stop, billboard and sign outside the house, people would rather buy a house from me."
Special attention must be given to "Bijan". There's a corner on Sepulveda and Wilshire Blvds. in Los Angeles where he's always there spread across two billboards of this major intersection. His face and image are in every picture, always laughing and getting out of a yellow Ferrari or private airplane with his name slathered on it. It's fabulously ostentatious and not to be missed.
So what is the significance of that single image that you project and how everyone perceives you? When I was college intern working in an international design firm (pre-web), I saw a lot of resumes coming in from around the world. Unlike the American applicants who just submitted resumes, the designers from Europe affixed a passport photo size headshot on the corner. It stunned me how much the picture overrode any impression you could have of how they had spent their entire professional career. The impact on the mostly men who did the hiring was equally poignant. A pretty girl? Who cares where she went to school? Now we all confront it all the time, whether we read the blogs here on Huffpo or whether surveying friends of friends on Facebook.
Whether an activist, writer, blogger, student or artist, everyone is now a real estate agent. Once we admit or embrace this idea, let us examine a couple rules, shall we?
Activists Probably Shouldn't be Smiling and Baring Teeth.If your goal in life is to be helpful, like, say, for a real estate agent, smile away. But I've always found something a bit aggressive about baring teeth and looking straight into the camera. It must stem from primitive days one animal signaled another not encroach on his meal. Once, an environmental activist friend of mine used a smiling headshot but all words she was writing were "Hey, the Earth is On Fire and We Gotta Do Something About it!" It was a disconnect and when I pointed it out she changed it.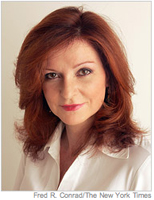 Serious Writers Ought To Go Easy on the Smiling too.For years when I read the New York Times, I never knew what Maureen Dowd looked like. Suddenly, on the web her picture appeared. At first she looked like how I expected her to look. For a while however, the photographer made her smile and when I read her column on the web it annoyed me. Now her picture looks like wry and witty like her writing again. I can't imagine reading Virginia Wolfe's To The Lighthouse and have her smiling at me either.
The Artist's ImageWhen I think of Picasso, I think of this black and white photo below. It captures the intensity of his gaze and something even deeper.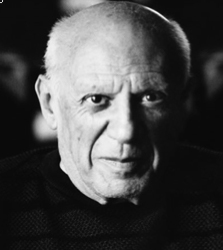 The artist's image is intrinsically linked to portraiture. Before photography, the image of the artist was usually a self-portrait and hence in a state of scrutinization ~ a portrait of the artist staring at their reflection in order to depict his own image. Like this one of Albrecht Durer. My initial self portraits are equally intense.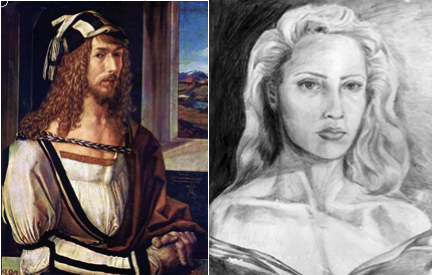 Albrecht Durer, Kimberly Brooks (Self Portraits)
So then, what kind of image should an artist put out there? Let's take out the teeth entirely. Artists shouldn't be smiling, they should be suffering, no? I was recently selected in a juried exhibition in print called New American Paintings which required each artist to submit a picture. When the book came out, most of them were brooding and or looking away. Choosing a picture isn't easy. I blame modern photography on the frustration-- its shutter speed can capture an infinite array of nano emotions but then somehow miss a larger essence.
The Scientist's Image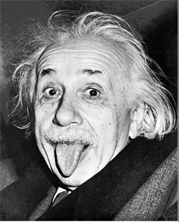 My favorite scientist's image is this one of Einstein, hair messy, sticking his tongue out. He looks perfectly wacky enough to think of something as out of the box and crazy the Theory of Relativity. My brother-in-law Ken Goldberg is an artist and Robotics Professor at UC Berkeley. His Facebook portrait (below, right) is waiting-for-the-explosion wacky. Now he's blogging for the San Francisco Chronicle and uses the picture on the left.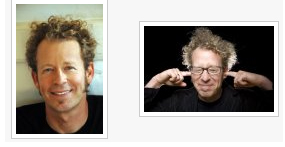 Ken Goldberg, Scientist, Artist, SFGate Blogger
For some reason, bloggers like to show a happy version of themselves. Even I did it on this post. But is that the real me? I dunno, sometimes maybe. It will never be the right picture. As I tunnel through this thought experiment, I'm still figuring out the other professions. I'd love to know what you think.
Related
Popular in the Community