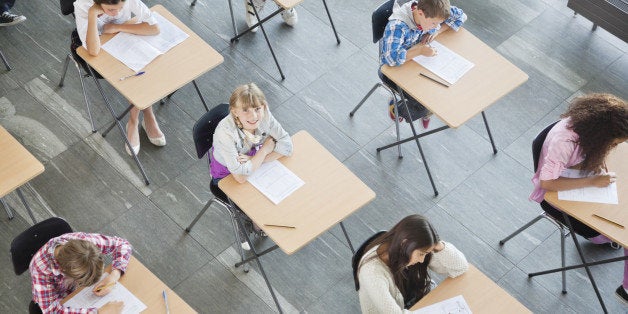 Kentucky's students, educators and policymakers are proving that rapid educational improvement is possible when an entire state focuses on what is really important -- high academic standards. The rest of the country should take note of what's happening in the Bluegrass State.
Earlier this year, a study by the Southern Regional Education Board (SREB) recognized Kentucky's role as a national leader in the implementation of the Common Core State Standards. Now, new reports from the Kentucky Department of Education and the Kentucky Council on Postsecondary Education show the Commonwealth's commitment to high standards and clear expectations is paying off with unprecedented gains in college and career readiness.
According to the reports, the percentage of Kentucky high-school graduates who met college readiness standards nearly doubled in the past five years and has climbed from 31.8 percent to 62.3 percent. Not surprisingly, this steep gain coincided with the state's successful implementation of new K-12 standards that were established in partnership with higher education.
As a result, more students are arriving on Kentucky's college campuses prepared for postsecondary education. Fewer require remedial work in literacy and math. For students and families, this means cost-savings and, ultimately, improved college completion rates. We know that students are more likely to graduate when they aren't diverted into time-consuming, non-credit bearing remedial coursework.
Kentucky's short-term goal is to keep the momentum going. We intend to get at least 75 percent of our high-school graduates entering college meeting college and career readiness standards in the next two years. Ultimately, the objective is for all high-school graduates to be ready for college and careers. That's a tall order, but our state's rapid gains in college readiness show that significant improvement can be a reality.
How did Kentucky engineer such steep gains, so fast? The improvement is a testament to the hard work of teachers in the classroom, partnerships with higher education, inspired leadership in the Kentucky Department of Education, and the vision of lawmakers who sought rigorous academic expectations for every student in the Commonwealth and had the fortitude to stick with it.
The work began in 2009, when Kentucky's Senate Bill 1 mandated a new public education assessment and accountability system. That landmark legislation led Kentucky to become the first state in the nation to adopt the Common Core standards, integrating them into what are now called the Kentucky Core Academic Standards.
Embracing high academic standards is one matter. Implementing them with fidelity is something entirely different. Implementation is where the Commonwealth has shined, according to the SREB study. Central to Kentucky's effective implementation is the state department of education's "aggressive training and ongoing support to local leaders, who then lead the reform." Cultivating district leadership teams has been critical as has ensuring that educators have access to quality instructional materials and resources aligned to the standards.
Partnerships with higher education have been critical as well. Kentucky higher education leaders supported the adoption of the higher standards and have been active in the implementation. College faculty members are working side-by-side with the state department of education, Council on Postsecondary Education and local school leaders to provide ongoing professional development focused on the new standards. We are working to adapt teacher preparation programs to reflect the new standards. And, as the standards implementation continues, K-12 and postsecondary educators are developing innovative new approaches for working with students who are struggling to meet the standards so they can catch up and become college ready by the time they graduate from high school.
Kentucky's K-12 and postsecondary educators, policymakers and, especially, students and families deserve great recognition for achieving this historic progress. At a time when other states are wavering in their commitment to high standards, Kentucky is demonstrating what's possible when we work together and stay the course toward high expectations for all students.
This summer I was pleased to join a multi-state coalition called Higher Ed for Higher Standards as a way to show support for more rigorous college- and career-ready standards. I encourage other higher education leaders across the country to do the same.
If we in higher education become partners with our K-12 colleagues in the implementation of higher standards, our students will rise to the challenge. They will arrive on our campuses better prepared to learn and to succeed. We must not allow this chance to slip away. There is too much at stake.
Popular in the Community