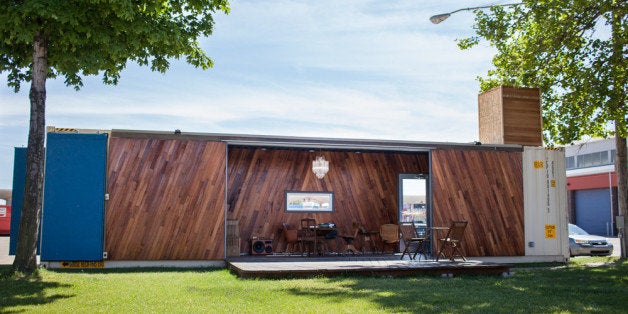 "Don't talk to strangers!" is one of the cardinal rules of urban life. In cities we live on top of each other and move in a complex dance of connection and disconnection - sometimes because of fear, sometimes because we don't know what to say to someone who seems very different, and sometimes because staying in our own bubbles affords all of us a bit of privacy.
But what if there's also a cost to living in our own bubble? What if this disconnection also sows the seeds for violence and prejudice in our cities and communities? If you don't know the people around you, is it easier to misunderstand, hurt and be hurt, fight and fear one another?
Some urban innovators like Detroit-dweller Shel Kimen are using social experiments in art, design and the unexpected to get us to break one of the rules of urban life and connect and talk to others. Disconnection between "New Detroiters" and "Old Detroiters" is on the rise as Detroit's recent renaissance attracts new people and new investment. Many residents, new and old, feel excluded from revitalization efforts and are interested in culture issues but don't know how to engage.

Shel's Collision Works projects respond to this disconnect, and the first installation was a crowdfunded shipping container popup community storytelling space called First Container. So far they've facilitated over 150 hours of open-minded, empathy building conversations.
Shel shared three main lessons after phase one of the project:
1. Even a reasonably simple environment like a shipping container can be designed and act as an ice breaker to bring people together. Different kinds of distance separating people (class, race, etc) are all suspended for a moment in First Container. Shel says that "it helps when you are being unsettled a little from the normal routine by absurdity, surprise -- it all adds up to give people an excuse to be open."
2. First Container draws people in off the streets by featuring authors, artists and community leaders hanging out together in the space that feels like a popup living room. The homey design inspires people to share their experiences as old Detroiters, newer Detroiters and visitors.
3. First Container is also about the democratization of design and space. Shel notes, "People from all walks of life respond to cool design. I got more support from lower income visitors because the space was neat and different. That flies in the face of conventional design theory, but these days a lot of people are watching home renovation TV shows and getting inspired to design something new in their homes and communities."
First Container is no longer open at Eastern Market -- like all good popups it has come to an end, but only for now. The Collision Works programs live on and the conversations will continue in new spaces. Shel's long-term vision is to place storytelling containers throughout Detroit and to build a 46-room boutique hotel with a mentoring program and collaborative community space.
Why would this matter for Detroit? As urban sociologist Richard Sennet notes, "Gathering together strangers enables certain kinds of activities which cannot happen, or do not happen as well, in the private realm. In public, people can access unfamiliar knowledge, expanding the horizons of their information. In public, people can discuss and debate with people who may not share the same assumptions or the same interests. Democratic government depends on such exchanges between strangers." First Container is not just an experiment in storytelling for the sake of storytelling. It is an experiment in designing a more democratic society, demonstrating the possibility of using uncommon spaces to create uncommon connections.

Here's to building a better Detroit, one conversation at a time.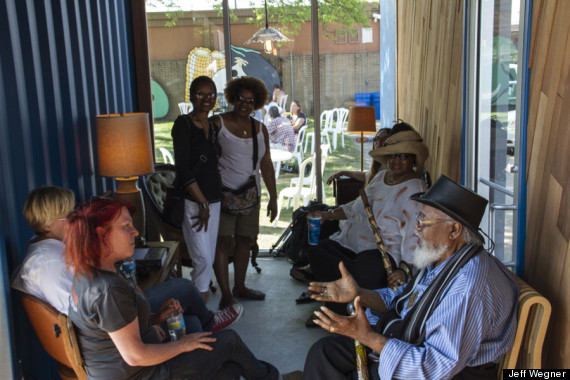 REAL LIFE. REAL NEWS. REAL VOICES.
Help us tell more of the stories that matter from voices that too often remain unheard.