Zelda Fitzgerald is, still, best known as the wife of F. Scott Fitzgerald. True, Zelda was an inspiration for heroines and dialogue in his stories, and half of the golden couple of what Scott dubbed "The Jazz Age," but she was also an accomplished writer, and artist. Some stories Zelda wrote with her husband -- and some, like the recently rediscovered The Iceberg (1918), she composed when she was still Zelda Sayre, a teenager in Montgomery, Alabama. Her only completed novel, the autobiographical Save Me The Waltz, was published in 1932.
Zelda began early in her life to make fanciful sketches that took on form, flourish and finesse after her daughter Scottie was born. She made paper dolls for Scottie, and, later, watercolors and paintings and plates. She covered lampshades with colorful carousels and fabulous, circular circusy scenes -- years later, Scott specified that Scottie couldn't take to college, and risk having damaged, Zelda's lampshades.
Her art was not just for her family. As Zelda continued to paint wherever she was, from home to, sadly, the hospitals where she lived with increasing frequency during the 1930s, her art thrived. She asked for brushes and paint from Craig House, in Beacon, New York, so she could paint something for her friends Gerald and Sara Murphy, capturing "some mood that their garden has conveyed." From memory she painted Riviera beaches, and football players for her husband, always a fan of the game. A constant gardener, and lover of flowers always, she increasingly painted flowers. Her watercolors of bouquets and outdoor gardens are among Zelda's most vivid surviving works.
In 1934, there was a New York exhibition of Zelda's paintings and drawings. The New Yorker, which had been generally dismissive of Scott's writing in the past, noted Zelda's show in a double-edged comment in The Talk of The Town: "Paintings by the almost mythical Zelda Fitzgerald; with whatever emotional overtones or associations may remain from the so-called Jazz Age." One of Scott's last gifts to Zelda, in autumn of 1940, was an art book -- "a most magnificent volume," Zelda called it. He was glad she liked it, and insisted that "next summer if the war is settled down you ought to have another exhibition." That exhibition would not come until a year after his death; among a host of floral paintings and abstracts was one called, simply, "Scott Fitzgerald."
Nearly twenty years ago, Scott and Zelda's granddaughter, Eleanor Lanahan, compiled the beautiful Zelda: An Illustrated Life (1996), but until recently relatively few of Zelda's artworks have been readily available to be seen. Zelda's hometown, Montgomery, Alabama, celebrated her birthday this past July with a new gallery dedicated to her art.
Now, eighty-three of Zelda's artworks are available in reproduction via Art.com. Scribner (the initial publisher of Scott's and Zelda's fiction, and now an imprint of Simon & Schuster) recently announced the news on Twitter, and the bounty of what's available as Art.com is a joy.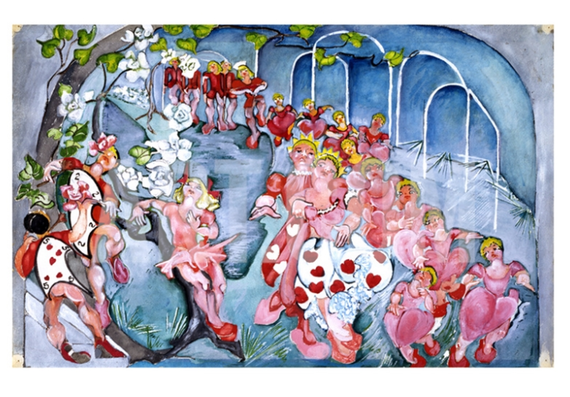 Zelda Fitzgerald, The Queens Croquet Ground
All of Zelda's art listed includes a careful, detailed description of each item. Some, like the paintings above, and below, were inspired by books, giving you an idea of the breadth of Zelda's reading and imaginative sweep. Above -- the Queen of Hearts and her croquet match, from chapter eight of Lewis Carroll's Alice's Adventures in Wonderland (1865) -- and below, the Star of Bethlehem, from a series of paintings based upon the Bible that Zelda did in the 1940s for her grandson.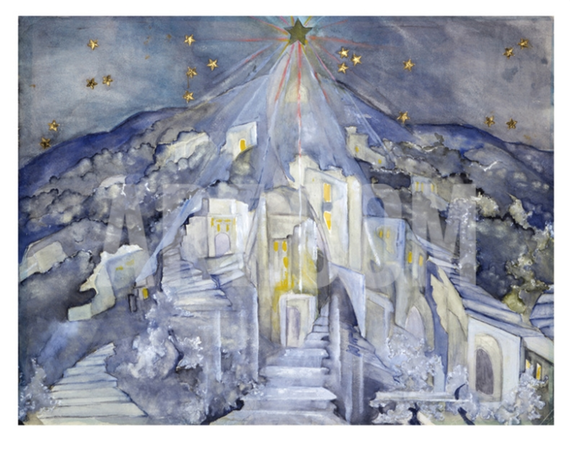 Zelda Fitzgerald, Star of Bethlehem
Among the most vibrant paintings are those of New York City. Zelda loved the city where she had married, lived as a newlywed in the Roaring 1920s, and where she saw Scottie begin her own life as a young married woman in the 1940s. In the painting of Times Square, long black cars like beetles creep the streets, their yellow eyes turning on the same theaters and landmarks Scott wrote of in The Beautiful and Damned (1922): "Past the Rialto, the glittering front of the Astor, the jewelled magnificence of Times Square...a gorgeous alley of incandescence ahead...."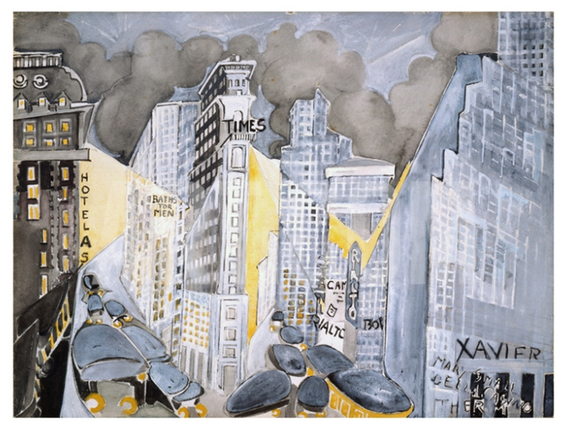 Zelda Fitzgerald, Times Square
Washington Square is abloom in the springtime, with starched nursemaids pushing pink babies in prams, and dogs sniffing and pigeons courting around the benches just as they do today: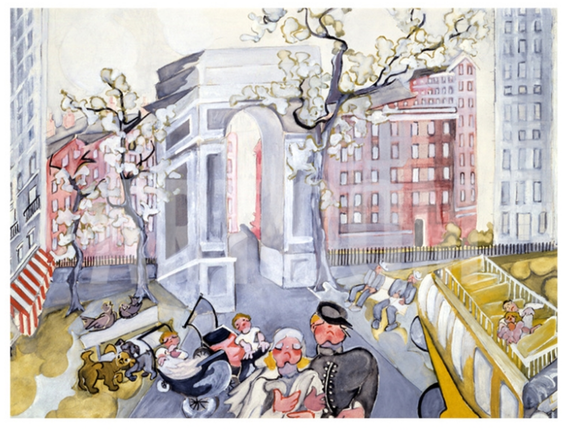 Zelda Fitzgerald, Washington Square
Heading off Manhattan Island and into what used to be called "the borough of churches," The Brooklyn Bridge seems to be hung with cobwebs trailing from the 1920s, with ghostly white top hats, Champagne bottles and glasses tangled up in the newspaper pages and headlines of long ago: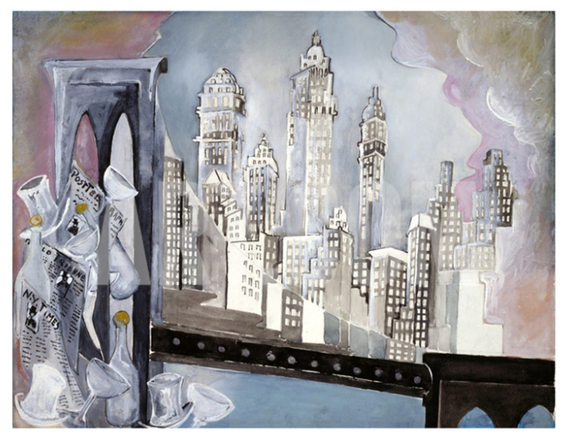 Zelda Fitzgerald, Brooklyn Bridge
Movingly, Fifth Avenue is dominated by the tall towers of St. Patrick's Cathedral. Zelda, in a midnight blue dress, with orchids, married Scott in the cathedral's rectory on a spring day in 1920. In her painting, the celebration still goes on: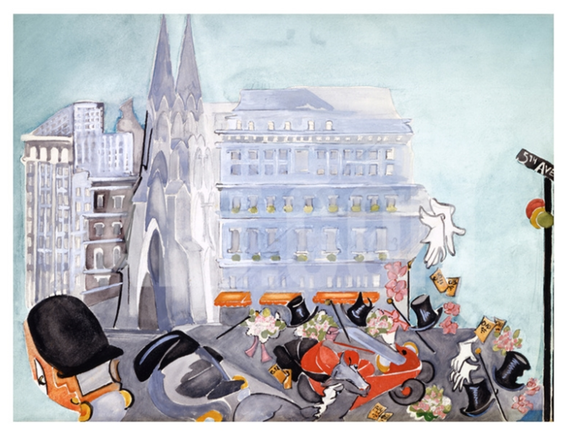 Zelda Fitzgerald, Fifth Avenue
My favorite painting, however, does not repeat the past, but rejoices in the present -- and future to come. In Scottie and Jack Grand Central Time, Scottie and her fiancé, Samuel Jackson "Jack" Lanahan, stand side by side in a composite setting of Grand Central Station, housing the Biltmore clock. Two of New York's most celebrated meeting places meld, here: the vast hall of Grand Central; and the Biltmore clock, from the lobby of the hotel where Scott and Zelda began their honeymoon -- and under whose smiling face Scottie and Jack got engaged. The hands of the clock are missing, here, for the two young people Zelda loves have all the time in the world. Scottie, her blonde hair gleaming, beams from beneath a blue beret, while Jack in his Navy uniform, cap at the classic rakish angle, looks handsome as he was in life. They married in early 1943, and were the parents of four children.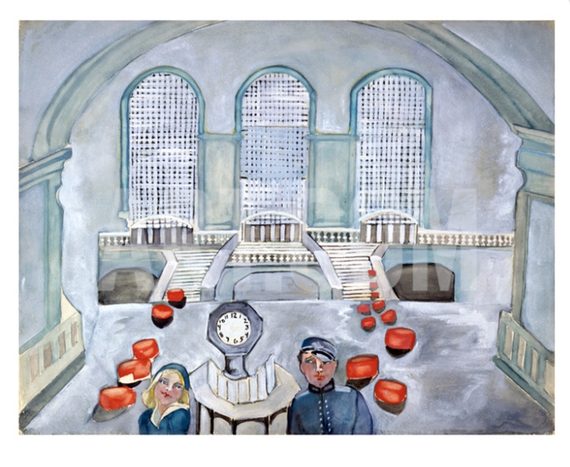 Zelda Fitzgerald, Scottie and Jack Grand Central Time
All images publicly available via Art.com and © The Fitzgerald Estate
Quotations from Zelda and Scott Fitzgerald's letters are from Dear Scott, Dearest Zelda (St. Martin's Press 2002)
F. Scott Fitzgerald, The Beautiful and Damned (Scribner, 1922)
Related
Popular in the Community