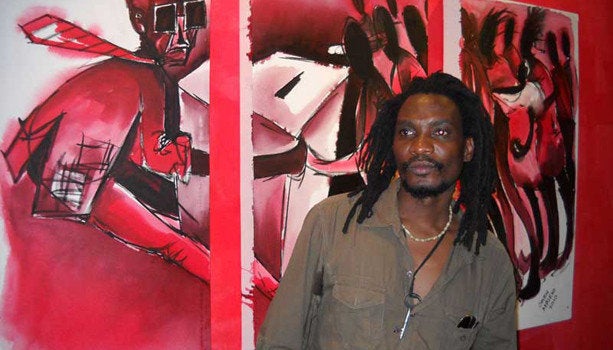 (Via ARTINFO)
BULAWAYO, Zimbabwe-- The long-suffering people of Zimbabwe escaped white minority rule in 1980 only to endure decades of strife, economic decay, and recent hyperinflation under the leadership of autocratic president Robert Mugabe. Forced by popular unrest last year to reach a power-sharing agreement with rival Morgan Tsvangirai, Mugabe is now threatening to dissolve parliament if an agreement cannot be reached about when to hold elections. And in the recent political drama of Zimbabwe, art has had a small role to play.
Last March, Zimbabwean artist Owen Maseko had an exhibition at the National Gallery in Bulawayo shuttered by authorities who claimed that it would provoke inter-tribal strife. In reality, the works simply addressed a politically sensitive subject: the 1980s period known as the Gukurahundi, when forces associated with Mugabe committed widespread atrocities. As a result of the show, Maseko was dragged to jail in leg shackles.
According to the Web site of Sokwanele, an underground pro-democracy movement in Zimbabwe, the artist was initially charged with violating a prohibition on anything that "insults or undermines the authority of the President," as well as "Causing offense to persons of a particular race, religion, etc." -- charges that warrant a fine or a prison sentence of up to a year. However, following an official order banning Maseko's Gukurahundi show in late August, the government attempted to change the charges against Maseko to violating a ban on "publishing or communicating false statements prejudicial to the State," an offense that would carry up to 20 years of prison time.
Related
Popular in the Community